Did you know that only about 3% of all US beef qualifies as USDA prime steak? We've seen companies claim to be prime, but they're not.
That's why we reviewed some of the most popular meat delivery services to bring you this top 5 list for buying prime steaks online.
Top 5 Places to Buy Prime Steaks in 2023

1. Snake River Farms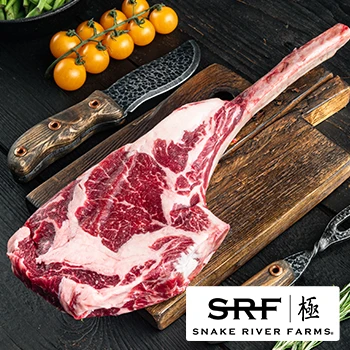 Snake River Farms is a delivery service that specializes in beef and pork. It has a large selection of USDA prime cuts such as American Wagyu and ribeyes.
Snake River Farms and Double R Ranch are part of Agri Beef, a family-owned business producing high-quality Agri products in the United States.
The company often has free delivery promos and gift cards.
2. Chicago Steak Company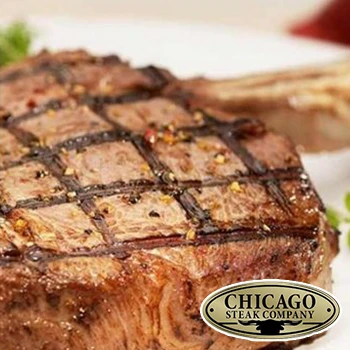 The Chicago Steak Company is another web-based delivery service that offers top, choice, and USDA cuts from animals that have never been given growth hormones.
Many of their products are aged, with a timeline of around 4 to 6 weeks. Before cooking, make sure that you pat the product dry with a paper towel, not toilet paper.
Its USDA choice prices are considerably greater than the standard Costco prices, but they offer some cost-saving packages for bulk purchases.
Feel free to check out our review of Chicago Steak Company if you wish to learn more. Moreover, we also compared Chicago Steak Company to Omaha Steaks here.
3. Omaha Steaks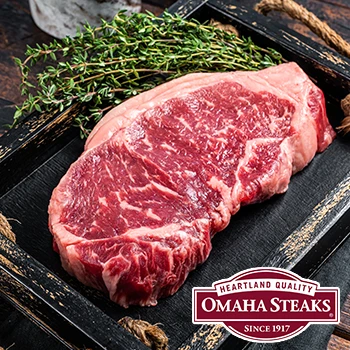 Known as the original online steak delivery company, Omaha Steaks was started by the Simon family in 1917.
At present, it has several physical stores that ship to all US states. You'll find flavorful filet mignon, tenderloin, strip steak, flank, and more on the website.
You can learn more about Omaha Steaks on this link.
Aside from offering a vast butcher case of different cut grades, the company also provides upscale seafood for your grilling recipes.
The most important thing is to get the best meat purveyor possible, somebody who hand-selects it for you.

- Wolfgang Puck, Top US Chef
4. Debragga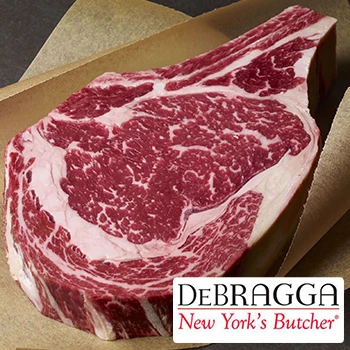 Debragga is an online butcher store that provide a wide variety of different items. It provides flavorful USDA prime, tender filet mignon, wagyu, lamb, tenderloin, and veal.
Debragga meat delivery sells some of the best cut steaks to New York steakhouses.
You'll probably see some of the shop's prices slightly costlier than two or more options, including the rib at Costco.
5. Kansas City Steaks
Kansas City Steaks sells quality steak, chicken, and seafood. The place provides a wider selection but expect greater prices for their items. They're not Costco produce, after all.
With most of the products are wet-aged, you'll most likely taste a different but more extraordinary flavor for your cooking and grilling recipes. The price may be higher than the price at Costco.
The good thing about this company is that they provide a guarantee on all their items. Based on reviews, you'll get a replacement or a refund if you're not happy with your experience. You can also check our comparison between Kansas City Steaks and Omaha Steaks or our detailed review of Kansas City Steaks if you wish to learn more.
Related Articles:
FAQs
How much do prime steaks cost?
The average cost of a USDA prime ribeye is between $20 and $40. The price fluctuates depending on where you order it from and where you want it shipped.
Flank is the cheapest option. On the other hand, New York strip, short ribs, and ribeyes are the most costly.
Simply put, the higher the quality, the more delicious it is.
Does Whole Foods sell prime steaks?
Whole Foods does offer these juicy and delicious steaks in limited quantities. Since first-class produce tends to have a higher price tag, every item doesn't sell as quickly as the other grades. [1]
Whole Foods, however, offers more first-rate and rich cuts than other grocery stores like Costco.
Related Article: Thrive Market Review
Is Angus tastier than Prime?
Not necessarily. Angus is a breed, not a grade.
This beef is a breed of cattle that is known for its tenderness. While Angus naturally falls into the prime cuts USDA category, it is a whole different term.
Chicago's Allen Brothers offers 100% exclusive Black Angus with excellent marbling properties, while Holy Grail Steaks has excellent cuts of prime Angus and Kobe beef.
Is Costco prime beef really prime?
Costco is one of the few large retail chain stores that carry prime beef selection. Generally, this product is quite hard to see in grocery stores, as most grocery stores only offer choice and select beef.
What is the difference between prime and choice?
Prime is produced from cattle that are young and well-fed. Hence, its outstanding quality. On the other hand, choice is also premium quality but has less marbling.
Which is more expensive, prime or choice?
Prime beef is more expensive since it is the highest quality grade given to beef, while Choice is the second highest. You'll find most of it sold and served at exclusive restaurants. Choice produce have lesser marbling and tenderness. When it comes to texture, it is also a little coarser.
Which has more excellent taste - Kobe or prime?
When talking about marbling, USDA Prime beef has great marbling, but not as much as the Kobe beef, which is extremely marbled, has better flavor, and has a distinctive juicy texture, giving it twice the cost of prime.
How is USDA prime beef grown and raised?
Since USDA Prime is the highest grade given to meat, there is a long feeding time required when it comes to raising cows. A high-energy diet is necessary to produce prime quality produce from a young beef animal.
Is USDA prime beef grass-fed?
Not necessarily. The grading is primarily based on the marbling, so even if the beef is grass-fed or grain-fed, it will not be considered prime if it doesn't pass the marbling test.
Is Prime Steak Worth Your Purchase?
Prime steaks are worth purchasing if you want to taste quality beef with more marbling than typical grocery store produce. Many customers, along with us, agree that USDA prime beef has some of the best flavor available, among other types.
If you're wondering where people get USDA prime steaks with the best flavor, the services above are our suggested options. One store can be a bit more pricey than the others, but it's still up to you if you want to spend a little extra on your shopping cart. You may want to look at those which offer free shipping, too.
Go and satisfy your prime beef cravings by visiting each of the online food delivery service companies we've mentioned. But for our #1 pick for USDA Prime beef, we recommend Snake River Farms.
Our #1 Prime Meat Recommendation
Snake River Farms
Click For Best Price

Pros
Wagyu Beef & Kurobuta Pork
Excellent customer service
Higher than USDA prime
Easy to use website
Get the BEST PRICE until the end of March
Was this article helpful?