Thrive Market and ButcherBox are two delivery services with very noticeable differences.
While ButcherBox works exclusively with meat, Thrive Market can be seen as an online grocery store, where you can purchase everything from organic chicken to cleaning and beauty supplies.
We have tested both of these services to figure out if it is better to get high-quality meat from an exclusive butcher such as ButcherBox, or shopping meats from the likes of Thrive Market.
ButcherBox vs Thrive Market: Key Differences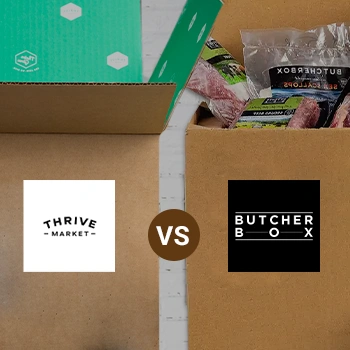 The most significant difference between these two companies is how they work.
While ButcherBox only handles meat such as beef and pork, Thrive Market stocks all types of products, from meats to pasta, to cleaning supplies.
Another difference is their memberships. ButcherBox offers customers recurring subscriptions of different meat boxes.
At the same time, Thrive is a membership-based store that charges customers a monthly fee to receive groceries at a discounted price.
There are a few existing boxes on Thrive, but they aren't the website's main focus, unlike ButcherBox. These boxes can be purchased anytime and usually include bundled items at a discounted price, such as their beef variety box that contains four different cuts for $144.99.
Comparing Their Features Head to Head
After testing both of these services for a month, we have highlighted all their best features, comparing how these meat delivery services hold up against one another.
ButcherBox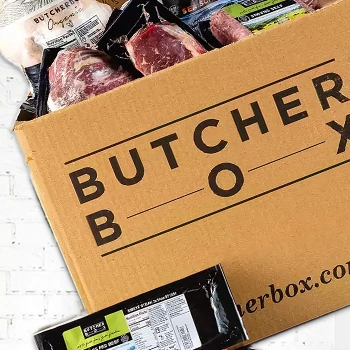 ButcherBox offers customers a selection of humanely raised pork, sustainably sourced seafood, organic chicken, and their specialty grass-fed beef.
Each month items will change, with some staple products such as ground beef being available all year round and items such as scallops or turkey being available depending on the season.
Since ButcherBox works on a subscription box basis, you don't have a specific selection of your meat unless you choose the customized box.
Even then, you will only have around 20 items to choose from, with the option to add on a few items later.
Even though the inventory is somewhat small, we really like this about ButcherBox. A small inventory helps customers navigate the website better, but it also helps the company focus on its products' quality compared to quantity.
If you choose to go with a subscription box from ButcherBox, some items may include:
Boneless pork chops
Whole chicken
Ribeye steaks
Boneless skinless chicken breasts
New York strip steak
Thrive Market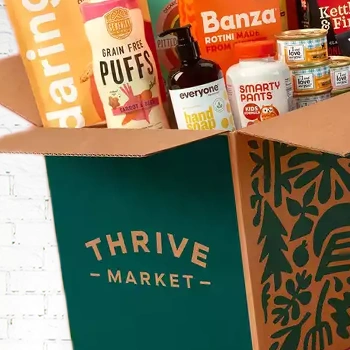 Thrive Market meat has a huge variety, offering organic meat such as pork, chicken, beef, and seafood.
While it can be slightly overwhelming, the large variety is perfect if you're searching for specific cuts, you may not find while grocery shopping.
Unlike ButcherBox, customers who shop with Thrive have free reign of the products since everything can be bought individually.
They do have a few boxes which include different types of meat; however, you can still view what will be going into the box.
Thrive currently has over 100 meat products available, with some out of stock due to seasons and the cut's popularity.
They offer far more seafood than ButcherBox, but a lot less pork, which could be a problem for someone looking for this specific meat type.
When shopping with Thrive, you can expect to find:
Grass-fed ground beef
Chicken breasts
Italian sausage
Sockeye salmon
Wild-caught lobster tails
---
2. Meat Quality and Sourcing
Surprisingly enough, even though Thrive is a huge online grocery store, they follow similar sourcing practices and meat quality checks as they do at ButcherBox.
ButcherBox

ButcherBox is a meat delivery service that prides itself in producing antibiotic, hormone, and synthetic-free meat.
This is ideal for producing healthier meat that doesn't contain artificial flavors.
Humanely raised beef: The beef from ButcherBox comes from family-owned farms around the US, who let their cows roam freely and eat a natural diet. Grass-fed and grass-finished beef is said to be healthier than grain-fed, producing meat that is both tender and tasty [1].
Humanely raised pork: Pork from ButcherBox is pasture and humanely raised, fed an all-vegetarian diet (excluding milk proteins), and are raised with sustainable and traditional farming methods. ButcherBox's hog breeds include Berkshire, Chester White, and Duroc, all of which have fine marbling due to their slow maturation process.
Free-range chicken: All the organic chicken from ButcherBox is free-range and USDA-certified organic. GAP (Global Animal Partnership, an animal welfare program) has accredited ButcherBox grade 3, which is the highest possible grade. According to the ButcherBox website, this means the chickens have free outdoor access, an enriched environment, outdoor shade, and natural light [2].
Sustainably sourced seafood: ButcherBox partners with family-owned businesses around the US that sustainably source their fish. For example, the sea scallops are caught straight from the waters of Massachusetts and sold "dry." This is good because they contain no artificial chemicals that make the scallops retain water when they overcook.
We partner with people who are dedicated to doing the right thing - never cutting corners and always looking for ways to improve. Discover why we're the trusted source of high-quality protein for families across the country.
- ButcherBox
While ButcherBox doesn't mention any specific names for sourcing, looking at their website, it is clear that they take the entire process seriously, not only thinking of the customers and the end result but also how the animals are treated.
Thrive Market
Thrive is perhaps more transparent when sourcing their meat, which is a pleasant surprise considering how many products they have in their store.
Like ButcherBox, products are 100% hormone and synthetic-free, bar one or two seafood products.
Grass-fed and grass-finished beef: The grass-fed beef from Thrive Market is sourced from Patagonian Mountain prairies in Chile, where the cattle are free to roam and graze on grass. According to them, they visited their partners and were "blown away by the vibrance and health of their farming system." Letting the cattle graze on grass 365 days a year is ideal for creating lean and delicious beef [4].
Pork: The pork at Thrive Market comes from a family farm in Georgia, where the hogs are allowed to roam on the pasture, staying outdoors 365 days per year. According to Thrive, the pigs are on s carefully planned grazing system, where they are moved around according to what's best for the animal and soil. They are certified humane and are free to eat a natural diet of grass, nuts, and acorns.
Certified organic and gluten-free chicken: Like the grass-fed beef and pork from Thrive Market, the organic chicken is also completely free-range, sourced from family-owned farms in Virginia. They spend most of their lives outdoors and are both certified organic and gluten-free.
Wild-caught seafood: Thrive Market partners with a range of fishers who focus on sustainable catching, avoiding overfishing, and minimizing bycatching. Like ButcherBox, the scallops contain no added chemicals, which allow them to cook with sweet and delicate flavor [5].
We noticed with Thrive Market that quite a few of their products don't fall under the 'ethnically sourced' category, whereas ButcherBox claims to be 100% ethical [6].
So, while Thrive Market may seem more transparent about its sourcing, dropping partners, and farm names, ButcherBox may be more committed to following strict farming practices.
3. Delivery and Packaging
The delivery for both of these companies is quite similar; however, ButcherBox delivery is completely free, whereas Thrive Market's is not.
ButcherBox
With ButcherBox, it isn't possible to select a specific date or time for your delivery. However, you will receive a tracking number that allows you to track your order every step of the way.
If you are not home to collect your delivery, it should stay cool for up to 8 hours due to the dry ice inside the box, which is ideal for people who are out during the day.
All orders from ButcherBox will arrive inside an insulated box with dry ice to keep the organic products cool or frozen.
Depending on the specific cuts ordered, your meat will arrive frozen or cold. All of our meat arrived in vacuum-sealed packaging, which keeps the meat fresh.
ButcherBox only uses environmentally friendly packaging that is 100% recyclable. This is great since the packaging can be conveniently thrown away using your usual recycling practices.
Your delivery will be completely free no matter what subscription box you order with ButcherBox. ButcherBox currently delivers to all 48 states, excluding Alaska, Canada, and Hawaii.
Thrive Market
All meat and seafood from Thrive Market will be flash-frozen beforehand, and like ButcherBox, customers do not have the option to select specific dates for delivery.
However, your meat box should arrive within two days once shipped from the warehouse.
Since Thrive market works as an online supermarket, many customers also order miscellaneous products with their quality meat. If so, you will be able to put together a "frozen box" which separates your frozen items from your non-frozen ones [7].
Like ButcherBox, if you are not home for the delivery, your box should stay frozen or cool for several hours on your doorstep due to the dry ice.
However, Thrive Market does disclaim that all perishable items should be placed in the freezer or fridge as soon as possible to ensure it stays fresh and safe to consume, despite the dry ice for the packages.
There, unfortunately, isn't much surrounding Thrive Market and its stance on recyclable packing.
Thrive Market offer free delivery on orders over $49, shipping to all contiguous states within the US, excluding Hawaii and Alaska.
---
4. Boxes and Prices

Comparing the price plans for both companies is quite difficult due to how different they are.
Because of this, we will only be looking at the packages both companies have to offer, rather than the individual products from Thrive Market.
ButcherBox
When shopping with ButcherBox, you will only get the option to choose between five boxes. While this can seem restrictive, having a selective inventory makes it easier to navigate the website and quickly sort out any meal planning.
The boxes follow the same pricing - $137 for the smaller box, which is ideal for individuals or small families, and $253 for the larger box, made for mid-sized families and large freezers. The only exception to this rule is the customized box, which costs $159 for the small and $288 for the big box.
Deliveries from ButcherBox can be arranged every four, six, and eight weeks in between.
Custom Box: This allows a free selection of all cuts and meats available on the ButcherBox website, which may change monthly due to stock and season. The classic box weighs around 9 - 14lbs, with the big box weighing 18 - 24lbs, containing 20% more meat than the curated boxes.
Mixed Box: Similar to the custom box, the mix will contain a variety of pork, beef, chicken, and seafood, the difference being that all of the cuts are selected for you. The meat box is subject to change each month; however, an example of the contents includes 2lbs of minced beef, 2 NY strip steaks, 4 top sirloin steaks, 1lb of pork tenderloin, and 3lbs of chicken breast.
Two Meats: Options include beef and chicken or pork and beef. Both boxes are curated for you, including cuts such as NY steaks, chicken drumsticks, and more.
All Beef: If you're only interested in receiving beef, you can choose the all-beef box curated by ButcherBox. This can contain premium cuts such as steak tips and chuck roast.
ButcherBox does give you slight leeway with their curated boxes, allowing you to change up your meat via add-ons or member deals. That being said, this meat delivery service recommends the custom box if you would like complete control over your order.
Thrive Market
Thrive Market is a membership-based store, so you will be asked to choose from either the one-year subscription, which costs $5 a month or the monthly subscription, which is $9.95.
This subscription gives you access to free gifts, weekly sales, scheduled deliveries, exclusive products, and up to 30% off your groceries.
While Thrive focuses mainly on a la carte shipping, a few bundle boxes help customers save money. A few of these options include:
The Beef Variety Box: This contains four different cuts of Thrive Market meat, including New York strip, diced beef, rib-eye steaks, and beef patties. This 100% grass-fed box costs $144.99 and weighs around 7.25 lbs.
Seafood Box Sampler: This seafood box from Thrive Market meat contains seven different types of fish, including shrimp, scallops, salmon, yellowfin tuna, and cod. It weighs around 7.5lbs and costs $150.04
Whole30 Meat & Seafood Box: This Thrive Market box contains a mix of both whole foods and seafood, including items such as sugar-free bacon, grass-fed beef, shrimp, cod, and a tenderloin steak. This box of whole foods weighs around 10lbs and costs $166.63.
Family Favorites Bundle: This Thrive Market box includes a mix of 100% grass-fed meat and seafood such as cod, chicken breasts, diced beef, and other organic meat. This meat seafood box weighs around 11lbs and costs $104.87.
You cannot select your own meat within these Thrive Market boxes, which is fine considering Thrive also has an a la carte option.
It is difficult to determine which company is more expensive since the prices at Thrive Market change quite drastically. For example, the family combo box costs $104.87 for 11lbs, whereas the whole foods box costs $166.63 for less meat.
However, it does seem like ButcherBox has a slight edge when it comes to price.
---
Stand out Features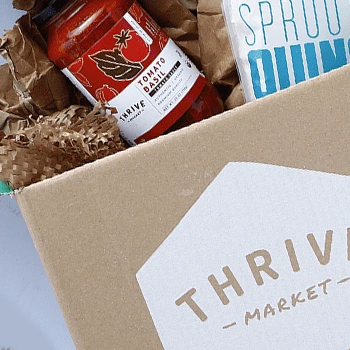 There are a few things at Thrive Market meat that we feel are worth mentioning. First, we were very impressed with Thrive Market platform's take on low-income families.
Through their one-for-one matching program, Thrive Market offers each low-income family free membership referred to as "Thrive Gives," along with students, teachers, nurses, veterans, and active military personnel.
This is great, as it completely covers the membership cost, allowing struggling families to shop for their groceries cheaper than a regular supermarket [8].
"Thrive Gives is one of the ways we aim to make healthy living easy and affordable to everyone."
- Thrive Market
Members of Thrive Market can also choose to donate a portion of their savings at checkout, which goes directly to the Thrive Gives' members' shopping carts, disaster relief efforts, and nonprofit organizations.
Related Comparison Guides:
Crowd Cow vs ButcherBox Comparison

Snake River Farms vs ButcherBox Comparison

Kansas City Steaks vs ButcherBox Comparison
Are Thrive Market or Butchebox Worth It?
When it comes to high-quality meat options, Thrive Market and ButcherBox have gained recognition. However, there are significant distinctions between the two companies. Thrive Market offers heritage pork, which refers to meat from traditional pig breeds.
On the other hand, ButcherBox provides a variety of options, including heritage-bred pork and free-range organic chicken. If you need ground pork, both Thrive Market and ButcherBox have you covered.
ButcherBox vs Thrive Market: Our Winner
These companies are home to grass-fed meat, sustainable practices, and healthy food. That being said, we do believe ButcherBox takes a slight edge over Thrive.
While Thrive Market has a bigger inventory, we believe people who enjoy eating meat will have a better time at ButcherBox.
ButcherBox offers custom and curated boxes at great prices, focusing all its efforts on the meat they produce. All the animals are free to roam and fed a natural diet, making the meat both healthier and tastier.
The subscription boxes ensure your freezer is always stocked full of quality meat, and ButcherBox is very flexible when it comes to canceling or postponing your deliveries.
Feel free to check out our ButcherBox meat delivery service review.
#1 Meat Delivery Service
ButcherBox
Click For Best Price

Pros
Grass-fed and grass-finished beef delivered directly to your door
Without antibiotics or added hormones
Customizable boxes available
Select from up to 21 different cuts
Get the BEST PRICE until the end of December
Was this article helpful?