I've been on a carnivore diet for years and made it my weekly norm to try different recipes when preparing my meals.
I've made my fair share of errors while trying the carnivore recipes out, and after years of trials, I can confidently say I've perfected my meal preparations using different recipes.
If you are looking to purchase reliable grass-fed beef, organic poultry, and uncured meats, consider our choice of the best meat delivery services.
Today I will share some of my favorite keto carnivore diet recipes.
Keep on reading.
Quick Summary
These best carnivore diet recipes are rich in protein and have less than 10g of carbs.
You can add a carnivore snack and dessert to these keto carnivore diet recipes, provided they don't kick you out of ketosis and affect your goal to lose weight.
The carnivore recipes are simple to follow and super easy to make with the right combination of spices.
Top 7 Keto-Carnivore Recipes
1. Keto-Carnivore Waffle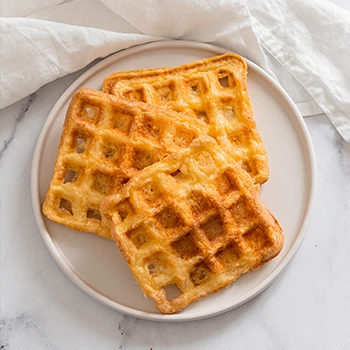 Prep time: 5 minutes
Cook time: 5 minutes
Total time: 10 minutes
Servings: 2
Nutritional Facts
Calories: 280
Total carbs: 1.4g
Protein: 25g
Fat: 20g
Fiber: 0g
Net carbs: 1.4g
Ingredients
1 egg
1 cup ground pork rinds
½ cup cream cheese
Pinch of salt
Instructions
Preheat the waffle maker with moderate-high heat.
Combine the egg, ground pork rinds, salt, and cheese in a mixing bowl.
Fill the waffle iron halfway with the waffle mixture.
Cover the waffle maker, then cook the carnivore waffles for 5 minutes or until lightly brown and firm.
Serve the waffle straight from the waffle maker.
Note: When you take the waffle out of the waffle maker, you may observe that they are fairly soft. That's not an issue since they tend to get crispy as they cool. 
2. Keto Bacon Cheeseburger Soup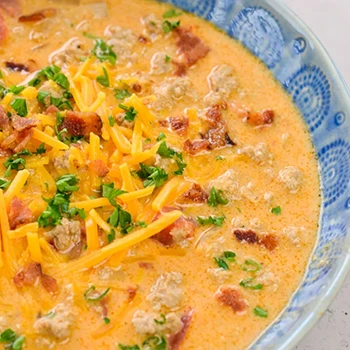 Meal prep time: 20 minutes
Cook time: 1 hour
Total time: 1 hour 20 minutes
Servings: 1 cup
Nutritional Facts
Calories: 370
Total carbs: 3.6g
Protein: 19g
Fat: 31g
Fiber: 0.7g
Net carbs: 3.6g
Ingredients
4 cups beef stock
1 medium diced tomato (or a 14-ounce can of diced tomatoes)
⅓ cup dill pickles, chopped
2 tbsp. Dijon mustard
2 tbsp. Worcestershire sauce
2 tbsp. fresh parsley, chopped
1 tsp. sea salt, plus more as desired
½ tsp. black paper
1½ lb. beef (ground)
1 small sliced onion
4 minced garlic cloves
½ cup sharp cheddar cheese, shredded
1 quart thick cream (you can also use sour cream)
8 crispy bacon pieces, cooked and crushed
Instructions
Over moderate heat, preheat a big oven or stock crock pot. Put the garlic, onions, and beef in the preheated instant pot, and cook until the beef is browned.
Add the tomato, beef stock, Dijon mustard, salt, pickles, Worcestershire sauce, pepper, and parsley.
Cover to boil, then lower to moderate heat and simmer for 35 minutes.
Add the heavy cream and cheddar cheese, lower the heat, cover and stir occasionally, and simmer for 25 minutes.
Top with bacon, then serve.
3. Stroganoff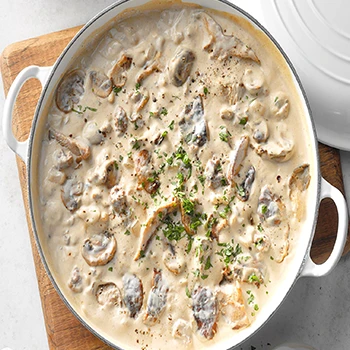 Prep time: 5 minutes
Cook time: 15 minutes
Total time: 20 minutes
Servings: 4
Nutritional Facts
Calories: 466
Total carbs: 2g
Protein: 33g
Fat: 36g
Fiber: 0g
Net carbs: 2g
Ingredients
16 oz. ground beef (80/20)
1¼ tsp. salt
(optional): pepper, parsley, and garlic salt
1 cup bone broth (beef)
2 oz. thick cream
Instructions
Cook the beef in a large skillet over moderate heat until browned.
Add the bone broth and stir adequately. Let it cook for 5 minutes.
Add the heavy cream and simmer.
Let it cook for about 10 minutes or until the sauce thickens.
Do not cover, as that can prolong the cooking process.
Serve while hot with breakfast sausage, and enjoy.
4. Meatballs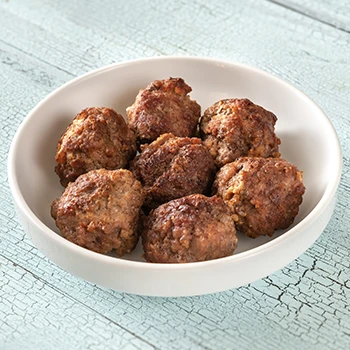 Prep time: 5 minutes
Cook time: 25 minutes
Total time: 30 minutes
Servings: 5
Nutritional Facts
Calories: 575
Total carbs: 0g
Protein: 39g
Fat: 45g
Fiber: 0g
Net carbs: 0g
Ingredients
2 lbs. beef (ground)
1 tbsp. salt
1 cup shredded mozzarella cheese
½ cup grated parmesan cheese
1 big egg
1 tsp. of Italian seasoning
1 tsp. garlic powder
1 tsp. sea salt
Instructions
Preheat the oven to 350°F (175°C).
In a mixing dish, combine the beef and salt; for the carnivore keto diet alternative, combine all the ingredients.
Form 2-ounce balls in your palm.
Place the formed balls in a baking dish and bake for 30 mins or until browned.
When done, remove from the oven and set aside for 5 minutes to cool. Serve warm with a preferred side dish like breakfast sausage.
5. Keto Meatloaf Cupcakes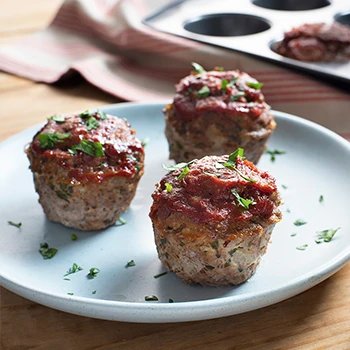 Prep time: 10 minutes
Cook time: 30 minutes
Total time: 40 minutes
Servings: 11
Nutritional Facts
Calories: 220
Total carbs: 1g
Protein: 15g
Fat: 17g
Fiber: 0.5g
Net carbs: 0.6g
Ingredients
1 onion, finely diced
1.5 lb. beef, ground/minced
2 medium eggs, lightly beaten
Pepper and salt to taste
1 cup melted cheese
2 diced bacon slices
A handful of fresh basil
A handful of fresh parsley
4 tbsp. chopped sundried tomatoes
2 tsp. dried oregano
Instructions
Mix the chopped onion, salt, meat, pepper, and eggs.
Season with your favorite spices and flavorings.
With your hands, combine all the components and scoop a tiny spoonful of the meatloaf batter into muffin tins.
Gently press, but not too firmly, or they will form meatballs.
Cover with cheese.
Cook in the oven at 360°F or slow cooker for 30 minutes.
Serve hot for the whole family to enjoy.
"If you really want to lower the carbs even more, you can omit the onion and substitute onion powder."
- Deanne Frieders, Chef 
Also Read: Smoked Meatloaf Recipes
6. Meatloaf Wrapped in Bacon
Prep time: 20 mins
Cook time: 1 hour 25 minutes
Total time: 1 hour 45 minutes
Servings: 7
Nutritional Facts
Calories: 570
Total carbs: 3.2g
Protein: 43g
Fat: 29g
Fiber: 1.2g
Net carbs: 3.2g
Ingredients
2 lb. lean beef (ground)
1 cup diced onion
1/2 cup chopped green bell pepper
2 minced garlic cloves
1 tsp. Worcestershire sauce
2 large eggs
1/2 cup of rolled oats
1 tsp. kosher salt
1 tsp. ground black pepper
10-12 bacon strips
Ketchup glaze:
1/3 cup ketchup
2 tsp. brown sugar
1 tsp. paprika
Instructions
Preheat the oven to 350°F. Line the loaf pan with slightly overlapping bacon slices.
Mash up the meat, onions, eggs, bell pepper, salt, garlic, oats, Worcestershire sauce, and pepper inside a medium-sized mixing bowl.
Spread the glaze over the bacon inside the loaf pan.
Press the meatloaf mixture into the pan.
Fold the hanging bacon over the top of the pan.
Remove the loaf pan from the oven and place it on a baking tray lined with parchment paper or foil.
Wrap the edges of the meatloaf using bacon, tucking the strips under each other to make a tight seal.
Let the meatloaf bake for 50 minutes at 350°F.
Remove the meatloaf and brush it with ketchup glaze, return it to the oven, and bake for an additional 20 minutes.
Check if it is cooked. The bacon should be crispy.
Let the meatloaf cool. Slice and serve while warm.
7. Keto Chicken Curry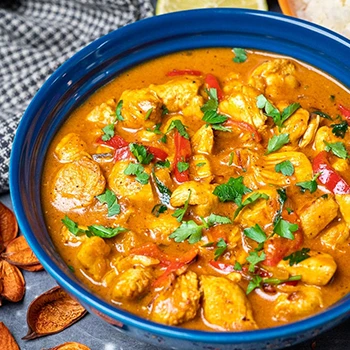 This is the best carnivore recipe among chicken recipes.
Prep time: 10 minutes
Cook time: 45 minutes
Total time: 55 minutes
Servings: 3
Nutritional Facts
Calories: 415
Total carbs: 4g
Protein: 20g
Fat: 36g
Fiber: 1g
Net carbs: 4g
Ingredients
1 small onion, finely chopped
1 big green chili, finely chopped
1 big green chili, finely chopped
3 cloves garlic
½ cup cilantro stems and leaves
2 tsp. ghee
1½ tsp. cumin powder
1 tsp. coriander powder
2 tbsp. tomato paste
1 tsp. salt
1 cup heavy cream
2 lbs. chicken wings or thighs (or a whole chicken cut into pieces)
Instructions
Combine the onion, garlic, green chili, coriander, ginger, and garlic in a food processor.
Mix until all of the ingredients are diced. Add a little water if your food processor has trouble moving the components.
Transfer the mixture to a large pan over medium heat or a slow cooker, add the ghee, and cook for 10 minutes, stirring occasionally.
Add the cumin, ground coriander, and turmeric. Slowly sauté for 5 minutes.
Add tomato paste and mix well to blend with the other components.
Let it cook for 2 minutes, then add the diced chicken.
Let the chicken cook over medium heat for 10 minutes.
Lower the heat and stir in the salt and cream until the curry simmers. Cook for 25 minutes or until the chicken is done.
Serve while hot.
FAQs
What Is Allowed on Carnivore Diet?
Foods allowed in the carnivore diet include organ meats, fish, and other animal products like eggs, bone broth, beef liver, and lard.
Does Carnivore Diet Put You Into Ketosis?
Yes, a carnivore diet may put you into ketosis. Following the best carnivore recipes and only eating organ meats will guarantee you have the right amount to put you into ketosis.
Can I Eat Steak Every Day on a Keto Diet?
No. You cannot eat steak every day on a keto diet. Too much protein will kick you out of ketosis [1].
Was this article helpful?