I've always cherished the aromas of home-cooked meals, and as soon as I tried smoked meatloaf at a friend's house, I knew I had to recreate it.
The smoked meatloaf recipe combines beloved classic meatloaf with a smoky twist.
I spent a year experimenting with various amounts of meat, ingredients, pellets, and smoking temperatures.
I held countless taste tests with my family until I found the perfect smoked meatloaf recipe.
Let's get into it.
Recipe Overview
Prep Time: 10 minutes
Cook Time: 4 hours, plus 20 minutes of rest time
Total Time: 4 hours and 30 minutes
Number of Servings: 4
Ingredients
2 pounds of ground beef
1 onion, chopped
2 eggs
3 garlic cloves
3 tablespoons ketchup
2 tablespoons parsley, chopped
3/4 cups breadcrumbs
1/3 cup milk
1 1/2 teaspoons salt
1/3 teaspoon black pepper
1/2 teaspoon paprika
 1 teaspoon Worcestershire sauce
Glaze ingredients:
1/2 cup ketchup
1/3 cup brown sugar
1 teaspoon garlic powder
1/2 teaspoon onion powder
1/4 teaspoon salt
1/4 teaspoon black pepper
1/4 cup BBQ sauce
Instructions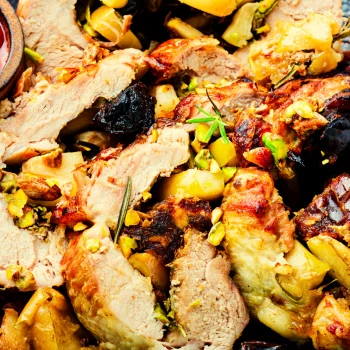 Preheat your pellet grill to 225 degrees.
Make the meatloaf. Combine milk and breadcrumbs to make a thick paste. Leave for five minutes so the breadcrumbs absorb the milk and swell.
Take out a large bowl and combine the ground beef, onion, eggs, garlic, paprika, Worcestershire, salt, pepper, and the breadcrumb mix. Thoroughly mix all the ingredients, but don't overwork. You don't want to overmix the meat.
Place the meatloaf mix on a wire rack and shape it into a meatloaf by hand. Or use a loaf pan and form by layering a piece of paper inside the pan and then placing the meatloaf into it.
Make the glaze by combining all the ingredients. Brush the meatloaf with the sauce before placing it in the pellet grill, and then every 40 minutes.
Put the meatloaf on the pellet grill and smoke until it reaches 145 degrees. This takes about four hours.
Transfer the loaf to a cutting board and let the smoked meatloaf rest for about 20 minutes before serving.
Recipe Notes

Here's what to keep in mind when making smoked meatloaf recipes:
If your meatloaf is falling apart, you don't have enough binders. Use more breadcrumbs or eggs.
Use a wireless thermometer to check the internal temperature. Ground beef is cooked when it reaches 145 degrees [1].
Smoky meatloaf recipe should be cooked to temperature, not time.
Buy a rack, which you can place straight on the pellet grill. This way, there's no need to transfer the meatloaf onto the smoker rack, and there's a lower chance it'll fall apart.
You can also place the meatloaf into a pan. Make sure the pan has holes on the bottom so that the smoke can circulate around the meat.
Cut all ingredients small and mix them well to avoid big chunks in the meatloaf.
You can also use a BBQ sauce glaze. It creates a tangy, smoky crust on the meatloaf.
Use yellow onion for its sweet flavor. If you prefer a white one, it works well too.
Use any kind of breadcrumbs you prefer to bind the meatloaf. Choose Italian breadcrumbs if you want more flavor.
If you want a brighter flavor, add tomato paste.
Use your favorite BBQ sauce or Worcestershire for a rich flavor. You can also add some Jack Daniels to the glaze, which works well with the smoky flavor.
Add some cayenne powder or red pepper flakes to the meatloaf mix if you like the spicy flavor. You can also mix cayenne powder and BBQ sauce so the glaze is spicy.
If you're a cheese lover, spread shredded cheddar cheese on top, top it with the leftover meatloaf mixture, and seal it so the cheese doesn't leak out.
Nutrition Facts
Calories: 456
Total Carbs: 10 g
Protein: 20 g
Fat: 21 g
Fiber: 1 g
Net Carbs: 0
What Meat to Use for Smoked Meatloaf?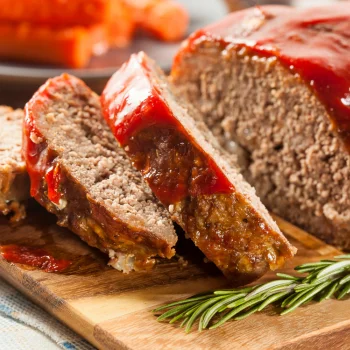 Use ground beef for smoked meatloaf. Use a fatty blend of ground beef, such as 80/20, to ensure your meatloaf isn't dry.
Generally, fattier beef is better. But I don't recommend choosing one with over 80/20 ratio, as you'll have a greasy, heavy meatloaf.
You can also use leaner beef and add ingredients to add moisture, such as fresh onions (not powder), eggs, and milk.
You can also try other kinds of meat, such as ground pork. Game meat can work well, especially bison and veal meat.
Experiment and find what meat works best for you.
"It's important to use 80/20 meat — 80% meat and 20% fat. That way, the meat can stick together."

- Meat Church BBQ, Youtube Channel
5 Best Wood Chips to Use When Smoking Meatloaf
Here are the types of wood chips that work best when smoking meatloaf:
Hickory - Provides strong, smoky flavor and pairs great with beef. Ensure not to use too much, or it'll overpower the meatloaf.
Apple - Gives a sweet, fruity flavor that goes well with the meatloaf. This wood has a mild smoke profile.
Cherry - Has a slightly sweet and tart flavor. It goes particularly well with light meats, such as poultry and pork. Cherry wood enhances the meatloaf's flavor without overpowering it.
Maple - Gives the meat a delicate flavor. It's a good choice if you want to add subtle smokiness.
Pecan - Gives the meatloaf a nutty flavor. Pecan wood has a medium smoke intensity, so it's a good option for meatloaf.
I prefer sweet fruits, such as apple and cherry, for the classic meatloaf recipe. However, you should experiment with different wood combos to find what works best for you.
Related Articles:
How to Store Meatloaf?

Store meatloaf in the fridge in an airtight container for up to four days. You can also store it in the freezer.
Let the meatloaf cool, wrap it in aluminum foil, place it in a freezer-safe bag, and store it in the freezer.
The meatloaf will keep its quality in the freezer for up to three months.
Pro tip: Slice before you freeze meatloaf. This way, you can use it to make sandwiches without having to thaw the whole meatloaf. Also, label the meatloaf with name and date for easier identification.
You can reheat the frozen meatloaf by leaving it in the fridge overnight. Then remove the foil and heat in the microwave.
Start with one minute, and then go to 30-second intervals until it's warm through.
You can also reheat in the oven. Preheat the oven to 250 degrees, put the meatloaf in an oven-safe dish, and add some water to stay moist.
Cover with aluminum foil and preheat until the internal temperature reaches 145 degrees.
Read More: Best Meats for Meatloaf
FAQs
How Long Does it Take to Smoke a Meatloaf at 225 Degrees?
It takes around three hours to smoke meatloaf at 225 degrees.
What Ingredient Makes Meatloaf Stick Together?
Eggs and bread crumbs make the meatloaf stick together. They act as binders for the ingredients. You can also add some BBQ sauce or Worcestershire sauce to moisten the meatloaf.
Why Put Ketchup in Meatloaf?
Put ketchup in meatloaf to balance all the flavors. You can also use ketchup in the glaze to caramelize while it bakes. This gives the meatloaf a smooth texture.
The Most Delicious Smoked Meatloaf You've Ever Had
Make smoked meatloaf by preheating your smoker. While the smoker heats, mix meatloaf ingredients in a bowl.
Make sure to add BBQ sauce for amazing flavor. Also, use a glaze to have a caramelized crust.
Finally, carefully choose your smoker. You can have the highest-quality ingredients, but a poor-quality smoker will still create poor flavor.
We've tried and tested countless smokers, from Weber, Char-Broil, Traeger, and more.
Here's our roundup of the best pellet smokers, guaranteed to elevate your meatloaf to perfection. Take a look and find the one that fits your budget for a delightful cooking experience.
---
References:
https://www.fsis.usda.gov/food-safety/safe-food-handling-and-preparation/food-safety
Was this article helpful?