Beef short ribs are the kind of food you can find at fine dining restaurants and high-end steakhouses.
Once I got tired of paying top dollar for food that I could make on my own, I spent years perfecting my short rib stew recipe.
I'm divulging all my short ribs beef stew recipe secrets today, so you too can cook short rib stew on your own.
I'll talk about everything you should know about short rib stew, such as ingredients and instructions on how to cook it.
Quick Summary
Short ribs are the cut of beef that's usually taken from the chuck of the cattle.
Be careful which wine you use to braise the ribs.
There are four ways short rib stew can be braised.
The Lowdown on Beef Short Ribs
Short ribs are the beef equivalent of pork ribs but are meatier.
They are a cut of beef that's taken from the brisket, chuck, or rib area on a cow.
These are five ribs that can't be used for steaks, as they are too small.
They are perfect for slow cooking, as this breaks down the connective tissue, and the meat becomes so tender, it falls apart.
"There are five to six bones across the ribs. As the short ribs cook, it sticks to the bone. The bone implants the flavor, and the meat melts."
- Gordon Ramsay
Short ribs are cut in two ways [1]:
English style — this is the traditional cut, with small 1-bone meat chunks. This is the beef that's typically used for braising.
BBQ or flanken style — The ribs are cut into strips, with 3 bones and the meat between them. This beef can also be used for braising.
Short Rib Stew Recipe Ingredients
These are the ingredients you'll need for a very good recipe containing short ribs:
4 pounds of ribs

2 teaspoons of hot paprika

2 tablespoons of smoked paprika

½ cup flour

Ground black pepper

1 chopped onion
Salt

2 carrots

4 strips of cut bacon

4 chopped garlic cloves

1 can of peeled tomatoes

1 pound turnips
2 pounds of Yukon Gold sweet potatoes

2 tablespoons of olive oil

2 cups of dry red wine

2 cups of beef stock/broth
Cooking Instructions
Here are step-by-step instructions on how to make a short rib beef stew with short ribs:
Start by cooking the bacon in a large Dutch oven on medium-high heat. Cook until you see the fat has been rendered. Then place the bacon on a plate previously lined with paper towels. Don't throw away the bacon fat.

Preheat the oven to 300 degrees. Mix the flour, hot and smoked paprika, one teaspoon of salt, black pepper, and olive oil in a large bowl. Dredge the beef ribs in the flour mixture. Shake off the excess flour.
Put the beef short ribs in the bacon fat. If all ribs can't fit at once, do it in batches. Brown for up to five minutes per side. Don't stir unless to switch sides.

Chop the bacon and move it aside for later use.

Time to cook onions and garlic. Use tongs to get the short ribs out of the pot and into a bowl. Add the onions you've previously chopped. Add ½ teaspoon of salt and cook everything for up to four minutes. Then add the garlic and cook for one more minute.

Time to add the braising liquid. Pour the red wine and the beef stock or beef broth and bay leaves (optional). Scrape browned bits from the bottom of the pan with a wooden spoon.

Pour in the can of tomatoes and add the reserved bacon. Increase the heat from medium to high to bring the mixture to boiling.

Time to return the beef ribs to the pot. Cover the pot, increase the heat to 300 degrees, and cook for two hours.

Add the remaining vegetables – potatoes, turnips, and carrots. They should be cut into about 1-inch pieces. Put all the vegetables in the pot with the ribs and cook until the vegetables are tender and meat pulls from the bone. This should take about half an hour to forty-five more minutes.

Finally, remove the excess fat and add salt and pepper as needed. Also, if you prefer, you can remove the bones as well.

Take out stew with a slotted spoon and serve on plates.
That's it! If you start on time, you can have the short rib beef stew ready for dinner tonight.
Pro tip: Don't go for the crazy expensive vines in slow cooking recipes. [2] Use a full-bodied vine, like cabernet sauvignon, merlot, or shiraz. Don't use pinot as it's too light.
Similar Articles:
Nutrition Facts
This is the nutrition info for short ribs stew:
Calories 724 per serving

Carbs 70g

Protein 44g

Fat 52g

Saturated fat 24.1g
Fiber 9.4g

Cholesterol: 129mg

Sodium: 1101mg

Potassium 1540.3mg

Sugar 11.7g
Vitamin C 35.5mg

Vitamin A 4265mg

Calcium 118mg

Iron 5.5mg
Keep in mind that this nutrition info assumes all of the sauce will be eaten, which probably won't happen. Also, the nutrition info is shown with all of the fat in the sauce. In reality, the excess fat will be discarded.
Braising Time for Beef Short Rib Stew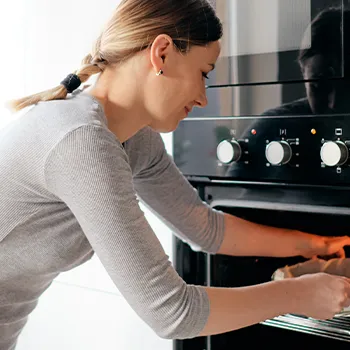 How much time you'll need to braise short rib stew depends on the cooking method you use.
These are the most common methods of braising short rib stew:
Oven — About three hours at a temperature of 300 degrees
Stove — About two and a half hours
Pressure cooker — About one hour on high temperature
Slow cooker — About 8 hours on low heat and five hours on high heat
Braised Short Rib Stew: Final Thoughts
Short rib beef stew is the perfect comfort food. My whole family loved this recipe, and I am constantly asked to make it again, even on a slow cooker.
What it lacks in looks, it more than makes up for with taste. Add tomatoes and potatoes to the serving plate, and everyone will love it.
Make sure to try this recipe the next time you buy some short ribs. I promise you won't regret it.
---
References:
https://lakegenevacountrymeats.com/blog/ask-lgcm/what-is-a-short-rib
https://www.nytimes.com/2007/03/21/dining/21cook.html
Was this article helpful?