Are you monitoring the fuel level in your car every time you drive? If you have a propane tank in your yard, you should do the same.
If you use propane as energy for heat, water heating, clothes drying, fireplaces, cooking, backup power, or outdoor living, the gauge on your tank can help you understand if you have enough propane for all those energy needs.
Propane gauge reading can sometimes be confusing. To make sure you will never run out of propane, learn how to read your propane tank gauge.
3 Tips On How to Read Propane Tank Gauge
To be able to read your propane tank gauge, first, you need to find it. The gauge is located under the lid on the top of the tank. Open the lid carefully to reveal the gauge.
Propane tank gauges are usually protected in the domes, but be extra careful when you open the lid in summer because of the hot air. When you open the lid, you will see several objects. The gauge is the one that has numbers.
1. Read Your Propane Tank Numbers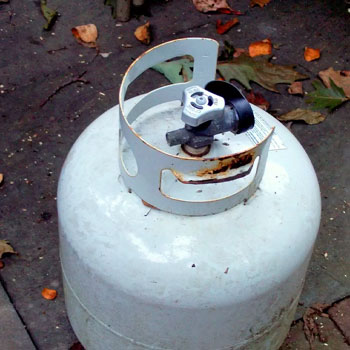 The tank propane is stored as a liquid. Depending on the weather, it expands and contracts as the outside temperature rises or falls.
Tanks are filled by propane to 80% of the capacity, and the other 20% is a place for gas expansion. This percentage is the maximum allowed amount of gas that a tank can store.
The number on the propane tank gauge reads how full the tank is as a percentage. Most of them read numbers between 5% to 90%.
For example, when the needle is on level 80, the tank is full of propane; when the needle is on level 40, the tank's gas percentage is 50%.
To determine how much propane has left in propane tanks, you need to multiply the number you see on the gauge by your tank's size.
For example, if the size is 500 and the gauge reads 30, then the quantity of the fuel left is 500x0.3=150 gallons.
If the needle on a propane tank gauge is on level 20 or below, it means that the gas is running out. You need to schedule a new delivery by calling a qualified professional to refill it.
2. Check the Table to See How Much Propane is Remaining
To understand how much propane remains in your tank, reading the table below can help. Find the tank's size in the menu and check the number of gallons remaining on the tank. [1]
SIZE
% in tank
Gallons in tank
Tank 120
120
80
96 gallons
120
50
60 gallons
120
20
24 gallons (refill)
Tank 250
250
80
200 gallons
250
50
125 gallons
250
20
50 gallons (refill)
Tank 330
330
80
264 gallons
330
50
165 gallons
330
20
66 gallons (refill)
Tank 500
500
80
400 gallons
500
50
250 gallons
500
20
100 gallons (refill)
"Don't build a glass house if you are worried about saving money on heating."

- Philip Johnson, Architect
3. Take Note of the Tank size
According to research, more than 7.5 million households rely on propane for primary or secondary home heating.
Depending on your needs, the appliances you are using, and your home's size, you can select between different dimensions of propane tanks.
The smallest one is a portable 20-gallon tank, which you can use for patio heaters or grills. There are also other smaller tanks like tank 80 or tank 50 gallons, while the biggest one can hold over 2,000 gallons.
The most usual for home usage is a 500-gallon tank and a 250-gallon tank. A 500-gallon tank can hold up to 400 gallons of propane, while a 250-gallon tank can hold up to 200 gallons of gas.
Related Articles:
Conclusion
Gauge reading can be challenging, especially if it's your first time. Reading tank gauges is the best way to determine your current fuel supply. You should check them regularly to know how much gas is left.
If you see that the gas is running out, you can inform your supplier on time to schedule the next delivery. Don't wait until the last minute: if your tank runs out of propane, a qualified professional must test your propane system before you can turn on the gas again.
---
Reference:
https://propane.com/
Was this article helpful?