Venison is a kind of meat people either love or hate due to its distinctive flavor. However, a mistake many people make is not cooking venison properly.
I've been on a carnivore diet for more than a decade, and during this time, I've tried all kinds of wild game, but venison remains my favorite. I've been preparing wild venison meat for years, so today, I'll give you all my tips and tricks on cooking venison.
Quick Summary
Generally, venison meat tastes best when slow cooking it.
Venison cooking time and method depend on the venison cut.
Vegetables such as mushrooms, beetroot, juniper, and others pair best with venison.
There are several things you should know and ask the seller before buying venison.
How to Cook Venison?
How to cook venison depends on which venison cut you have. Venison has much less fat compared to traditional kinds of meat.
This makes it popular for health-conscious people, but it's easy to dry out when cooking. Moreover, venison fat doesn't taste as good as beef or pork fat, and many people don't find the taste pleasant.
For most meat cuts, fat is what gives the meat flavor and makes it delicious. But, you must use other animals' fat when you cook venison.
Here's how to cook venison step-by-step.
1. Marinade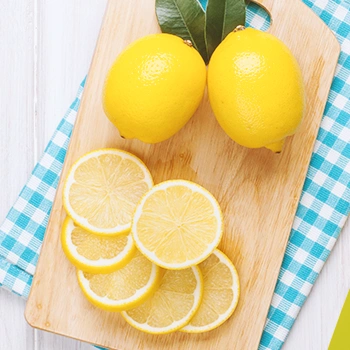 When marinading venison, go for an acidic marinade, for example, one with red wine vinegar, lemon, and salt. These help tone down the gamy flavor of venison steak and make the meat more tender.
I especially recommend using a marinade if you're a venison newbie to make the flavor more similar to beef cuts.
Marinate for at least three hours, or leave overnight for best results.
Note: This is an optional step; if you love the taste of deer, you can skip it. In that case, season with salt and pepper.
2. Let it Rest Before Cooking
If you're skipping the marinating part, let the venison rest before cooking, and cook at room temperature.
You can leave it on the counter for about half an hour to forty-five minutes before cooking. That will allow the meat to cook more evenly because the center of the cut won't be cold.
Another thing to do while venison steaks are resting is to remove the packaging and use a paper towel to pat the steaks to absorb excess moisture.
Note: You can pat dry the venison steak even if you marinate it to make sure there's a brown crust on the meat.
3. Sear the Venison Steak
Use a hot pan, plate, or grill to sear the venison steak. Place a small amount of cooking oil or butter in a hot pan and heat it. Venison steaks should sizzle when they touch the cooking surface.
Then sear the meat on all sides to lock in the moisture. I recommend searing for 40 seconds on each side and 10 seconds on the edges. When you're done searing, baste the meat in butter or oil for about 20 seconds.
When you're done searing, you can finish the venison steaks in the oven to make sure it's tender. Roast in the oven for about 10 minutes, and flip halfway through.
Venison steak is best cooked medium-rare. Use a thermometer to check the internal temperature. The steak is done when it reaches 125 degrees, and the loin and ribs when they reach 160 degrees [1].
4. Let the Venison Steak Rest
Finally, don't cut the steak right away but let it rest. The juices should settle and spread evenly throughout the meat, so you'll have tender and juicy venison steaks.
Cover the meat with foil and let it rest for about 8 to 10 minutes.
Pro tip: Don't cut the meat surface during any cooking stage because it'll result in moisture loss.
Tips for Cooking Venison

My best tip for preparing venison is to choose the cooking method based on the venison cut. For example, tenderloin and loins are naturally tender, so these are best grilled on high heat or pan-seared.
Tougher cuts, such as shoulder shank, neck, or hind legs, should be cooked slow and low. You can braise these or use them in a stew. These are best cooked whole or diced before cooking.
You should also marinate these cuts before slow cooking so the meat becomes more tender.
"The 'wild' flavor of venison is directly related to what the animal eats. Corn fed deer will have a milder flavor than those that eat acorns or sage. The 'gamey' flavor is more noticeable in the fat. Removing the fat, connective tissue, silver skin, bone, and hair during processing lessens the 'gamey' taste."
- University of Minnesota, Preserving & Preparing Food Safely
Here are some more tips on how to cook venison:
Make smoke rings — You can make smoke rings on wild foods, including venison. Start smoking venison cold because a smoke ring stops developing at 140 degrees, so the longer the wild venison needs to reach this temperature, the better.
Cook thin cuts cold — Thin cuts should be very cold before cooking so they remain pink. You can set them in the fridge or the freezer for about 20 minutes before cooking, so you have the pink center and golden brown outside.
Cook thick cuts at room temperature — These shouldn't be too cold or too hot, so they cook evenly.
Don't season if you're cooking at high temperature— If you cook venison on high heat, don't use rubs or seasoning except for salt because it'll ruin the meat's temperature. Instead, rub the meat when it comes off high heat, then let the meat rest.
Don't substitute venison for beef — Beef fat is much richer than venison. Plus, deer have much less marbling than corned beef. Deer forage on grass, herbs, and other plants, but cattle are grown on a grain-based diet, so they have more fat [2]. This is why it won't work if you substitute beef for venison in most recipes.
Don't overcook — Overcooking venison cuts will result in rubbery and gamy meat. Venison cuts should be cooked rare or medium-rare unless you're mixing it with other red meat to add more fat.
Read More: Most Popular Venison Recipes
Buying the Right Venison Cut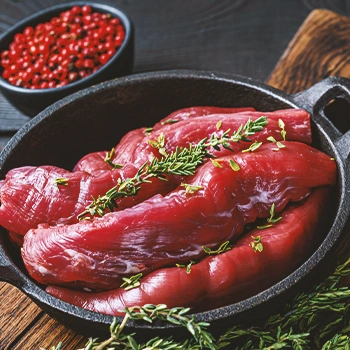 You have two options when buying venison: farmed or wild venison. Plenty of farms across the US let deer roam and graze in herds.
These farms sell the meat in on-site farm shops. In this case, the deer are killed on-site and don't have to travel to the slaughterhouse, which means less stress and tastier meat.
If you buy venison cuts from deer grown in herds, expect a lot of variation in texture and quality. In general, younger deer have more tender cuts, although meat aging and stress levels at slaughter also impact the flavor and texture.
The venison taste depends on the deer's age and how long it's been hung.
Another thing to keep in mind when buying venison is the venison season. This depends on the type and deer sex, but it generally lasts from late summer to late winter.
Keep in mind the deer diet. For example, meat from a red deer has a bolder flavor, and meat from roe or fallow is more delicate and subtle.
Finally, ask your butcher or game dealer about the hanging time because hanging venison impacts the flavor of the meat. The longer the venison is hanged, the more tender the meat is.
Side Dishes to Serve With Venison
Venison is best served with autumnal foods, such as mushrooms, beetroot, parsnip, and turnip. Juniper goes very well with ground venison because it gives a fresh aroma that goes well with the gamy flavor.
Another popular pairing is chocolate and venison. It may seem unorthodox, but bitter chocolate gives a rich flavor to venison. For example, you can pair dark chocolate and figs with a venison roast.
Venison also goes well with bacon, red wine, tomatoes, and thyme, but there's no need to overdo the ingredients. Choose up to three other foods and serve with venison for the best flavor.
Related Articles:
FAQs
How Long Should Venison Be Cooked?
How long venison should be cooked depends on the cut and cooking methods. For example, venison roast should be cooked for 2 to 3 hours, but venison sausage should be cooked for 10 to 20 minutes per link.
What Is Best to Soak Deer Meat in Before Cooking?
Buttermilk, vinegar, lemon or lime juice, and saltwater are the best soak deer meat in before cooking. These help lower the gamy flavor.
How Should You Cook Venison?
Follow the steps I've outlined above to make sure your venison is prepared correctly. Venison steak should be served medium-rare. Cook it on medium-high heat so that it becomes fairly tender.
Overall, slow cooking is the best method for wild game, including venison. Young animals will have the best flavor, but it also depends on how the animal was slaughtered and how it was cared for.
We reviewed the six best wild game meat delivery services to make it easy for you to choose your exotic meat supplier. Check out our round-up, and order your own meat.
---
References:
https://www.fsis.usda.gov/food-safety/safe-food-handling-and-preparation/meat
https://extension.umn.edu/preserving-and-preparing/cooking-venison-flavor-and-safety
Was this article helpful?