Everyone likes to sit around the fireplace and enjoy the smell of grilled food. Sometimes, things can go out of control. It can start from damaging your lawn or, if you are camping, the grass and nature around.
But, solutions do exist, and you can easily find them in a store near you. If you are wondering what to put under a fire pit on grass and prevent any accident, you've come to the right place.
Here are the recommended materials and some tips for enjoying your time outdoors and protecting your area at the same time.
What to Put Under a Fire Pit on Grass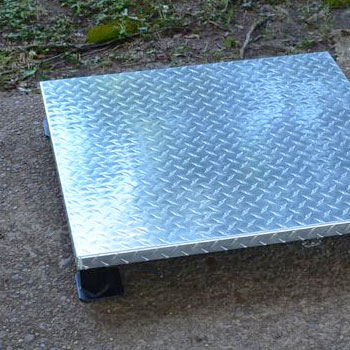 There are several heat resistant solutions you can put underneath your portable fire pit to protect the surface.
Heat Shields
If you are planning a barbecue in your yard, take a fire pit heat shield.
It is made to provide protection for grass, which might be damaged by fire or heat. Heat shields are easy to use, especially for portable fire pits.
You do not need to assemble anything - just place the heat shield underneath your fire pit. It can be a very good solution to protect your property.
Heat shield is made from heat resistant material that can absorb very high temperatures. Before putting a heat shield on a surface, check the information of its maximum heat stress capacity.
Sometimes the intense heat from the fire pits might damage these items and leave a scorch mark.
Fire-Resistant Mats
If you are going on a camping trip, take a fire-resistant mat with you. This fire pit pad is the top solution for preventing burning fire on any outdoor activity, as it won't take much space. You can simply fold it and put it in your bag next to your picnic blanket.
Fire-resistant mats are easy to use. You should just place them on the grass and then put the fire pit over it. By doing this, you will protect the grass from the flame or any other heat damage.
Apart from the portability, fire-resistant mats are a preferred solution because of their size. They are larger than heat shields and can cover a bigger surface.
Patio Slabs
For the highest protection of your lawn from heat and damage, use patio slabs. They are the most stable solution – when you put them on a floor surface, they distribute the fire pit's weight equally to all four legs.
If you put them correctly below each leg on the fire pit, you can be sure that your grill will not crash and start the flame.
Patio slabs can protect the land from spark screen and scorch marks because of their construction's top materials. For even better results, place some sand below the fire pit as it will act as an insulator and help decrease the temperature.
Make sure you are not touching the slabs at least 24 hours after grilling, as they can heat up to 2000 degrees Fahrenheit.
How to Protect your Lawn While Using a Fire Pit
No matter how careful you are, accidents can happen. You will be surprised how many of them could be prevented if people have only paid attention to several simple things before lighting the fire.
According to research (1), nearly half of the injuries were thermal burns, which could be prevented by putting the fire pit pads underneath the fireplaces.
Have a Hose or Fire Extinguisher near you
Whatever you do, do not play with fire. No matter how many precautions you took, sometimes the flame is just too big and serious, and you cannot do many things to stop it.
Always have a hose or fire extinguisher near you - it can be a lifesaver and an excellent way to protect your living space from severe damage.
Wet the Grass
When the grass is dry, it burns fast. Make sure to keep it wet when your fire pit is open. When you put fire-resistant mats or heat shields underneath your fire pit, the grass will still be quite warm.
Still, wetting the grass with a hose a few times during the night will decrease the temperature and protect the whole surrounding area.
Never Use Lighter Fluid and Fuels
Lighter fluid and fuels can instantly create a big flame. Fire flames can spread around the fire pit very fast, and they can cause heat stress and destroy your grass backyard. Use other materials like wood or paper to reduce the heat contact instead of a fire starter as a much safer option.
Recommended Article: Starting A Charcoal Grill Without Lighter Fluid
Choose a Flame-Retardant Mat Made from High-Quality Materials
To protect your garden or keep everyone safe during camping, use only a top fire pit pad made from high-quality materials. Check how high temperatures they can handle when you make a final purchasing decision.
"Grilling is an easy tradition to start at any age! To get started, one only needs a modest investment in equipment and a little bit of outdoor space."

- Barton Seaver, Chef
How to Eliminate Risks and Prevent Damage To Your Lawn
Below are some tips that can help you eliminate risks and protect your grass when you turn on your fire pit next time.
Prepare Well Balanced Surface
Before lighting a fire on your fire pit, make sure you have it stable on the floor surface. Grass area should be leveled, and fire pits should never be placed on a slope or incline.
Search for brick pavers to form a level spot and protect more of the area from extreme heat. This will prevent your fire pit grills from falling and causing damage to your lawn.
Clean Away the Area
It is very important to clean the area or any ghost prints where you want to place your fire pit. There are many things that can be found on grass, like pine cones, which burn very fast.
Also, an outdoor fire pit should be placed away from any tree or other object which can be in danger if the fire is not under control.
Safety protocols should still be observed whether you are outside in your sleeping bags or in your canvas camping tents.
Choose quality products
The main reason for outside gas grill fires, according to research (2), were caused by gas leaks or breaks. That's why it is very important to choose a quality fire pit, fire bowl, and cooking grates made from grade aluminum or other quality materials.
FAQs
Is it OK if I put a fire pit directly on grass?
No. Fire pits can warm and destroy the grass if you put them directly on it. The best would be to put something in between, like heat shields or patio slabs, made from fire-resistant materials, which can withstand high temperatures.
How can I prepare the ground for a fire pit?
First, level the surface. A fire pit should never be placed on a slope or incline. Then, to protect the grass, put a heat resistant mat underneath the fire pit.
Conclusion
Fire can be dangerous, and we should do everything to prevent it. Apart from ruining our day, it can create serious problems for our property and injure people we love.
If you have purchased an outdoor fire pit, you should be aware that these things can be prevented.
By simply putting fire resistant pads like fire pit heat shields or patio slabs on the grass, you provide safety for those standing close to the flame.
If you like portable fire pits and enjoy spending time in nature, choose more mobile products, which you can always take with you.
---
References
https://www.nfpa.org/Public-Education/Fire-causes-and-risks/Seasonal-fire-causes/Grilling
https://www.nfpa.org/Public-Education/Fire-causes-and-risks/Seasonal-fire-causes/Grilling
Was this article helpful?