Summer is right around the corner, and that means time spent by the pool, family barbeques, and campouts in the backyard.
All of which benefit from an outdoor, built-in grill to help make our summer memories complete.
While the price tag might be daunting, you will fall in love with all that the drop-in gas grills have to offer.
What are Drop-in Grills?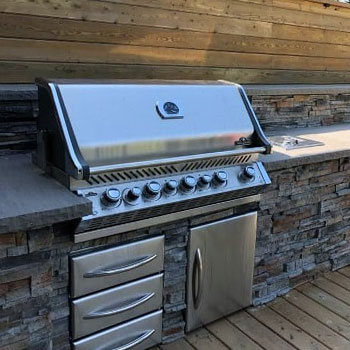 Drop-in grills are a type of outdoor grill that is permanently placed and installed. Typically found in an outdoor kitchen that has been renovated to enhance the backyard bbq experience.
These grills can operate in four different ways:
Charcoal - The least expensive type that still delivers high heat and gives food a delicious char-grilled flavoring.
Pellet - A good combination between the gas and charcoal grill. The pellet grill is electronically powered and easy to use, all while giving you the sought after smokey flavor. This will be the most expensive type on the list.
Natural Gas - Natural gas is the most popular because of its convenience factor. With one push of a button, the gas grill heats up and makes barbecuing quick and easy [1].
Electricity - The easiest type to use and perfect for smaller spaces. The electric grill doesn't heat up to high temperatures so the flavors won't stand out as much.
What you end up buying will be determined by various factors, including the amount of space you have, what you will be cooking, how much you want to spend on a grill and your experience level.
"You will want something that meets your needs and cooks effectively. But don't panic: there's no right or wrong."

- Gordon Ramsey, Chef
3 Reasons for the High Price Tag
A quick search on the internet and you may be amazed at the cost difference between a drop-in grill and its standalone counterparts.
Even finding yourself asking, "Why are drop-in grills so expensive?" However, that comparison isn't exactly fair. You'll want to take into account the different sizes and build differences.
Let's consider the three main reasons the drop-in grill is more expensive and on the high end compared to other bbq grills or gas grills.
1. Material Cost
When buying this form of grill, you buy an appliance made from high-grade steel or porcelain-enamelled cast iron built to last at least 10 years.
Compare that to other grills that are of lower quality and will require replacing after several years.
So, not only are you getting a better quality outdoor kitchen grill but a bbq grill that will retain and distribute heat evenly on the grilling space.
You want grates that deliver a powerful punch, and that means a more expensive grill that won't rust after being used.
You will see a return in investment after several years of using a stainless, drop-in grill. Visit a local used appliance store and see how the drop-in grill has fared after being used often by people.
They are built to withstand constant use. It won't take you much time to see the importance of high-quality materials for an appliance that will be outdoors during all seasons.
2. Performance
You'll find that the expensive materials used to build this grill, translate to an elite grilling performance. The most important thing to look for in a grill is heat retention and power, which drop-in grills have in spades.
The more power it produces means you get a bigger temperature range and more flexibility for your grilling. This gas grill will heat up quickly, which saves you both time and money.
Because it is made with better material, drop-in grills have multiple burners that can accommodate a large cooking area without losing any power. This means less time spent far away from the action.
The high-grade stainless steel grill design is built to retain the heat from the massive amount of gas power being put off the appliance [2]. The consistent heat level is one important aspect of grilling.
3. Grates
One of the best parts of these gas grills is the porcelain grates. They are made in a way that protects them from any rust or wear that is typically seen when materials come into contact with high heat.
Life-long grillers agree that getting these high-end cooking grates made a huge difference in the look and taste of their food.
You will like how the heat is evenly distributed across the grates' surface because you won't fear cold spots or cheap material anymore.
More and more gas grills are coming outfitted with porcelain because it is built better and lasts longer than other types.
Try looking at a variety of grates to find the best fit for you and your price range.
Recommended Article: 4 Simple Steps to Cleaning Cast Iron Grill Grates
Are Drop-in Grills Worth the Price?
Hopefully, the above features answer your question, "Why are drop-in grills so expensive?".
A prestigious gas grill like what we have at Carnivore Style has a ton of bells and whistles that all serious cooks need.
Just consider some of these features:
Ceramic Briquettes - The briquette are small ceramic tiles that spread out the heat produced by the burners. They last many years and are very easy to clean. More and more people are opting to use ceramic briquettes over heat shields which are prone to rusting.
Great Control - You may be used to using the old school knobs, but the newer grills have more advanced controls. Some drop-in gas grills have control knobs that light up to let you know when the burners are on. Plus, an interior light that will make late-night barbecuing a breeze.
Tons of Cooking Options - Get one that costs a bit more to have access to innovative methods. You can do anything from indirect cooking which is perfect for slow-cooking meats to a built-in rotisserie system. Another important feature is the ability to smoke meat without any extra equipment.
Related Articles:
Conclusion
If anyone asks you, "Why are drop-in grills so expensive?", you now have the perfect response. These stainless steel gas grills are built to far outlast the competition.
The new features make even the most frugal cook consider knowing more. While cost and money should play a role in your decision, there are many other factors to take into account. You will know the best grill for you when you see it.
You don't have to search far and wide to get the perfect outdoor kitchen, because drop-in grills are worth every cent.
They can be built into any outdoor kitchen space, and there's nothing better than the level of control you will find from their burners. Whether you're grilling up steak or chicken, you'll like the final product.
---
References:
https://www.homedepot.com/c/ab/types-of-grills/9ba683603be9fa5395fab90102b0488
https://www.sciencedirect.com/topics/economics-econometrics-and-finance/high-grade-steel
Was this article helpful?