I still recall the first time I tried crusted beef tenderloin.
The meat's aroma was enough to make my mouth water, and the combination of tender meat and rich crust flavors didn't disappoint. In fact, I liked it so much I decided to recreate the recipe on my own.
I started by comparing different recipes I could find and looking for master chef tips.
I cooked countless pounds of tenderloin until I found the absolute best beef tenderloin recipe.
Here's how to make beef tenderloin step-by-step, including my pro tips and tricks.
Recipe Overview
Prep Time: 20 minutes
Cook Time: 50 minutes plus 30 minutes of rest time
Total Time: 1 hour and 40 minutes
Number of Servings: 8
Ingredients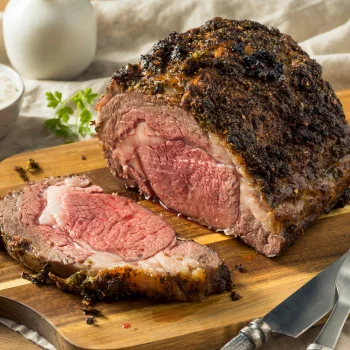 4 lb beef tenderloin
1 cup breadcrumbs
1 tablespoon chopped fresh thyme
1 tablespoon chopped fresh parsley
1/4 cup oregano leaves
1 tablespoon rosemary
1/2 cup grated Parmesan cheese
1 1/2 teaspoons kosher salt
1 teaspoon black pepper
2 chopped garlic cloves or 1/2 a teaspoon of garlic powder
3 tablespoons Dijon mustard
Instructions
Preheat oven to 400 degrees.
Make the herb mixture. Mix parsley, basil, thyme, rosemary, garlic, and oregano in a small bowl. Add grated parmesan cheese.
Tie the tenderloin with kitchen twine. Tie the meat in several spots, about every 1.5 inches.
Spray the roasting pan with cooking spray or line it with parchment paper.
Place the beef in the pan and sprinkle with salt and pepper.
Cover the tenderloin with mustard, and roll it in grated parmesan cheese.
Cover the meat in the herb mixture. Gently press on the seasoning to ensure it stays put.
Press breadcrumbs over the meat so it's fully coated.
Place in the preheated oven and bake for about 50 minutes.
Remove from the oven, place it on a cutting board, and let the herb-crusted beef tenderloin rest for half an hour.
Remove the twine, and cut the herb-crusted beef tenderloin into 1-inch thick slices and serve.
Recipe Notes

Here's what to keep in mind when cooking herb-crusted beef tenderloin:
Cover the beef tenderloin with mustard or two tablespoons of olive oil to help the herb mixture stick to the meat.
Use an ovenproof meat thermometer to check the internal temperature. Insert it into the thickest part of the herb-crusted beef tenderloin.
Let the meat rest after cooking. Cover loosely with aluminum foil and let it rest until the meat thermometer reads 145 degrees [1].
Use fresh herbs like fresh oregano, thyme, rosemary, and more. You can pre-chop and store them in a zip-top bag or an airtight container in the fridge.
Try different Dijon mustards to find which flavor you like best.
Buy the center cut of the beef tenderloin for the most tender meat, such as filet mignon.
Use freshly grated parmesan instead of one in a plastic can. It melts better.
Tie the tenderloin with twine to make sure it cooks evenly and the meat has a uniform shape.
Remove the meat from heat five degrees before it reaches the desired cooking temperature. The meat will continue to cook even when removed from heat, and expect its temperature will rise by about five degrees.
Nutrition Facts
Calories: 665
Total Carbs: 3 g
Protein: 54 g
Fat: 60 g
Fiber: 1 g
Net Carbs: 0
What to Serve with Crusted Beef Tenderloin?

Serve crusted beef tenderloin with horseradish sauce.
Ingredients:
1/2 cup sour cream
1/3 cup horseradish
1/3 cup mayonnaise
2 teaspoons white wine vinegar
1/2 teaspoon kosher salt
1/4 teaspoon black pepper
1 tablespoon sliced chives
1 tablespoon Dijon mustard
Combine all the ingredients in a medium bowl and whisk well. Make sure the ingredients are completely incorporated.
You can keep the horseradish sauce in the fridge for five to seven days. Or omit the chives and keep the sauce in the fridge for up to three weeks.
"Beef tenderloin is the most tender part of beef on the cow. Pairing it with the creamy horseradish gives it a little bit of a bite."

- HowtoBBQRight, YouTubeChannel
How Long Does It Take to Bake Crusted Beef Tenderloin
How long it takes to bake crusted beef tenderloin depends on the desired doneness level.
Here's exactly how long to bake it depending on how well done you want the meat to be:
Rare (cool red center) - 20 to 125 degrees
Medium-rare (warm red center) -  130 to 135 degrees
Medium (warm pink center) - 140 to 145 degrees
Medium well (warm, slightly pink center) -

 150 degrees
How to Store and Reheat Crusted Beef Tenderloin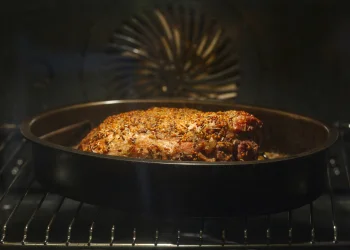 Store crusted beef tenderloin in an airtight container in the refrigerator for up to four days.
Preheat it in the oven heated to 350 degrees. Wrap each piece of meat in foil.
Put it directly on the oven rack and heat for up to 15 minutes. Reheat until the meat is warm in the middle.
Pro tip: Make sure not to wrap the meat too tightly.
How Much Tenderloin to Get Per Person?
Get 1/2 a pound of raw tenderloin per person.
The exact amount of how much tenderloin to get depends on how many people you're cooking for.
or example, if you're hosting a Christmas dinner for about ten people, you need a five-pound tenderloin.
It's always better to get more beef tenderloins to account for trimming and meat shrinkage during cooking. Plus, you can easily reheat leftovers.
Related Articles:
FAQs
What Cooking Method Is the Best for Beef Tenderloin?
Roasting is the best cooking method for beef tenderloin. This cooking method cooks the meat at a low temperature for hours, so the meat is cooked all the way through. You can then sear the meat for a crispy crust.
Why Is My Beef Tenderloin Tough?
Your beef tenderloin is tough because you overcooked it. This is one of the most tender cuts, but it doesn't have fat, so overcooking makes it dry and tough.
A Must-Try: The Ultimate Crusted Beef Tenderloin Recipe
Crusted beef tenderloin cooking process is fairly simple. Place the meat on a carving board, tie it with twine, cover it with mustard or olive oil, and apply a herb mixture. Bake the meat until medium rare to medium, then let it rest and serve.
Beef tenderloin is extremely tender, but not all suppliers sell the same quality cuts. You need to be careful where you get your meat from.
ButcherBox is an online meat delivery service that sells grass-fed and grass-finished cuts.
Their animals are grown without any hormones or additives, which ensures safe, juicy cuts. Check out our ButcherBox on our homepage and learn how to order beef for your holiday meal.
---
References:
https://www.fsis.usda.gov/food-safety/safe-food-handling-and-preparation/meat
Was this article helpful?