I've been cooking ribs for a decade and proudly admit they are my all-time favorite comfort food. This is one of the main reasons why I always ensure to have a stash of ribs in the refrigerator, ready to be prepared.
However, leftovers are often inevitable, prompting me to delve into the question of how long I can safely store ribs in the fridge.
I talked with a friend chef, checked what the USDA says, and carefully tracked my ribs over several days.
Here's exactly how long raw and cooked ribs last in the fridge.
Quick Summary
Raw or cooked ribs can stay in the fridge for three to four days.
Make sure to properly store cooked ribs in the fridge to maximize their shelf life.
You can freeze cooked or uncooked ribs and use them as needed.
How Long Do Raw Ribs Last in the Fridge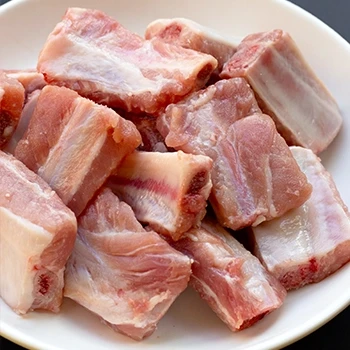 Raw ribs last in the fridge between three to four days. Ribs stay safe for use after the sell-by date if properly stored in the fridge.
Keep raw ribs in their original packaging without opening to extend their shelf life. If you open the package, the ribs will lose freshness more quickly.
Note: Place the raw pork ribs in the fridge immediately after getting them from the store. Don't leave them at room temperature for more than two hours, or bacteria will spread [1].
How Long Do Cooked Ribs Last in the Fridge
Cooked ribs last for three to four days in the fridge as long as you refrigerate them within two hours of taking them off the heat. They have the same shelf life as raw ribs when stored in the fridge.
You can keep cooked ribs in the freezer for four months without losing quality.
Note: If you need ribs with a longer shelf life, try cryovac ribs. These ribs are sealed in a cryovac package and last longer than usual because they aren't exposed to air. Vacuum-packed ribs last for about three weeks or 21 days.
Pro tip: You can also vacuum seal the ribs after cooking to extend their shelf life. Cooked ribs that are vacuum-sealed last for two weeks.
Related Articles:
3 Ways On How to Tell if Ribs Have Gone Bad

You can tell ribs have gone bad by checking their smell, color, and texture.
1. Smell
Always do a smell test, both on raw pork ribs and cooked ribs. Cooked ribs should have a savory, smokey smell.
If you notice a sour or ammonia-like smell, it means the ribs have gone bad, and you should throw them out.
"A healthy piece of pork should be relatively odorless. When pork is going bad, it emits a sour odor, or a smell similar to ammonia that gets worse over time."
- Mashed, YouTube Channel
2. Color
Leftover cooked ribs have a pink color. If you notice the color is greenish-gray or brown, it's a sign bacteria has started spreading, and the ribs are unsafe.
Also, if there's mold on the ribs, dispose of them. Don't try to remove the part with the mold and eat the rest, as there are most likely bacteria everywhere, even though you may not see any noticeable signs.
Also Read: What Causes Meat to Brown?
3. Texture
Cooked ribs have a meaty, succulent texture. But, if you touch them and notice slime or gooeyness, it's another sign they have gone bad and should be thrown out.
How to Store Ribs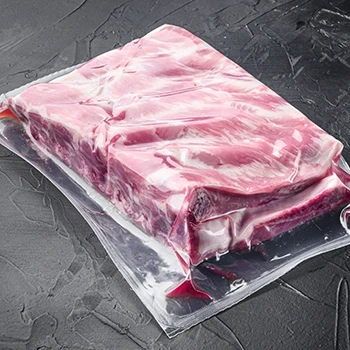 The best way to store raw pork ribs is to keep them in the original packaging without opening them.
In case you open the package, you should wrap it with plastic wrap or heavy-duty aluminum foil and place the raw pork ribs in a freezer bag to minimize exposure to air.
The same goes for storing ribs in the freezer. Always make sure they are tightly wrapped to prevent freezer burn.
Store cooked pork ribs in shallow, airtight containers. You can also wrap them in heavy-duty aluminum foil or plastic wrap for extra protection.
Make sure the fridge temperature is 40 degrees or below and the freezer temperature is 0 degrees or below.
Finally, you can store defrosted pork ribs in the fridge for three to five days by keeping them in a container.
Don't store thawed cooked pork ribs in the fridge if you thawed them in the microwave or cold water. You should reheat these immediately.
6 Tips on Freezing Ribs

Here's how to freeze cooked ribs step-by-step:
Cook the pork ribs according to your recipe. If you're cooking pork ribs on the grill, cook on indirect heat until the ribs are tender and cooked through.

Let the cooked ribs cool. If you freeze leftover ribs still hot, ice crystals form in the package, which causes freezer burn.

Once the cooked ribs are cool, cut them into individual portions. Wrap each portion in aluminum foil.

Put the wrapped ribs in a freezer bag and make sure it's tightly sealed.

Label the bag with the name and date so you know how long leftover ribs have been in the freezer.

Store cooked ribs for up to four months in the freezer. Keep in mind that frozen cooked ribs won't be as tender as freshly-cooked ribs when you thaw them.
Here's how to freeze raw pork ribs:
Leave fresh pork ribs in their original packaging.

Wrap the ribs in aluminum foil, plastic wrap, or freezer paper for extra protection.

If you have a large enough freezer bag, place the raw ribs in it.

Ribs stored in this way can stay frozen indefinitely, but it's best to use them in four to six months.
FAQs
Can I Eat Cooked Ribs After Five Days?
No, you can't eat cooked ribs after five days. Cooked ribs stay good in the fridge for up to three to four days. If you eat spare ribs after this time, you risk getting food poisoning.
How Long Can You Keep Roasted Meat in the Fridge?
You can keep roasted meat in the fridge for up to four days. Bacteria will start to spread after this time, and you'll notice a sour smell and changes in color and texture.
How Long Can Marinated Ribs Stay in the Fridge?
Marinated ribs can stay in the fridge for up to five days. Boil used marinade and brush on cooked meat, or use a barbecue sauce for the best flavor when keeping ribs in the fridge.
How Long Can You Keep Your Ribs in the Fridge
You can keep both cooked and fresh ribs in the fridge for up to four days. If your ribs aren't eaten immediately after cooking or in the next few days, freeze them in a tightly sealed container.
To ensure that your ribs remain fresh for an extended period, it's essential to invest in high-quality cuts. ButcherBox is a meat delivery company that sells pork from heritage-bred pigs, such as Duroc, Berkshire, and Chester White, and they've been my go-to place for organic meat for the past two years.
The animals are raised crate-free and are only given vegetarian feed. The meat is sourced from family farms that grow animals responsibly.
For a more in-depth look into the exceptional offerings of ButcherBox, make sure to check out our honest ButcherBox review.
---
References:
https://ask.usda.gov/s/article/Is-food-safe-if-left-out-overnight
Was this article helpful?