Electric griddles have become one of the mandatory equipment in almost every kitchen.
This is not surprising because it is easy to use, doesn't require too much space, and can prepare different food.
Cleaning an electric griddle is not difficult, but you should do it properly by following these easy steps.
Quick Summary
Cleaning an electric griddle involves removing food particles while still warm, cleaning with a sponge, soap, and hot water, and wiping to remove grease.
Proper cleaning is essential for health and functionality. Dirt and debris can cause health problems, and 15% of home fires are caused by malfunctioning cooking equipment.
Vinegar or baking soda can be used for stubborn stains.
4 Best Ways to Clean Electric Griddles

There are many different types, models, sizes, and brands of the electric griddle, but the way you can clean it is similar to most of them.
I will explain to you the most straightforward method, step by step.
1. Take out the food particles from the griddle
Before you start cleaning, turn off and unplug your electric griddle and let it cool down for several minutes – it should be cold enough to hold it but still warm.
Use a paper towel to wipe the surface and remove things like oils, liquids, crumbs, and other dirt from the griddle by rubbing it lightly.
2. Clean electric griddles with a sponge, soap, and hot water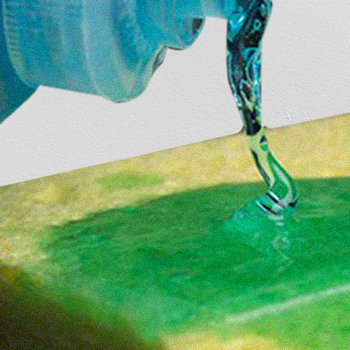 Prepare hot water, pour it carefully on the flat cooking surface and apply baking soda or
vinegar on top. First, scrub the griddle gently with a sponge to clean burnt and stuck food debris. Use the sponge to dry out the griddle, rinse and wash it, and if needed, pour more hot water.
Repeat the process two-tree times. In this phase, be very careful because water must not come into contact with electric parts in the kitchen at any time.
If there are more leftovers or hardened grease hard to remove, the best will be to gently add vinegar and let it sit for a few hours.
If this doesn't work, use tools like a spatula to scrape it off. Do it carefully so as not to damage your electric griddle's non-stick coating. Then clean it again with soapy water.
For this step, griddles should be pretty warm to help the grease soften up. Make sure to wear heat-resistant gloves to avoid injuries.
Also Read: How to Clean Electric Grill
3. Wipe the griddle to remove grease
Once you've removed all debris, rinse the surface. Take a clean sponge or cloth, soak it in cold, clean water and wipe the top of the griddle.
Repeat this a few times to wash all the baking soda from the entire griddle.
4. Leave griddles to cool down
In the end, let the griddle dry. Use a towel to go over the griddle and remove moisture and grease.
Leave your electric griddle in the kitchen to cool down, and make sure they are completely dry before putting them back into the box.
Related Articles:
Why Cleaning Your Electric Griddle is Important
Cleaning the electric griddle properly is an essential part of using it. Various dirt and food debris cover the griddle surface and can cause problems to your health and the functionality of the device.
According to research, 15% of home fires are caused by malfunctioning cooking equipment (1).
"The objective of cleaning is not just to clean, but to feel happiness living within that environment."

- Marie Kondo, Tidying Expert, Author, TV Show Host
Recommended Article: Blackstone Griddle Problems & Solutions
What Do You Need to Clean an Electric Griddle?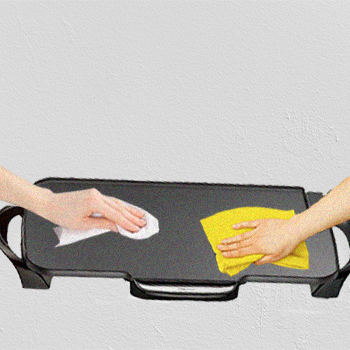 You can clean your electric griddle with different substances and expensive products. But, I will give you a low-cost method, just using what you already have.
Also, this is probably the healthiest method, without any steel wool or hard chemicals, which are bad for your health.
Things you'll have to collect for cleaning are paper towels, dry cloth, paper towel, non-abrasive sponge.
Get also dish soap, baking soda, and cold and warm water. On top of it, you may also need other tools like heat-resistant gloves and a new spatula.
Don't use a metal spatula; get the plastic, rubber, or wooden one, not to damage the griddle's surface, especially if it is non-stick.
Conclusion - How to Clean An Electric Griddle
It will be useful to clean your electric griddle after each use. That way, you will always have a clean griddle ready for the next use for cooking.
Make sure to keep the surface of the griddle clean if you want to eat tasty and safe meals and extend the life of your electric griddle in years to come.
---
Reference:
https://www.nfpa.org/News-and-Research/Data-research-and-tools/Electrical
Was this article helpful?