As an avid griller for a decade now, I find navigating the extensive landscape of Bluetooth thermometers to present its challenges.
With several options and factors to consider, from price and quality to compatibility, identifying the perfect thermometer for your needs requires you to understand the intricacies of smart thermometers.
To simplify the work for you, I have taken 10 of the best Bluetooth meat thermometers on the market and tested them, uncovering the pros, cons, and whether or not they're worth the purchase.
The Best Bluetooth BBQ Smokers & Grills' Thermometers
#2nd Best Choice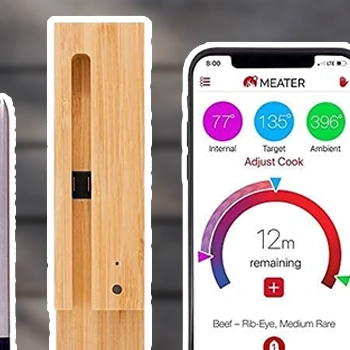 MEATER Plus
Check Current Price
#3rd Best Choice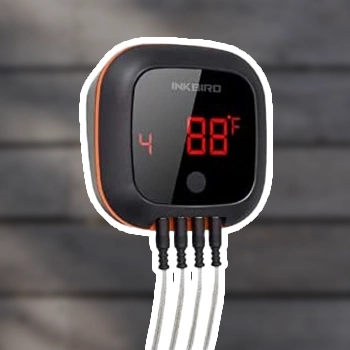 Inkbird
Check Current Price
Top 10 Bluetooth Meat Thermometers
Buyers' Guide for the Best Bluetooth Meat Thermometers
When searching for the best Bluetooth meat thermometers, there are a few things you have to consider depending on how you plan on using them. To help make purchasing easier for you, I have put together a handy little buyer's guide.
Wi-Fi Vs. Bluetooth Thermometers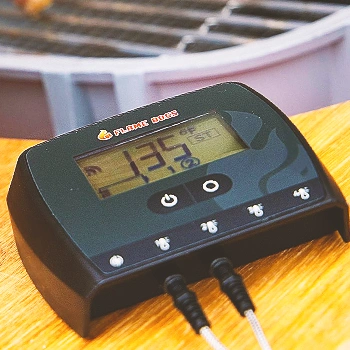 Wi-Fi thermometers have been around for a long time. While these do offer a better range than your average meat thermometers, not everyone enjoys carrying a bulky Wi-Fi unit in their pocket.
Recently, Bluetooth meat thermometers have been on the rise, still offering that wireless goodness, but with the advantage of paying for the thermometer to your smartphone or tablet.
The apps that come along with these Bluetooth meat thermometers usually include cool features such as custom temperature alerts, the ability to name the probes, as well as handy temperature graphs.
Another good thing about smart wireless meat thermometers is they often get updates to the phone app.
So, if you find that there isn't something quite right with your thermometer, the issues usually get ironed out with new updates. If there's something you don't like with the Wi-Fi thermometers, you're unfortunately stuck with it.
As we mentioned, you do lose out on some of that range when you reap the benefits of the best Bluetooth meat thermometers.
Instant Read Thermometers
instant-read meat thermometers measure the temperature of the meat toward the end of your cook.
Instead of staying in your smoker or grill as the food cooks, they're made for checking the temperature quickly [1].
"An instant-read thermometer is your best bet for making sure that fish is cooked to the proper temperature."

- Bobby Flay, Chef
While instant thermometers usually have the fastest response times and are the easiest to use since all you have to do is turn them on, they are slightly inconvenient.
You have to know the estimated end time of your cook, or else you will constantly be checking the temperature and disturbing the cook.
Consider Signal Range
How Bluetooth BBQ thermometers work is they connect to the thermometer's central unit, which then pairs with your smartphone or tablet using Bluetooth.
The Bluetooth connectivity varies whether or not you're indoors or outdoors, hence the two connectivity numbers that devices generally come with.
If your smoker is outside and you're inside watching the game, that Bluetooth connection has to pass through walls, which in turn diminishes its strength.
So, you will usually find that indoor connectivity is significantly lower than outdoor [2].
If you plan cooking on the far end of your garden while sitting at the front of your house, having an extended signal range is the most critical aspect.
Probes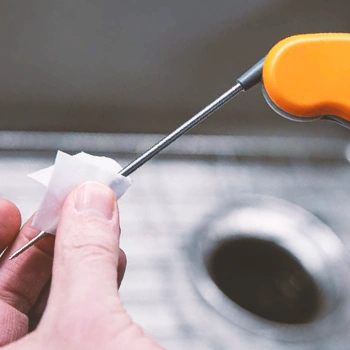 Having suitable probes is an essential aspect of any Bluetooth thermometer. Different probes have different accuracies and ease of use.
There will be a single probe with two sensors for entirely wireless thermometers, like the MEATER Plus.
The sensor on the back end of the thermometer is used for measuring the temperature, whereas the one on the sharp end measures the temperature of the meat.
Bluetooth thermometers use only one sensor in each probe as they typically come with two or more.
When looking at the probe itself, you should ensure that it isn't too thick. The pointed end should be sharp, so it can quickly go into the meat. If the point is wide and blunt, it can easily squeeze out all the juices in the meat.
"The best value for money in cooking equipment, in my mind, is first a digital scale and digital thermometer. They're both about $20. They help you cook so much more accurately that they're both enormously valuable."

- Nathan Myhrvold, Chef
For the temperature reading to be the most accurate, the probe has to go into the thickest part of the meat.
Therefore, you want the probes to be long if you typically cook big or thick cuts or fairly small if you usually cook delicate cuts.
Typically, you'll want to find probes with a length of 5 inches and a diameter of 2.5-3mm.
The Number Of Probes
When searching for a Bluetooth thermometer, you need to consider how many thermometer probes come with the unit.
Most of the thermometers we tested here contained up to four probes, some coming with six while others only included one.
Having only one probe means you will have to constantly remove the probe and place it in another cut of meat, which can become burdensome.
Not only will you have to go back and forth to your smoker, but you will also have to reset the system each time you place it in a different type of meat.
If you plan on cooking large cuts of meat or multiple types of meats at the same time, we recommend getting a unit with at least three probes.
You may also find that some units come with one ambient probe. This is used to measure the inside of your smoker instead of the temperature of the meat.
Mobile Apps or Standalone Units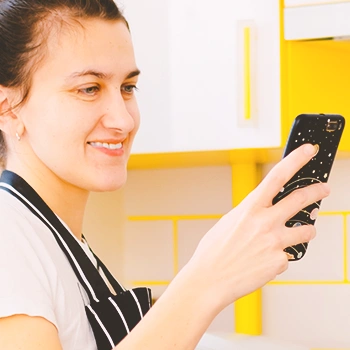 When you buy wireless meat thermometers, you'll notice that they come with two options; units with a standalone display or ones that connect to mobile and tablet apps.
A standalone display will show all the cooking and temperature information on the unit, and the system will alarm once the preset temperature has been reached.
All standalone units are different; however, they will typically have everything you need to be displayed quickly and easily.
We find these units convenient because you don't have to go through any trouble pairing devices, but it isn't convenient that you have to carry a typically bulky device around with you.
For that reason, we prefer devices that connect to smartphones and tablets.
The smartphone apps work by linking the main thermometer to your phone or tablet by downloading an app from the manufacturer.
The main unit then transmits a wireless signal to your phone, giving you all the needed info. These apps also tend to have more features than the standalone units, such as naming probes or viewing temperature graphs.
Since everything you need is on your phone, there's no reason to get up and check on your food mid-cook. You'll get notified by a custom alarm, so you're always ahead of schedule.
Battery Life
With a grill thermometer, you'll find that they all come with different charging capabilities.
Some may include a rechargeable battery that can simply be plugged into a USB or other cable (typically comes with the unit). Others will take batteries such as AA, and rarely, a grill thermometer should contain non-rechargeable batteries that are usually difficult or expensive to get ahold of.
In my opinion, the best Bluetooth BBQ thermometers come with a rechargeable battery.
They may have the shortest battery life; however, it is more than enough to get you through a long cook, and you can simply plug it in to charge afterward.
Thermometers that use AA batteries have proven to be a bit inconvenient.
While they are easy to get your hands on, if they run out mid-cook and you don't have any access to new ones, you're pretty much done for.
Non-rechargeable batteries offer a long life; however, they tend to be difficult to buy. They are also far more expensive than your typical AA batteries [3].
Temperature Accuracy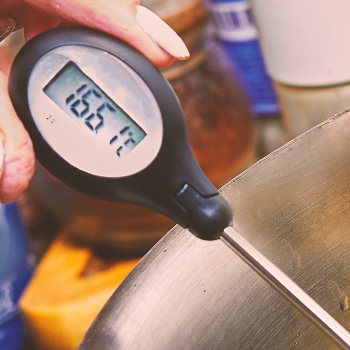 The whole point of a thermometer is to read the temperature, so the best Bluetooth meat thermometer should  have an almost perfect temperature accuracy, typically +/- 1.
You may find lower-priced models to have quite a wide temperature reading, which frankly ruins the entire cooking experience.
Some will record the temperature of your grill or smoker, which is also a very handy reading to have.
The best way to determine the true temperature accuracy of a grilling thermometer is to check the reviews.
Another thing to note, and what we found with a few of the thermometers here, was that if the probe hadn't been inserted correctly or deep enough, it tends to give odd inaccurate results.
Therefore, you should always check if your probe is placed inside the meat correctly [4].
Durability
Having a thermometer that is dishwasher-safe can save you a lot of hassle. That being said, even finding something that is waterproof or water-resistant is a huge plus.
The best way to figure out the durability is to take a look at the probes. Are they made from quality materials? Do they look cheaply sealed or well made?
The wire connecting the probes to the main unit is also a tell-tale sign. They should be thick and sturdy enough to withstand high-heats, typically above 700ºF.
Common Issues With Bluetooth Thermometers

The main issue with wireless Bluetooth thermometers isn't the actual thermometer itself but the smartphone or tablet you are using.
If you purchase a Bluetooth thermometer that only displays the food and ambient grill temperature on an app, you'll have a hard time if you don't have the right phone.
"I think many cooks are afraid of undercooked meats. A good thermometer is a cook's best friend."

- Emeril Lagasse, Chef
Most models contain Bluetooth technology that pairs the thermometer with an iOS or Android smartphone.
The problems arise if you don't have enough space on your phone to download these apps or enough bandwidth to make them run.
Your mobile phone model may also affect how well the app runs.
For example, if you have an old version of the Samsung Galaxy Note, you may have a few issues running the app or connecting to the thermometer, whereas someone with an iPhone 12 will have no issues at all.
This is one of the main reasons you'll see so many mixed Bluetooth meat thermometer reviews online.
If you've got a fairly up-to-date phone with the latest software updates installed, there shouldn't be any issues connecting to the device if you've purchased a quality thermometer.
It seems like the Samsung Galaxy phones have the hardest time connecting to thermometers, the reason seemingly due to the quality of the Bluetooth installed [5].
Pairing your mobile phone or tablet with the thermometer is easy, and if you follow the directions correctly, you should be paired up and ready to go within minutes.
Just make sure you have enough battery life on your phone, especially if you're doing a long cook; having the Bluetooth constantly on and paired can drain your battery rather quickly.
Troubleshooting Common Problems

No matter what device you use with Bluetooth technology, whether it's a thermometer, speaker, or pair of Bluetooth headphones, they can all still experience problems when it comes to the connection.
For example, if you have too many connections in your home, with both the Wi-Fi or other Bluetooth devices, they may interfere with the signal on your mobile device or tablet.
Most people don't know that Bluetooth runs on the same frequency as 2.4 Wi-Fi, so if too many devices are connected, this can result in a messy connection [6].
Since asking your guests to disconnect from your Wi-Fi or turn off their Bluetooth isn't ideal, here are a few things you can do to make your thermometer work without a hitch.
Clear View
Having any barriers such as walls between you and your thermometer can weaken connectivity strength. Therefore, you should always try and have a clear view of your smoker or grill to establish the best connection.
Change the Channel of the Wi-Fi Router
Since Wi-Fi routers automatically connect to channels, the networks in your area may often also be connected to the same channel. If too many connections are happening at the same time, it can significantly dwindle your connection. If this is the case, either turn your Wi-Fi router off or reboot it.
Related Articles:
FAQs
Do Wireless Bluetooth Meat Thermometer Products Work?
Yes, wireless Bluetooth meat thermometer products work. However, you should remember that they do have some limitations when it comes to functionality.
People, walls, and other Bluetooth and Wi-Fi connections can interfere with the connectivity and signal strength. The more reputed the manufacturer is, the higher chance you have of a good working thermometer.
Can I Leave the Thermometer in the Meat While Cooking?
Yes, you can leave the thermometer in the meat while cooking. Since these thermometers are designed to let you know when the food is finished cooking via an alarm or message, they have to stay in the meat and smoker.
When Do You Use a Bluetooth Meat Thermometer?
You use a Bluetooth meat thermometer before you put your food on the grill or in a smoker. Make sure the probe goes into the thickest part of the meat as this will take the longest to cook and give you the most accurate temperature reading.
Is a Wireless Thermometer Worth It?
Yes, a wireless thermometer is worth it. They cut out the stress of constantly checking the temperature of your meat by hand and disrupting the cook.
If you cook regularly or are a professional chef, a wireless thermometer will let you monitor the temperature of your food so you don't overcook or undercook.
Do Professional Chefs Use Smart Meat Thermometers?
Yes, professional chefs use smart meat thermometers. Since they go in the kitchen severally, they sometimes need a little assistance to ensure things run smoothly.
Best Bluetooth BBQ Thermometer - Our Winner
Reflecting on our exploration of BBQ thermometers, each product is a worthy competitor. That being said, our winning meat thermometer is ThermoPro.
Out of all the Bluetooth-enabled thermometers, I like that ThermoPro has a handheld LED display; it is very simple to use, pairs easily with your phone, and gives an accurate temperature reading.
Plus, the thermometer informs you when the food reaches its set temperature, which is unique to come by with wireless smart meat thermometers. It can also measure the temperature of nine different types of meat.
ThermoPro TP20 Meat Thermometer with Dual Meat Probe (Best Overall & Easiest-to-Use)
Our #1 Recommendation
Preset temperatures easily
Handheld LED display
Stainless steel probes can withstand up to 716ºF
Great customer service
Get the BEST PRICE until the end of December
References:
https://www.consumerreports.org/cro/meat-thermometers/buying-guide/index.htm
https://bluetoothtechworld.com/can-bluetooth-go-through-walls/
https://www.microbattery.com/blog/post/rechargeable-vs-non-rechargeable-batteries-the-pros-and-cons/
https://www.epicurious.com/expert-advice/how-to-use-a-meat-thermometer-article
https://forums.androidcentral.com/samsung-galaxy-s10-s10-plus/962957-why-bluetooth-so-bad-samsung-phones.html
https://www.codejourney.net/2017/04/wifi-and-bluetooth-interference-diagnosing-and-fixing
Was this article helpful?