During the years I've been on a carnivore diet, I've tried all kinds of grills: charcoal, pellet, kamado, and gas. You name it; I've tried it.
I've spent the last couple of years focusing on infrared grills. I wanted to check if they are really that good at achieving high temperatures, and most importantly, which ones are the best.
Here's my list of the best-infrared girls, including a buying guide so that you can choose the best-infrared grill for you.
Editor's Choice
Napoleon
Check Current Price
#2nd Best Choice
Saber
Check Current Price
#3rd Best Choice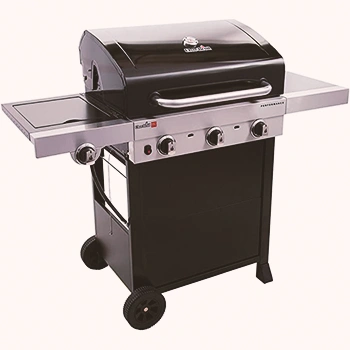 Char-Broil
Check Current Price
Our Top 7 Infrared Grills
I've compiled a list of the best seven infrared grills. I'll provide a low down on each one, including their pros and cons.
Our Top Products
Napoleon Prestige Pro 500
My top pick is Napoleon Prestige Pro 500. This grill has 900 square inches of cooking space, which you can use to grill, smoke, bake, roast, or sear.
It's extremely versatile. I especially liked that it can be used as a smoker as the lid is well insulated. But, it's also easy to grill as the lid folds away.
This grill never has an issue reaching high temperatures, thanks to the 80,000 BTUs spread out over four burners. The sear plates could reach 1800 degrees, so I never had any issue searing food.
I liked the cupboard under the grill, which I used as storage. Tool hooks inside the doors also make the use easy. The manufacturer paid a lot of attention to detail.
They even included reversible WAVE grill rods that help stop food from falling through the cracks.
Overall, this is a high-quality, durable grill. It's made of stainless steel in Canada, so it'll last for years to come.
Pros
Rotisserie kit can hold up to 25 pounds
Huge cooking space
Porcelain enamel grates provide excellent heat distribution and retention
LED night light knobs
Cons
Pricey, but all the features make it worth it
Quick Facts:
Dimensions : 25.5 x 66.5 x 51.75 inches
Weight : 254 pounds
Cooking area : 900 square inches
Saber Premium 500 32-Inch Gas Grill With Side Burner
Saber Premium 500 is a high-tech infrared grill. The manufacturer patented a cooking system that uses infrared technology, which all the burners on this grill use.
Saber's grill has better temperature control than the majority of other grills.
Their technology prevents flare-ups thanks to the evenly distributed heat under the infrared plates. The grill is safe to use, and you'll have evenly-cooked food.
This infrared grill also uses 30% less gas than other grills, so you'll save money on gas.
It also has a large cooking surface — 500 square inches of primary cooking area, plus an enamel-coated 175 square inch warming rack.
The warming rack can be folded down, which I like to do to keep the food warm. Or, you can fold it away and get more cooking space.
Pros
All components are made of 304 stainless steel
Dual control side burner gives extra cooking surface or keeps the food warm
A lid can be used as a side shelf
Quick Facts:
Dimensions : 31.625 x 26.5 x 21.625 inches
Weight : 117 pounds
Primary cooking space : 500 square inches
Char-Broil Performance TRU Infrared 450 3-Burner Cart Propane Gas Grill
Char-Broil is making some of the best affordable grills. The Char-Broil Signature TRU infrared grill has 24,000 BTUs that are spread across three burners, plus a side burner of 10,000 BTUs.
There's a 150-square-inch porcelain-coated warming rack that swings away when you don't use it. The lid and the firebox are also porcelain-coated, which gives better durability.
I found the grill reaches high temperatures with ease, and I didn't have any issues searing. The infrared heat was always distributed evenly across the whole cooking plate.
One thing I wasn't a fan of is the gas bottle placement — it's stored under the unit, which means there's less storage space. However, this is a matter of preferences and isn't a big issue.
Pros
Porcelain-coated grates are rust-resistant and prevent flare-ups
Electronic ignition system syncs all burners at once
Easy assembly
Cons
Infrared plate is difficult to clean
Quick Facts:
Dimensions : 23.4 x 54.1 x 45.5 inches
Weight : 90.9 pounds
Cooking area : 450 square inches
Char-Broil TRU-Infrared Patio Bistro Gas Grill
If you want to do the infrared grilling but don't have space for huge gas-powered grills, or they just aren't your thing, you'll love the Char-Broil Patio Bistro.
This is a smaller grill, so it makes sense that it comes with a smaller primary cooking surface — 320 square inches, which can fit up to 10 burgers.
There's also a detachable warming rack which you can use for indirect cooking.
This grill has a unique design that allows you to smoke and grill. Simply add some wood chips to the grate, and you're good to go.
Both the grill and cooking grates are porcelain-coated, so the grill is durable, and you can use it in different kinds of weather.
Finally, this is a portable grill. It comes with two large wheels. I didn't have any issues moving it around my property.
Pros
Compact size
Portable infrared grill
Has a removable warming rack
Cons
Igniter is difficult to use
Quick Facts:
Dimensions : 24.4 x 25.2 x 38.2 inches
Weight : 42.9 pounds
Cooking space : 320 square inches
Magma Newport 2
If you're looking for a grill to take with you on outdoor adventures, Magma Newport 2 is one of the best portable grills you can get. It has fold-away legs, so you can easily carry it with you.
It belongs on the list of best grills thanks to the material it's made of — 3 corrosion-resistant 18-9 marine-grade stainless steel. That means you can use this grill even in the harshest weather conditions.
It has a combustion system that maintains the flame regardless of the weather conditions. There are also reduced chances of flare-ups due to the double lower safety shell.
It comes with a built-in hermetically sealed thermometer, which read the correct temperature each time I used it. Many gas-powered grills come with a faulty thermometer, so I was pleased to see that isn't the case here.
Pros
Tempered glass viewing window allows you to check on food anytime
Round edges mean less chance of an accident and injury
CNG or LPG fuel system
Quick Facts:
Dimensions : 22.50 × 11.63 × 11.63 inches
Weight : 19.94 pounds
Cooking area : 162 square inches
TEC Sterling Patio 2FR
Where many infrared gas-powered grills have traditional plus infrared burners, TEC Sterling Patio 2FR only has infrared ones.
Even though this grill only has two infrared burners, they can get the temperature up to the scorching 900 degrees.
This infrared grill comes with plenty of accessories too. A smoke rack turns the grill into a smoker, a pizza rack, and a frying pan.
It's durable, as it's made of 304 stainless steel construction. I frequently used the pedestal with two side shelves for additional prep space.
Finally, this infrared grill has 592 square inches of cooking area, and it's used with propane gas. It uses less than half the fuel compared to other gas-powered grills.
Pros
Only infrared burners
Comes with two side shelves
Large cooking space
Quick Facts:
Dimensions : 44.25 x 26.5 x 16.5 inches
Weight : 445 pounds
Cooking surface : 592 square inches
Solaire Anywhere Portable Gas Grill
The last on the list of best grills is Solaire Anywhere Portable Grill. Solaire specializes in infrared technology, and this grill is another good portable option.
It's compact and lightweight, and you can take it with you. Even though it's on the smaller side, it has a generous 140 square inches of cooking space.
This infrared grill is powered by one main burner that outputs 14,000 BTUs.
The infrared grill has unique v-shaped grids instead of grates that other gas-powered grills usually have.
The juices from the food collect into the V dip and vaporize, which gives my food smoke and extra flavor.
The grill comes with two strong latches that seal the lid, which was extra useful when I traveled. The two side handles made carrying easy.
Pros
Heats up in three minutes
Push-button ignition makes the start easy
Energy-efficient, doesn't need a lot of propane
Cons
No warming racks or secondary side burner
Quick Facts:
Dimensions : 13.5 x 21 x 8.25 inches
Weight : 15 pounds
Cooking space : 140 square inches
Buyer's Guide
When purchasing an infrared grill, you must consider some key points to get the best value for money. Here are a few things to keep in mind:
1. Infrared Grill Size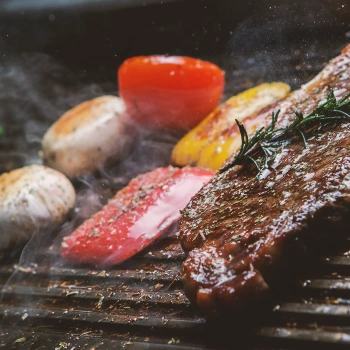 Like charcoal and pellet grills, infrared gas grills come in different shapes and sizes. You can choose from compact grills to large commercial-grade machines.
Infrared grills can have more usable space if they have hot and cold spots, but this won't mean much if you struggle with space.
Think about where you plan to use your grill. If you're short on space or want to carry it with you, go for portable infrared grills. If you don't plan to move the grill a lot and have plenty of space, go for a stationary one.
Always measure your space and plan accordingly before making a purchase, especially if it's grills you're shopping for.
2. Cooking Surface
This is closely connected to the grill size. A larger space means a larger grill.
Think about how many people you usually grill for. Do you entertain a lot or have large gatherings?
Also, don't automatically assume a grill with a large cooking surface can't be portable.
There are some grills with a decent cooking area that you can carry around, such as the Char-Broil Patio Bistro and Magma Newport 2.
3. BTU Level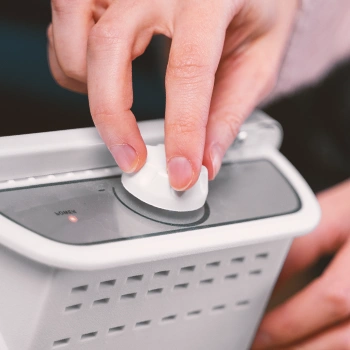 BTU stands for British Thermal Unit, a standard measure of heat output in the US [1]. The rule is that the higher the BTU, the hotter gas grills can get.
Most infrared grills don't need as many BTUs as gas or charcoal grills. Their infrared cooking system creates even heat distribution over the grill grates without any flare-ups, and the heat is quickly transferred to the food.
You can opt for quick searing or get an infrared grill with a temperature range to do low and slow cooking without worries about flare-ups and other issues.
When buying infrared grills, you should look for models that have at least 8,000 BTUs [2].
4. Maintenance
Like gas or charcoal grill models, even the best grills have to be maintained. But, generally, gas grills are easier to maintain than charcoal grills. That being said, you'll still have to do some work.
You have to maintain your grill for it to last long. Stainless steel and porcelain-coated grills are among the easier materials to clean. Plus, these won't rust, so you'll be able to use the grill for years to come.
5. Other Considerations

Apart from these, there are a couple more things to take into consideration when choosing the best grills:
Ignition system — Some grills have a quick-to-light ignition that turns on your grill in seconds. This means there's no need for matches or manual lighting of any kind.
Grill hood — You should look for a grill with a large hood so that you can fit a tall bird or a large cut of meat. Also, pay attention to the material of lid handles. If they get too hot, you can get injured.
Number of infrared burners — Best grills have more than one burner, so you have a large area for cooking.
Gas tank access — The gas tank should be stored so it doesn't access the grill mobility and allows easy power-up. Also, many infrared-type grills come with a gauge for checking gas levels so that you won't run out of gas in the middle of cooking.
Storage space — Some grills have a lot of storage space and shelves for storing tools and other items you need. These can make grill use easier.
FAQs
What Are the Disadvantages of Infrared Grills?
The disadvantages of infrared grills are:
No option for low-temperature regulation
Usually aren't portable
High chance of burning and getting charred food due to high temperatures
Expensive
Is Infrared Cooking Dangerous to Your Health?
No, infrared cooking isn't dangerous to your health. The research says infrared radiation doesn't alter the food's molecular structure, so it's safe to consume [3].
What's the Best Infrared Grill for You?
All of these are the best infrared grills available on the market. But my vote for the best one goes to Napoleon Prestige Pro 500. This is an absolute beast of a grill that will satisfy all of your infrared grilling needs.
It has 900 square inches of main cooking space, which is more than enough when you want to cook for your family or entertain a large group of people.
Moreover, you can sear the food, bake, roast, grill, and smoke — it's an all-in-one grill.
It reaches an unbelievable 1,800 degrees, so you'll never have issues with undercooked food.
Finally, it's durable and even has a large storage space. Check here, and order your grill today.
Napoleon Prestige Pro 500
Our #1 Recommendation
Rotisserie kit can hold up to 25 pounds
Huge cooking space
Porcelain enamel grates provide excellent heat distribution and retention
LED night light knobs
Was this article helpful?