Pulled pork, pork ribs, pork chops, tenderloin… I love it all. But no pork dish equals braised pork shank.
When cooked to perfection, it's a succulent cut that melts in your mouth and releases rich, savory aromas.
Seeing as it's one of my favorite pork dishes, I spent years perfecting the recipe. I tried several cooking temperatures, different spices, sauces, and more. I held several taste tests with friends and family until I was sure I had the best possible recipe.
Today, I'll let you in on all my pork shank secrets so you can cook this cut to perfection.
What Are Pork Shanks?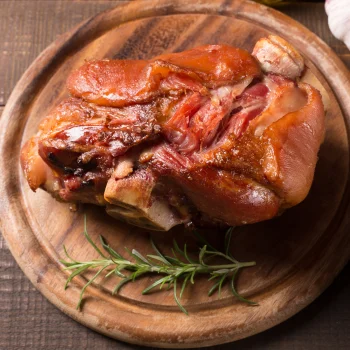 Pork shanks, also called pork hocks, are cuts of meat from the lower leg of the pig.
They are affordable and have flavorful, tender, and gelatinous qualities.
The shanks have a lot of connective tissues and collagen, so they need to be cooked low and slow to give them time to break down.
The result is a rich and tender texture. This is why pork shanks are often used in braises, stews, and soups.
Shanks are used in various cousins worldwide, such as Italian in Osso Buco recipes. Osso Buco typically uses veal shanks, but you can also try oxtail and beef.
If you plan to make pork Osso Buco, ask the butcher to cut the shanks in half.
Recipe Overview
Prep Time: 15 minutes
Cook Time: 3 hours
Total Time: 3 hours and 15 minutes
Number of Servings: 4
Ingredients
1/2 cup all-purpose flour
1 teaspoon kosher salt
1 teaspoon black pepper
4 five pound pork shanks
1 cup carrots
1 medium onion
2 celery ribs, chopped
6 garlic cloves, minced
16 oz mushrooms
1 1/2 cup beef stock
1 1/3 cups chicken stock
12 oz beer
3 rosemary sprigs
4 thyme sprigs
2 bay leaves
Instructions

Season the flour with sea salt and black pepper. Dredge the pork shanks through it.
Pour some olive oil into a large Dutch oven on medium-high heat. Sear the pork shanks for two minutes per side. Once all the pork shanks are seared, remove from the pan and set aside.
Add the mushrooms, celery, carrots, onions, and garlic to the pot and cook on medium heat for around seven minutes. The vegetables should be lightly cooked.
Add beer, turn down the heat, and scrape the delicious bits off the bottom to deglaze the pan.
Add the stock and herbs and simmer for five minutes on medium heat.
Remove two-thirds of the vegetables and stock mixture and return the pork shanks to braise them.
Return the removed vegetables and stock to the pan and arrange the shanks so the veggies and stock cover them.
Cover the pan with a lid or aluminum foil and cook at 325 degrees for three hours. Check the pork shanks and add more broth if the braising liquid starts to evaporate and the shanks aren't covered.
You should have a lot of grease in the pan when the braised pork shanks are done. Remove and discard most of the grease.
Braised pork shanks are done when the meat is tender and almost falling off the bone.
Serve braised pork shanks with the sauce and vegetables.
"Brining with a braise allows me to get more flavor in a shorter amount of time and also allows all the seasoning to penetrate all the meat."

- Michael Symon, Food Network, YouTube Channel
Recipe Notes

Here's what to keep in mind when making braised pork shanks:
Sear the vegetables before adding them to the liquid for a deeper flavor. If you add them straight to the liquid and boil, they won't develop the same rich flavor.
Add cold or room-temperature broth to a hot pan to release the tasty bits from it.
You don't have to use beer when making pork shank. Try Dr. Pepper, coke, or root beer.
You don't need to use both beef and chicken broth to make braised pork shanks. You can use only one, but I found the combination creates a delicious sauce.
If you can't find pork shanks, try lamb shanks or veal shanks. Make sure there's a lot of fat on them so they don't dry out.
Cover the pot when cooking in the oven so the steam can braise the shanks.
Make sure not to crowd the pot when browning the shanks, or you won't get the Maillard reaction that gives them flavor [1].
If you're worried you'll burn the garlic, add it after sauteing the veggies.
Some cooks don't cover the pork shanks completely. Try both versions to find what works best for your pork recipes.
You know the meat is done when it's fork tender.
Check the internal temperature of the meat with a meat thermometer. It should be 165 degrees before serving [2].
Let braised pork shanks sit for 10 minutes before serving. This gives the meat time to reabsorb the juices and become more tender.
Make sure to season the flour, as dredging pork shanks through it gives the broth a deep flavor and a golden color.
Add a few spoons of tomato paste to the liquid if you want a darker color and a sweeter flavor.
Nutrition Facts
Calories: 373
Total Carbs: 35 g
Protein: 15 g
Fat: 5.6 g
Fiber: 37 g
Net Carbs: 0
Recipe Substitutions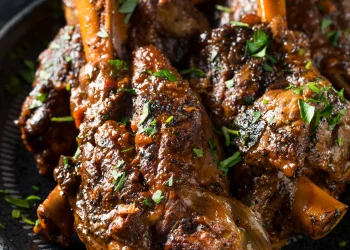 Here's what to use in the recipe if you have problems finding all the ingredients:
Meat - Lamb and veal are the best alternatives. They also make a flavorful broth and tender meat.
Beer - If you don't like beer, try white wine or add more chicken stock.
Vegetables - The recipe calls for many vegetables. If you don't have all of them, use any root vegetable, such as turnips.
Herbs - Use various fresh herbs, such as fresh rosemary, parsley, bay leaves, or whatever you have on hand.
Also Read: How to Cook Pork Knuckles
What to Serve With Braised Pork Shanks?
Here's what to serve with braised pork shanks:
Mashed potatoes - They are creamy and smooth. Their mild flavor is a good complement to the rich pork.
Roasted vegetables - Roast carrots and Brussels sprouts. They provide a good contrast to tender shanks. You can also roast root vegetables, such as beets, turnips, and sweet potatoes, if you want a more earthy flavor.
Bread - Get some baguettes or dinner rolls. It works great for mopping up the braising liquid and slowly cooked meat juices.
Braised greens - Braise kale or Swiss chard. These are nutritious and give the dish a slightly bitter flavor when cooked properly.
Rice - Rice pairs nicely with a rich gravy flavor.
Salad - Use citrus fruits, such as oranges, mandarines, or grapefruits. These provide contrast to the pork.
Overall, the pork shank recipe is extremely versatile.
You can serve it with a wide variety of side dishes, depending on your personal preferences and the flavor profile you want.
Don't be afraid to experiment to find the perfect combo of flavors.
How to Store and Reheat Pork Shanks

To store and reheat pork shanks, let them cool down. Place them in an airtight container or wrap them tightly with plastic wrap or aluminum foil.
You can keep the meat in the fridge for up to four days.
If you want to store cooked shanks for a longer time period, you should freeze them. Ensure the dish is completely cooled, and place in a freezer-safe container or wrap tightly.
Label the dish with the storage date, and keep it in the freezer for up to three months for best quality.
Reheat pork shanks by thawing if frozen. Leave the meat in the fridge overnight.
You can reheat using various methods:
Oven - Preheat to 300 degrees, cover the pan with foil, and heat for about half an hour.
Stovetop - Place the meat in the saucepan or a Dutch oven with some liquid (broth works well). Heat on low and stir occasionally.
Slow cooker - Place the meat and any juices in the slow cooker. Slow cook for two to three hours.
Note: Regardless of which method you choose, make sure the internal temperature of the meat is 165 degrees.
Related Articles:
FAQs
What Is Pork Shank Good for?
The pork shank is good for braising. This is a tough cut, but it's flavorful when braised with fresh sage, fresh parsley, and delicious gravy.
Why Are My Pork Shanks Tough?
Your pork shanks are tough because you cook them at a high temperature or don't cook them long enough. You need to cook this meat at a low temperature, submerged in liquid, for three hours.
three hours. What Is the Difference Between Pork Shanks and Pork Hock?
The difference between pork shanks and pork hock (also called ham hock) is that ham hock has less meat and is bonier. Ham hocks come from the area of the leg that's close to the pig's foot. Ham shanks are meatier and come from the area below the shoulder.
Have You Tried This Pork Shank Recipe?
This recipe requires a few steps and a lot of fresh herbs and veggies, but the meat is fall-off-the-bone tender.
Make sure to brown it with some vegetable oil, then cook low and slow in a Dutch oven.
If you can't find pork shanks in your local store, check online meat butchers.
We've tried and tested countless delivery services to bring you the best meat delivery services. Each of these has a wide variety of meats, including pork cuts.
Check them out, and choose the best meat delivery for you.
---
References:
https://www.sciencedirect.com/topics/agricultural-and-biological-sciences/maillard-reaction
https://www.fsis.usda.gov/food-safety/safe-food-handling-and-preparation/food-safety
Was this article helpful?