Ever since I first tried this classic Cuban mojo-marinated pork, I've been tweaking the recipe to make it my own, and it's been a hit in my household.
It blends ingredients like garlic, oregano, cumin, and orange juice for a bursting marinade that will have your pallet awakened.
The recipe I'm about to share is incredibly versatile, pairing beautifully with a wide array of side dishes.
Marinated Mojo Pork Recipe

Recipe Overview
Prep Time: 45 mins
Cook Time: 6 hrs 15 mins
Total Time: 7 hrs
Number of Servings: 6 to 8 servings
Ingredients
For Mojo Marinade: 
3/4 cup extra-virgin olive oil
1 cup lightly packed cilantro, finely chopped
1 tablespoon finely grated orange zest
3/4 cup fresh orange juice
1/2 cup fresh lime juice
1/4 cup lightly packed with finely chopped mint leaves
8 minced garlic cloves
1 tablespoon minced oregano
2 teaspoons ground cumin
For Pork:
1 teaspoon kosher salt to season the pork
1 teaspoon freshly ground black pepper and more to season the pork
3 1/2 pounds boneless pork shoulder (pork butt)
Instructions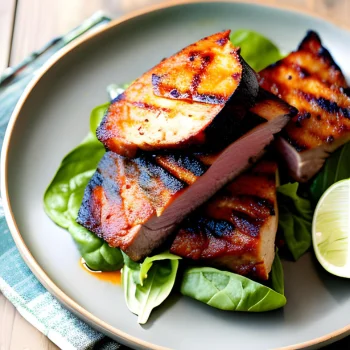 Make a few slits in the pork shoulder with a sharp knife to allow the mojo marinade's flavor to seep into the flesh fully.
Whisk together the olive oil, freshly squeezed orange juice, lime juice, garlic, cumin, pepper, and oregano in a sizable bowl. Add plenty of kosher salt and season to taste. Put half the mojo in a sealed jar and keep it in the fridge.
To the remaining mojo, add the pork roast and stir to coat. Before covering the meat, spoon any extra marinade from the bottom of the container over the top. Place the mojo-marinated pork in a gallon-sized zipper-lock bag and chill for at least two hours and up to overnight.
Set the lower-middle oven rack and heat the oven to 275°F.
Line a rimmed baking dish with two layers of heavy-duty aluminum foil.
Place the mojo-marinated pork shoulder and drippings on top, then fold the foil and crimp it to cover while leaving space for air to circulate. Roast for 3 hours in the oven.
To continue roasting, fold back the foil, raise the oven temperature to 325°F, and roast the pork with pan juices for 2 to 3 hours or until the top is crackly and browned.
Take the Cuban roast pork out of the oven and rest for about 15 minutes.
After pouring them into a bowl:
Discard all but 1 cup of the accumulated pork juices.
Add fresh chopped mint and oregano to the pork drippings and the conserved mojo.
Combine and add salt to taste after whisking.
"To get an accurate temperature reading, insert the thermometer into the meat's thickest section."

- U.S. Department of Agriculture
Recipe Notes
Check that the pork shoulder has been cooked by using a meat thermometer. According to the USDA, pork should be cooked to a minimum internal temperature of 145°F [1]. To be fall-apart tender, it must have an internal temperature of at least 190°F. Cook it to 160°F instead if you'd want to slice it.
For marinating pork before roasting, I recommend 4 to 20 hours of marinating time. Anything less fails to impart enough flavor, and more of it may lead the meat to fall apart too quickly and turn soggy.
You may use other cuts for this Cuban pork recipe (pork tenderloin, for example), but I recommend shoulder because it has an excellent ratio of meat to fat to keep the meat juicy while cooking and has a terrific flavor. Leaner cuts would work but need to cook more quickly, or they would dry out, so keep an eye on them and use the interior temperature as your guide.
If your pork has a decent layer of fat or skin, you can cut this before cooking. When it's done, turn the broiler or grill too low and drop the pig so it's not too close to the heat source. Keep a tight eye on it to prevent burning while letting the skin/fat crisp up.
You can replace orange juice with sour oranges, but a combination of orange and lime juice worked fine for this Cuban roast pork recipe.
Continue cooking the pork until it reaches 190°F if you want it to be completely tender so you can shred it rather than slice it.
Note: To store Cuban pork, first let it cool down and then place it in a large air-tight container or seal it tightly in plastic wrap or aluminum foil before refrigerating. If you plan to consume it within 3 to 4 days, keeping it in the fridge is sufficient. 
However, if you won't be using it within that time frame, consider freezing it.
To do so, wrap the pork carefully in plastic wrap or aluminum foil and place it in a freezer-safe container or bag.
Don't forget to label the container or bag with the date and contents, and you can store it in the freezer for up to three months [2].
Related Articles:
Nutrition Facts
Per serving:
Calories: 1002
Total Carbs: 9g
Protein: 72g
Fat: 74g
Fiber: 2g
Net Carbs: 5g
What Side Dishes to Serve Mojo Pork With?

Here are a few side dishes I love serving with this recipe: 
Rice and beans: A traditional side dish that pairs superbly with Cuban mojo pork. White or brown rice and black or red beans can be prepared simply as a side dish, or you can dress it up with sautéed onions, garlic, and seasonings.
Tacos: For the taco filling, shred the leftover Cuban pork roast. For a tasty and simple lunch, add some sliced tomatoes, lettuce that has been shredded, and sour cream or guacamole.
Cuban sandwiches: They are filling and delectable when the leftover pork is layered on a toasted bun with cheese, pickles, and mustard.
Quesadillas: Fill a tortilla with some shredded cheese, sautéed onions and peppers, and small amounts of pork. Cook the quesadillas until they are crisp.
Fried sweet plantains: These sweet and starchy sides are a delightful and filling side dish since they are sweet and starchy. Cut the plantains into slices and cook them in hot oil until crispy and golden.
Salad: To balance the richness of the Cuban mojo marinated pork, serve a light and flavorful salad. Make an easy salad with mixed greens, tomatoes, cucumbers, and a citrus vinaigrette.
FAQs
What is a Mojo Marinade Made Of?
Mojo marinade is made of orange, lime, or citrus juice, garlic, cumin, pepper, oregano, and olive oil. Although these are the main components, you can change them to your liking.
What Does Mojo Pork Taste Like?
Mojo pork tastes like citrus combined with garlic and several other herbs. This is because orange juices, lime juice, and garlic are the main mojo marinade ingredients.
Can You Make Mojo Pork Recipes Using Pulled Pork?
to marinate the pork shoulder (or whichever cut you prefer for pulled pork) in the mojo marinade before cooking.
Mojo Pork: The Best Traditional Roast
Mojo pork roast is a traditional Cuban dish that is simple to put together yet packed with flavor.
The meal calls for marinating the pork shoulder for at least 12 hours in a mixture of citrus juices, olive oil, and spices to get the ideal flavor and tenderness.
This extended marination time allows the rich, zesty flavors to fully penetrate the meat, ensuring every bite is a taste sensation.
---
References:
https://www.usda.gov/media/blog/2022/10/03/cooking-meat-it-done-yet

https://www.fsis.usda.gov/food-safety/safe-food-handling-and-preparation/meat/fresh-pork-farm-table
Was this article helpful?