When I was growing up, one of my favorite dishes during winter was my grandma's homemade vegetable beef soup.
This was also one of the first dishes I wanted to recreate when I started cooking for myself.
I used my grandma's recipe and spent years experimenting with different beef chunks, vegetables, herbs, and spices to get the best possible combination of flavors.
Today, I'll guide you through a step-by-step process of making a hearty vegetable beef soup that'll leave your taste buds craving for more.
Vegetable Beef Soup Recipe

Recipe Overview
Prep Time: 20 minutes
Cook Time: 1 hour and 20 minutes
Total Time: 1 hour and 40 minutes
Number of Servings: 6
Ingredients
2 lbs ground beef
1 tablespoon olive oil
1 medium onion, diced
4 carrots, diced
4 celery ribs, chopped
4 potatoes, peeled and cut
1 can whole tomatoes, diced
3 bay leaves
1 ½ teaspoon dried basil
1 teaspoon dried oregano
1/2 teaspoon dried thyme
1 can green beans, cut into small pieces
1 tablespoon sea salt
1 teaspoon black pepper
1/4 cup water
Instructions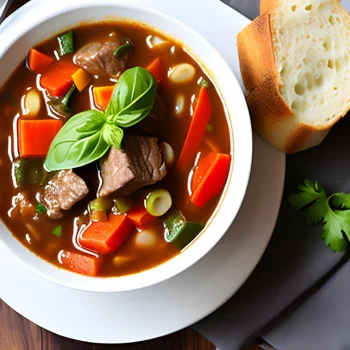 Heat one tablespoon of olive oil in a large pot on medium-high heat.
Pat dry the beef with paper towels.
Season the beef with salt and pepper and add it to the pot.
Brown the beef for four minutes. Turn halfway through. Brown in batches if needed. You want to get a good sear on all sides.
Add onions, carrots, bay leaves, canned tomatoes, and celery, and sauté for about three minutes. Add the garlic and sauté for another minute. The onion should be soft and lightly golden.
Stir in the potatoes, green beans, and tomato sauce, and season with pepper, salt, oregano, thyme, and basil, and add water.
Reduce the heat to simmer, cover, and cook until the beef is tender, for about an hour. Stir from time to time.
Serve hot.
Recipe Notes

Here's what to keep in mind when making vegetable beef soup:
Brown the ground beef in portions if your pot isn't large enough. You need a good sear on the meat. This gives flavor to the vegetable beef soup and prevents the beef from being tough and chewy. Also, if your pan is crowded, the beef will steam and not brown. It's best to keep the meat in a single layer.
Scrape the bottom of the pot after browning the beef to deglaze and get delicious brown bits in the beef soup.
Cut ingredients into even pieces so they cook evenly, and you have a good vegetable beef soup texture. Bite-sized pieces are the best.
Adjust the seasoning as needed. For example, some brands of canned tomatoes and beef broth are saltier. It's best to wait until the end of cooking to add salt and pepper.
Use herbs for freshness. Parsley is a great option, and you can also use fresh parsley to garnish the beef soup.
Your old-fashioned vegetable beef soup is cooked when the beef is fork-tender. If your beef isn't tender, it probably needs more time. Cover the pot and cook for another 20 minutes.
You can add various liquids to the vegetable beef soup. Water is a good option, but try the beef broth, tomato paste, red wine, stout, or Guinness for more flavor. Beef broth is healthy, red wine gives the soup a classic beef stew flavor, and stout and Guinness give it a more intense flavor.
Cook the soup until the beef temperature is 145 degrees [1].
Nutrition Facts:
Calories: 498
Total Carbs: 71g
Protein: 35g
Fat: 20g
Fiber: 5g
Net Carbs: 10g
Ingredients and Substitutions

This soup uses simple ingredients, most of which you can find in your pantry or fridge.
Here are the ingredients and their substitution options you can use to make vegetable beef soup:
Oil - Use olive or avocado for sautéing.
Vegetables - You can try various vegetables, such as yellow onion, green onion, canned tomatoes, celery, carrots, green beans, potatoes, and more. Use your favorite vegetable combo. You can also use frozen vegetables if you don't want to peel and cut them yourself.
Beef broth - Use a low-sodium beef broth, especially if you're watching your sodium intake. Another option is chicken broth, but I recommend sticking to beef for a hearty beef flavor.
Potatoes - Add potatoes to make an extra filling soup. Use red or russet ones.
Herbs - Same as with vegetables, you can use any herbs you like. I recommended always adding leaves and parsley, as they give important flavor to the easy vegetable beef soup. You can also opt for dill or your preferred herbs.
Spices - Use salt and pepper to taste. Add more spices for more flavor, such as oregano and thyme, onion, or garlic powder.
"Homemade vegetable soup with beef is beefy, loaded with flavor, and it's got lots of your favorite vegetables in it. Best of all, it's super easy to prepare."

- Rachel Cooks With Love, YouTube Channel
Related Articles:
FAQs
Can I Cook Vegetable Beef Soup in a Slow Cooker?
Yes, you can cook vegetable beef soup in a slow cooker. This enhances the flavor as the ingredients simmer for a long time. If you're making vegetable beef soup in a slow cooker, use a tough cut of beef, such as stew meat.
Can I Cook Vegetable Beef Soup in an Instant Pot?
Yes, you can cook vegetable beef soup in an instant pot. It's a great method if you're short on time.
How Do You Thicken Beef Vegetable Soup?
You thicken the beef vegetable soup by adding a slurry of cornstarch. Mix it into boiling liquid on the stovetop or in the crock pot over high heat. Once the cornstarch is mixed, lower the heat.
Is It OK to Eat Vegetable Soup Every Day?
Yes, it's OK to eat vegetable soup every day. It's full of nutrition and can help you lose weight.
Crafting the Ideal Beef and Vegetable Soup
Make this delicious grandma's vegetable beef soup by following the recipe above. It's easy to make and versatile.
Use beef stew meat or chuck roast, potatoes, carrots, onions, and other vegetables of your choice.
You can make it on the stovetop, crock pot, or instant pot, whatever is easiest for you. With so many options for preparation and ingredients, this soup is a foolproof way to bring comfort and warmth to any meal.
---
References:
https://www.usda.gov/media/blog/2022/10/03/cooking-meat-it-done-yet
Was this article helpful?