Created in 1985, Traeger's original wood pellet smoker set the stage for a whole new category of grills, and their current line of products continues to be some of the most popular on the market.
These days, the Traeger brand is far from the only manufacturer out there, and there are many other high-quality options available for those looking for a wood pellet grill.
I have tried out the best Traeger alternatives and will share my opinion on each one below.
Our Top Products
1 - Z Grills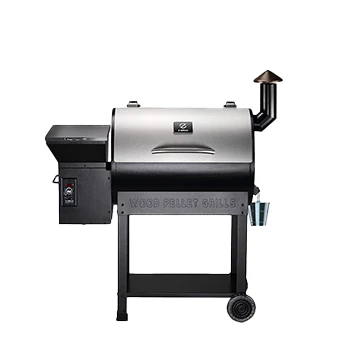 Although relatively new to the scene, Z Grills has earned quite a reputation by integrating smart technology into their grills.
Outdoor cooking enthusiasts have been lauding their grills for providing a unique smoky flavor and automatic pellet feeders, both of which mean the world if you love the whole BBQ experience.
Z Grills offers several popular models, but the one that got the most hype is their The Z Grills 450B, an excellent example of the Z Grills product line, wowing BBQ enthusiasts with its low and slow smoking performance.
It has a 15 lbs pellet with a pellet window, so it's easy to keep an eye on the pellet level without opening the lid.
450B has over 450 square inches of cooking space, which is more than enough space for cooking food for friends and family.
A removable top rack of 128 square inches of cooking space was extremely convenient when I cooked a taller cut of meat.
Overall, this grill has a consistent temperature, especially the 225 to 250 degrees range for smoking meat. It's perfect for cooking for a family without dominating the whole backyard.
Pros
Compact size with decent cooking space
Removable top rack
PID controller for consistent temperature
Takes 10 minutes to reach the smoking temperature
Click For Best Price
"Pellet grills are the fastest-growing segment of the outdoor cooking world. They've become the new backyard go-to because they produce better flavor than charcoal and are more convenient than gas."
- Z Grills Official Website
2 - Pit Boss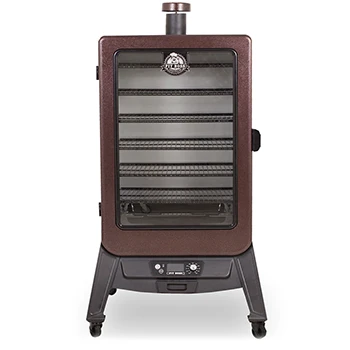 Another great alternative to Trager is definitely Pit Boss, a household name that has been making smokers, grills, and other outdoor cooking equipment since 1999.
Versatility is one of Pit Boss's big perks, allowing their products to cook a wide range of different foods using just one piece of equipment. The company also pays close attention to using high-quality materials in its products, mainly heavy-duty steel designed to withstand the rigors of outdoor cooking.
The Pit Boss Sportsman 5-Series Vertical Smoker is a prime example of their Traeger alternative product line.
It has a whopping 1,513 square inches of cooking space spread over five racks and six stainless steel hooks.
The 55 lbs hopper capacity holds enough pellets to smoke even the largest cuts of meat without refilling.
You get 5-in-1 cooking versatility — you can smoke, braise, bake, barbecue, and roast, all in one smoker.
The temperature consistency of this smoker is another huge plus. When I first used the smoker, it was a chilly evening, but it had no trouble keeping the temperature within range.
Pros
Massive cooking space
Large pellet hopper capacity
Digital control board
Click For Best Price
3 - Weber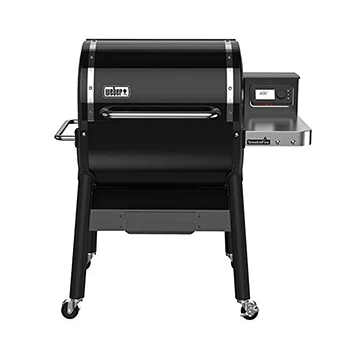 Weber is one of the most iconic names in grilling, with their first kettle grill manufactured in the 1950s.
Their entry into the wood pellet smoker arena came in 2020, with the release of their SmokeFire pellet grill [2].
Weber is a company that has a long history of customer service and satisfaction, so it is no surprise that the company has become one of the top Traeger alternatives.
Besides their long history and experience in grill manufacturing, Weber is also known for their simple and straightforward designs.
The SmokeFire is no different, with an easy-to-use temperature control panel that allows you to set a consistent temperature and monitor it without hassle.
Weber pellet grills also come with a great warranty program. It covers all grill parts for at least three years, compared to Traeger, which limits some high-risk components to a single year.
Also, Weber has a 100-day return policy if you don't like your grill - for any reason. Traeger does not match that generous return policy.
The Weber SmokeFire grill has a 200 to 600 °F temperature range, held steady by a DC-powered engine that uses very little electricity.
You put your cooking temperature on the temperature dial, holding it steady. This makes it great for smoking, searing and grilling all sorts of foods.
The SmokeFire has 672 square inches of cooking space on its stainless steel grates. This is a little less than some similarly priced Traeger models, but it's still plenty of room to cook for a large group.
I find that the smaller size also makes it more mobile and easier to store than other pellet grills.
Pros
Porcelain-enameled finish prevents rusting
Flavorizer bars help evenly distribute heat across the entire cooking area
SmokeBoost adds smoldering pellets to maximize smoke levels
Cons
More challenging to clean than other models
Click For Best Price
4 - Camp Chef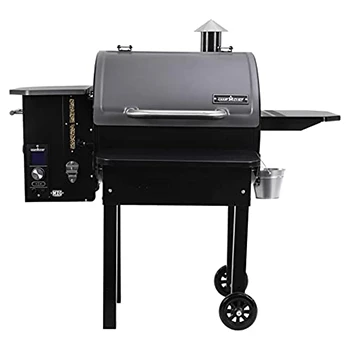 Founded in 1990, Camp Chef is a leading manufacturer of outdoor cooking equipment [4].
The company's products include smokers, grills, pellet grills, and accessories. Camp Chef is headquartered in Utah and is known for its WiFi Woodwind pellet grill.
Innovation and quality are the cornerstones of the Camp Chef brand and make it one of the best Traeger alternatives.
The company regularly introduces new products that improve upon the previous versions.
For example, it now offers a pellet grill with a low-glare, high-visibility LED display that keeps temperatures to +/- 5ºF.
Compared to Traeger, Camp Chef pellet grills have more accessories available to expand their cooking capabilities.
For example, the Camp Chef offers a sear box that can reach up to 900ºF. This can be used to quickly cook hamburgers or steak without overcooking them.
A side-mounted propane accessory can be outfitted with a griddle, baking oven, or BBQ grill box for maximum flexibility.
The Camp Chef PG24 MZG SmokePro showcases many of the company's best features.
This particular model has a side shelf and foldable front shelf to provide plenty of prep space. With an 811 square inch cooking surface, it can accommodate large smokes.
I like that the two included meat probes help me monitor progress without opening the lid.
And I can quickly switch between direct and indirect flame modes by pulling a single knob on my Camp Chef.
After my grilling session is over, the ash cleanout system makes my cleanup a breeze without having to reach for my shop-vac.
Pros
Hopper and ash removal system makes cleanup easy
Heavy duty front shelf gives more prep space
Adjustable settings allow you to set how smoke flavor there is in your food
Cons
No WiFi control on this model
Check Current Price
Buyer's Guide

When buying a wood pellet grill, there are a few key points to keep in mind.
Price
Although no one wants to spend more money than they have to, finding a pellet grill that fits your needs is essential.
You might spend a little more for features you'll use often, but they will save you frustrating effort and time in the long run.
Weight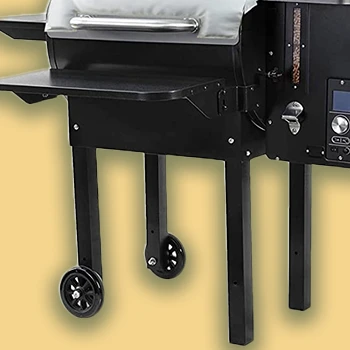 If you plan on moving your smoker around often, look for a relatively lightweight model. This will make transportation and storage much more manageable.
Larger wheels can also be helpful in this regard. They are less likely to dig into the softer ground and make moving the pellet grill difficult.
If you want to go camping or tailgating, consider a portable grill instead of a larger grill.
Cooking Area
Think about how much food you typically smoke at once. If you regularly entertain large groups or smoke meats like ribs or pork butts, look for a pellet grill with a large cooking area.
A smaller model will suffice if you smoke food for smaller groups or individual portions.
Hopper Capacity
As opposed to a gas grill or charcoal grill, a pellet grill has a hopper. The hopper is the chamber that holds the wood pellets.
A larger hopper means you can smoke for longer periods without refilling it. This is advantageous if you plan on smoking overnight or while you're away from home.
Extras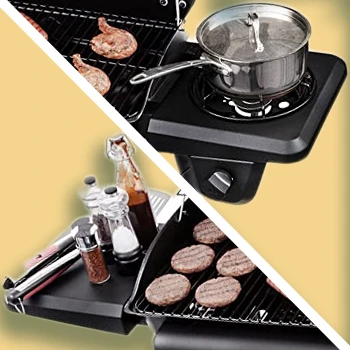 Some wood pellet grills come with added features, such as side shelves, propane attachments, or a grill cover.
Others come with helpful accessories, such as temperature probes and WiFi controllers.
Of course, consider how many bells and whistles you really need before making your final decision because they will add to the price tag.
Durability
It's important to find a smoker that can stand up to regular use. Look for a model with high-quality materials, like heavy-gauge steel that is built to last.
Stainless steel and porcelain-coated surfaces are good choices in this regard. Avoid plastic components whenever possible, as they are more likely to break down over time.
Ease of Use
You don't want to struggle to use your smoker, so look for a model with user-friendly features.
Controls that are easy to read and have an intuitive design will make your life much easier when it's time to smoke.
Items like a grease bucket for easy cleaning are also a plus.
Customer Service
You should consider the company's reputation for customer service before making your purchase.
You want to be sure that you can get help if you have any questions or problems with your smoker.
Warranty
It's always a good idea to have a warranty in case something goes wrong with your smoker.
A more extended warranty is better, and the best companies offer a warranty demonstrating their confidence in their great grills.
Related Articles:
FAQs
What Other Brand Does Traeger Make?
Traeger doesn't make any other brand of grills. Since Joe Traeger moved over to Pit Boss, there is often some confusion on this point, but as of right now, Traeger only produces one line of grills.
Is Pit Boss Owned by Traeger?
No, Pit Boss is not owned by Traeger. Although Joe Traeger works for the company, Pit Boss is owned by Dansons, the same company that owns Louisiana Grills.
Where Are Traeger Grills Made?
Initially, all Traeger grills were made in Oregon in the United States. However, as the company has grown, they have begun outsourcing its production to China.
This is the same manufacturing location as Z Grills, Pit Boss, and Camp Chef. Other grills Rec Tec, Green Mountain Grills, Grilla Grills, and Traeger grills, are made in China as well.
Smokers Like Traeger: Which One Is the Best Alternative?
Although Trager is a big household name in the BBQ world, these smokers are surely premium alternatives.
After using all the wood pellet smokers listed above, I discovered the Z Grills 450B Pellet Grill got me the best cooking result I could only get with a Traeger.
This grill has everything you need, including a large cooking area, big hopper capacity, and superior durability. You can spatchcock two whole chickens or use the top rack to smoke larger cuts. Check it out, and get one of the best family grills on the market.
Z Grills
Our #1 Recommendation
Compact size with decent cooking space
Removable top rack
PID controller for consistent temperature
Takes 10 minutes to reach the smoking temperature
Get the BEST PRICE until the end of May
Was this article helpful?