Created in 1985, Traeger's original wood pellet smoker set the stage for a whole new category of grills, and their current line of products continues to be some of the most popular on the market.
These days, the Traeger brand is far from the only manufacturer out there, and there are many other high-quality options available for those looking for a wood pellet grill.
I have tried out the best Traeger alternatives and will share my opinion on each one below.
Our Top Products
Buyer's Guide

When buying a wood pellet grill, there are a few key points to keep in mind.
Price
Although no one wants to spend more money than they have to, finding a pellet grill that fits your needs is essential.
You might spend a little more for features you'll use often, but they will save you frustrating effort and time in the long run.
Weight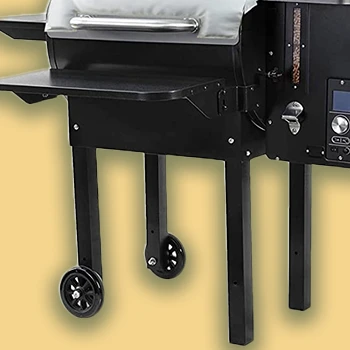 If you plan on moving your smoker around often, look for a relatively lightweight model. This will make transportation and storage much more manageable.
Larger wheels can also be helpful in this regard. They are less likely to dig into the softer ground and make moving the pellet grill difficult.
If you want to go camping or tailgating, consider a portable grill instead of a larger grill.
Cooking Area
Think about how much food you typically smoke at once. If you regularly entertain large groups or smoke meats like ribs or pork butts, look for a pellet grill with a large cooking area.
A smaller model will suffice if you smoke food for smaller groups or individual portions.
Hopper Capacity
As opposed to a gas grill or charcoal grill, a pellet grill has a hopper. The hopper is the chamber that holds the wood pellets.
A larger hopper means you can smoke for longer periods without refilling it. This is advantageous if you plan on smoking overnight or while you're away from home.
Extras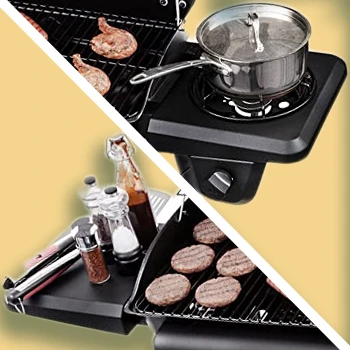 Some wood pellet grills come with added features, such as side shelves, propane attachments, or a grill cover.
Others come with helpful accessories, such as temperature probes and WiFi controllers.
Of course, consider how many bells and whistles you really need before making your final decision because they will add to the price tag.
Durability
It's important to find a smoker that can stand up to regular use. Look for a model with high-quality materials, like heavy-gauge steel that is built to last.
Stainless steel and porcelain-coated surfaces are good choices in this regard. Avoid plastic components whenever possible, as they are more likely to break down over time.
Ease of Use
You don't want to struggle to use your smoker, so look for a model with user-friendly features.
Controls that are easy to read and have an intuitive design will make your life much easier when it's time to smoke.
Items like a grease bucket for easy cleaning are also a plus.
Customer Service
You should consider the company's reputation for customer service before making your purchase.
You want to be sure that you can get help if you have any questions or problems with your smoker.
Warranty
It's always a good idea to have a warranty in case something goes wrong with your smoker.
A more extended warranty is better, and the best companies offer a warranty demonstrating their confidence in their great grills.
Related Articles:
FAQs
What Other Brand Does Traeger Make?
Traeger doesn't make any other brand of grills. Since Joe Traeger moved over to Pit Boss, there is often some confusion on this point, but as of right now, Traeger only produces one line of grills.
Is Pit Boss Owned by Traeger?
No, Pit Boss is not owned by Traeger. Although Joe Traeger works for the company, Pit Boss is owned by Dansons, the same company that owns Louisiana Grills.
Where Are Traeger Grills Made?
Initially, all Traeger grills were made in Oregon in the United States. However, as the company has grown, they have begun outsourcing its production to China.
This is the same manufacturing location as Z Grills, Pit Boss, and Camp Chef. Other grills Rec Tec, Green Mountain Grills, Grilla Grills, and Traeger grills, are made in China as well.
Smokers Like Traeger: Which One Is the Best Alternative?
Although Trager is a big household name in the BBQ world, these smokers are surely premium alternatives.
After using all the wood pellet smokers listed above, I discovered the Z Grills 450B Pellet Grill got me the best cooking result I could only get with a Traeger.
This grill has everything you need, including a large cooking area, big hopper capacity, and superior durability. You can spatchcock two whole chickens or use the top rack to smoke larger cuts. Check it out, and get one of the best family grills on the market.
Z Grills
Our #1 Recommendation
Compact size with decent cooking space
Removable top rack
PID controller for consistent temperature
Takes 10 minutes to reach the smoking temperature
Get the BEST PRICE until the end of December
Was this article helpful?