You just want to enjoy a nice summer evening with your family and friends, but you don't want to deal with the hassle of cleaning up after dinner.
Grilling is the answer to your problem - but what grill do you need?
You want one with all the features needed for an amazing backyard BBQ - plenty of cooking power, fast heating, even cooking results, and a large cooking area, so you have plenty of room for food prep.
The Nexgrill Deluxe 5 Burner propane gas grill may be your solution.
As a grill master, I'll tell you everything I've learned about this grill so you can decide if it's right for your next outdoor event.
What is the Nexgrill Deluxe 5 Burner?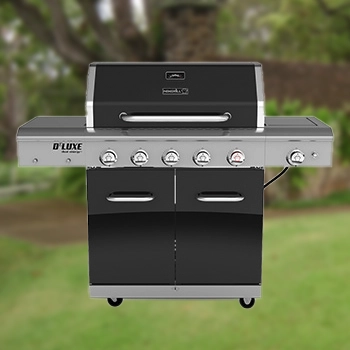 The Deluxe 5 Burner propane gas grill is one of the best gas grills that Nexgrill offers. It features a huge cooking surface with exceptional control along with a host of high-end features.
Featuring 638 square inches of total cooking space and built with stainless steel, this Nexgrill 5-Burner propane gas grill offers versatility and convenience.
The primary cooking space is 547 square inches - spacious enough for almost anything.
An attractive porcelain coating coats the high-quality grates, ensuring they retain heat effectively.
Additionally, a side burner and an upper-level warming rack are provided for keeping food hot.
Benefits and Highlights

This is a grill designed for the serious BBQ pitmaster. Its size is perfect for a large family or party, and its amenities are impressive. Some specific highlights include:
Even-Heat Cooking System
The grill is designed with angled flame tamers, which help with heat distribution throughout the grill. This ensures you won't have any cold spots, so no more burned food on one side and undercooked food on the other.
The Even-Heat system means you also avoid flaring the fire when grease drips down and will vaporize food drippings, so they are turned into smoky flavor infusions for better food.
Stainless Steel Side Burner
Just in case the huge grilling area is not enough, a 12,000 BTU stainless steel side burner is included that can be used for boiling water, sautéing veggies, or simmering sauce.
Create your favorite side dishes while simultaneously grilling the main course with this handy side burner.
Porcelain Cast-Iron Cooking Grates
With sturdy grates coated with high heat-retaining porcelain, you get even heating and easy cleaning. These grill grates offer high heat retention and create top-notch sear marks, thanks to their unique composition.
Electronic Ignition
This grill will prevent flare-ups when you start your grill. The electronic push-to-start ignition system gets the fire going every time, quickly and efficiently.
It ensures your grilling sessions get off to a smooth start, with no hassles or delays.
Rust-Proof Construction
What good is a grill if you can't use it because of rust? This one won't disappoint you in that regard. Built from premium stainless steel components, it is designed to last a lifetime.
There is never a question about whether or not the grill will stay rust-free and high functioning for years to come.
Built-in Thermometer
You get precise temperature regulation with this grill, thanks to its built-in thermometer. It is placed close to the meat so you can get an accurate reading every time.
No more cutting into your food and wondering if it's done or not with this feature.
Warranty
Nexgrill grills stand behind their work with a 1-year warranty on all the grill surfaces and five years on the main burners.
Pros
There is no doubt that the Nexgrill Deluxe 5 Burner propane gas grill is one of the most feature-rich Nexgrill gas grills. This grill is extremely versatile and convenient, with enough power to cook for a large family or party.
It offers excellent cooking perks that make it easy to use, like its electronic ignition system and built-in thermometer. The side burner stainless steel ring is also useful for preparing sides while grilling your main course.
Some other pros include:
67,000 BTUs - great heat output over the total cooking surface
Five stainless steel burners - precision and control over all aspects of your grilling
479.55 sq. in. of primary cooking surface - enough space for the neighborhood to come over
5 Year Main Burners Warranty - quality workmanship built into every grill
Cons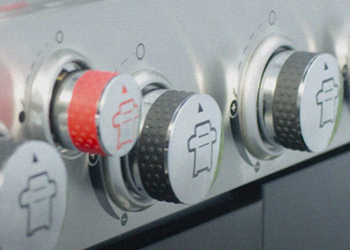 There is not much to dislike about this grill.
The one possible weakness is that, with five burners to spread around the 67,000 BTUs, any individual burner may not produce super-high heat in a small location.
This is not a problem for routine grilling, but it might be if you are cooking a tiny piece of meat.
Heat may not be high enough for some specialty grilling applications
My Experience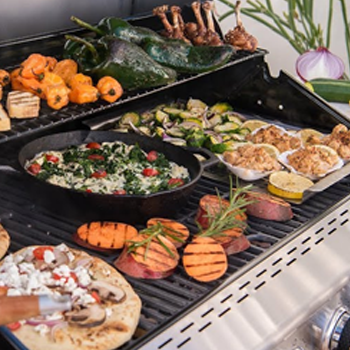 I have been extremely satisfied with my Nexgrill 5 Burner propane gas grill. I love the grill's surface area - it has been perfect for both my family and parties.
The angled flame tamers mean there are also far fewer flare-ups than with other gas grills I have used. I still get great sear marks, but no other scorched areas on my meat or veggies.
The side burner and secondary cooking surface of this Nexgrill 5 burner have given me far more cooking flexibility than with other grills.
Additionally, it is a very attractive gas grill. The stainless steel exterior has a sleek design and is easy to keep clean. With the addition of a simple grill cover, I have seen no degradation in the body or function of the grill.
How Does It Compare To Other Products?
Although Nexgrill grills offer large cooking space, Weber Genesis S-335 Gas Grill offered me the most value for my money.
The size of the cooking area and the quality of the stainless steel cooking grates make the Weber Genesis S-335 Gas Grill a big competition to Nexgrill Deluxe 5 Burner. I would even recommend opting for Weber instead.
Related: 7 Easy Steps to Cleaning a Gas Grill
Where Can You Buy It?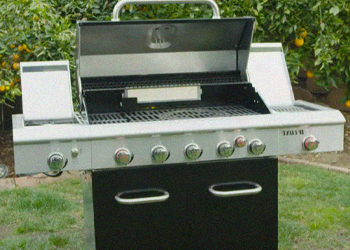 This Nexgrill 5 burner grill is best purchased at Home Depot, where it can be found for $399. They offer it for in-store pickup or shipped to your home.
Additionally, if you desire, you can get free assembly with the in-store pickup option.
I did not find it too difficult to put together, but it is nice to have a professional do the work to ensure there is no way for gas to leak.
FAQs
What Size Cover Should I Get?
You should get a 65-inch cover, as this is what this burner uses.
Does the Grill Come with a Smoker Box?
No, the grill doesn't come with a smoker box, but you can purchase one separately from Nexgrill.
Should You Buy Nexgrill Deluxe 5?
Nexgrill Deluxe 5 is a good choice for anyone looking for a large cooking area. But, one big downside is if you are cooking smaller portions of meat, you might not get enough heat because five burners are spread around 67,000 BTUs.
That's why we recommend Weber Genesis S-335 Gas Grill instead. With Weber, you'll be able to bake, grill, and even stir-fry dishes on its extra-large sear zone. An expandable top cooking grate will enable the second grilling level on this innovative grill.
This burner will give you everything you need in one package. There's no reason not to get your Weber Genesis S-335 Gas Grill today.
We Recommend
Weber Genesis S-335 Gas Grill
Click For Best Price

Pros
It has an extra large sear zone
Convenient prep & serve table
Expandable top cooking grate with a side burner
It has stainless steel cooking grates
Get the BEST PRICE until the end of May
Cons
It may be a bit expensive
Was this article helpful?