I've personally tried several smoked jerky recipes over the past five years. Once I tried one particular beef jerky in smokers recipe, it became a household favorite ever since.
In this article, I will be sharing six easy steps for this flavorful beef jerky in smokers for you to try out yourself.
Quick Summary
Making smoked beef jerky involves selecting lean meat, slicing it, marinating it, preparing the smoker, drying the jerky, and smoking the meat.
The marinade consists of soy sauce, water, brown sugar, black pepper, sea salt, garlic powder, and onion powder.
The jerky is smoked at 180°F to 200°F until the wood chips stop smoking, then dried at 170°F until it is dry to the touch and slightly darker in color.
To help you find the best smoker that can give these results, we've compiled a list of the 10 best smokers for jerky so you can pick one for yourself.
Smoked Beef Jerky Recipe Overview
Prep Time: 1 hour
Cook Time: 7 hours 30 minutes
Total Time: 8 hours 30 minutes
Number of Servings: 5
Ingredients
Round Steak
1 lb beef round roast or venison
Homemade Jerky Marinade Ingredients:
¼ cup soy sauce or Worcestershire sauce

¼ cup cold water

2 tablespoons brown sugar or garlic salt

2 teaspoon ground black pepper o red pepper flakes

½ teaspoon sea salt

½ teaspoon garlic powder

¼ teaspoon onion powder
How to Make Beef Jerky in a Smoker in Only 6 Steps

Here are 6 easy steps for making beef jerky in smokers:
1. Choose and Slice the Meat
Pick the best meat for a jerky; a sirloin tip roast is ideal for smoked beef jerky because it's typically lean and simple to work with. I am using a beef roast for this recipe.
All the excess fat from the meat should be removed—the fat will make your smoked beef jerky spoil quickly and add to the drying time.
Then, using the grain or a smoked beef jerky slicer, slice the meat into 1/4-inch pieces.
Wrap the meat in plastic wrap and store the sliced beef in the freezer for about 1-2 hours to partially freeze it.
This step is not necessary, but it makes cutting the meat at a consistent width much easier, even if you are cutting with a meat slicer or a very sharp knife for beef slices.
2. Marinate the Meat
Place the sliced beef to one side while you prepare your marinade. While the meat is frozen, whisk together the soy sauce, water, brown sugar, black pepper, sea salt, garlic powder, and onion powder in a bowl or ziplock bag.
This sauce has a wonderful pepper taste, which I really love. Mix all of the ingredients together until everything is uniformly incorporated.
Dip the sliced beef in the marinade and make sure they are evenly covered after 6-24 hours of marinating in the fridge.
3. Prep the Smoker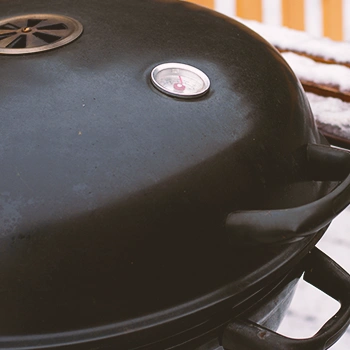 To avoid having to clean up drippings after the drying process, wrap the drip pan with aluminum foil.
It will create a mess if you don't lay down a layer of protection.
The last thing I want to do after an hour of cleaning my smoker is spend another 30 minutes cleaning it because I missed a 30-second step in the procedure.
Use a small piece of foil to make cleaning up easier by placing it above the heating element.
To allow air to flow freely from the bottom of the smoker up and out of the top, use a little square of foil.
4. Dry the Jerky
Remove the excess marinade from the beef strips by laying them on a paper towel and drying them.
Hang your jerky strips using toothpicks, either across the metal racks of the smoker or with wooden toothpick rods.
The top metal rack should be placed on the highest slot in your smoker before you hang your meat strips.
Open the smoker's top vent fully and dry for 1½ hours at 170°F. *If you wet your strips in a "wet" marinade, do not put water in the water pan when making jerky.
If you opt for a dry rub for seasoning your meat, add a little water or vinegar to the water pan to help create moisture in the smoker.
5. Smoke the Meat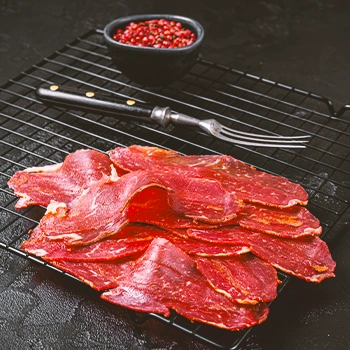 To smoke the meat, place the smoker in a cool (65°F to 70°F) area and bring the temperature up to 180°F to 200°F with a handful of hickory wood chips [2].
If you are not a big fan of the hickory wood's smoke flavor, you can try cherry wood instead.
Soak the wood chips for 10-15 minutes before adding them to the smoker.
Smoke at this temperature until the wood chips have stopped smoking (about 30 minutes to 1 hour).
Continue drying the meat at 170°F until it is dry to the touch and slightly darker in color (about 6-7 hours). However, dry according to the manufacturer's instructions if you are using a dehydrator.
Remove the jerky from the smoker and reduce the temperature to 160°F. The smoke should not be too excessive; in my experience, 30 minutes to an hour is ideal.
Leaving the wood tray door halfway open (after all of the wood has burned) allows fresh air to pass through the smoker while also speeding up drying.
If you are using a pellet smoker/pellet grill, turn the smoker to 200°F and lay the strips on the grill grates. The smoking process should last for 3-5 hours.
Beef jerky will finish a lot faster in a pellet smoker than in an electric smoker. Start checking around the two-hour mark.
During this final smoking jerky step, I also open the wood tray door on the bottom to allow fresh air to enter and help your jerky dry.
6. Store the Jerky
Once the smoked beef jerky is bent slightly, dry to the touch, and slightly darker in color, remove it from the smoker and let it cool down on wire racks.
Once cooled, store in an airtight container in the fridge or cooling rack for up to two weeks.
You can also freeze the jerky for longer storage. Jerky will last in the freezer for 3-4 months.
Read More: How Long Does Beef Jerky Last
Nutrition Facts
Beef is a great source of vitamins, protein, and minerals, including iron, zinc, and B-vitamins. It is also a good source of omega-3 fatty acids.
Beef makes up for a healthy diet when consumed in moderation and balanced with other nutrient-rich foods [1].
Serving

: 70g 

Calories

: 196kcal 

Total carbs

: 6g 

Protein

: 26g 

Fat

: 6g 

Saturated Fat

: 2g

Cholesterol

: 70mg 

Sodium

: 915mg 

Potassium

: 236mg 

Sugar

: 4g 

Calcium

: 15mg

Iron

: 2.5mg
Read More: Is Beef Jerky Healthy?
Pro Tips
After more than ten years of smoking experience, I discovered that the pellet smoker is the easiest smoker to use for jerky.
The finest flavor is obtained from hickory and apple woodchips.
If you're producing a lot of white smoke, raise the temperature to get a nice clear/blue smoke and avoid unpleasant tastes.
FAQs
Do You Flip the Beef Jerky While Smoking?
No, you don't flip the beef jerky while smoking.
Can I Use My Oven for Smoking Beef Jerky?
Yes, you can use your oven smoking beef jerky, but it's not the ideal method. Ovens don't get hot enough and lack the necessary airflow to produce great-tasting smoked beef jerky.
How Long Does It Take to Smoke Beef Jerky in an Electric Smoker?
It takes anywhere from 6-7 hours to finish smoking beef jerky in an electric smoker. Pellet smokers will finish a lot faster, around 3-5 hours.
What Is the Best Temperature to Smoke Beef Jerky?
The best temperature to smoke beef jerky is between 180°F to 200°F.
How Do I Know When the Smoked Jerky Is Dried?
You know the jerky is dried when it is dry to the touch and slightly darker in color. If you are using a dehydrator, follow the manufacturer's instructions.
---
References:
https://www.webmd.com/diet/health-benefits-beef
https://www.ciachef.edu/uploadedFiles/Pages/Admissions_and_Financial_Aid/Educators/Educational_Materials/Technique_of_the_Quarter/techniques-smoking.pdf
Was this article helpful?