Almost every adherent to the carnivore lifestyle uses salt - it brings out the flavor of meat and can also help tenderize it.
Grill masters have used Himalayan salt blocks for years because they transfer heat evenly, and they're a beautiful way to sear thinly sliced meats.
As a long-time grill enthusiast, I have cooked chicken, beef, and salmon on these blocks for years, and have tried every popular brand made.
Here is a round-up of my favorite Himalayan salt blocks for the grill.
Editor's Choice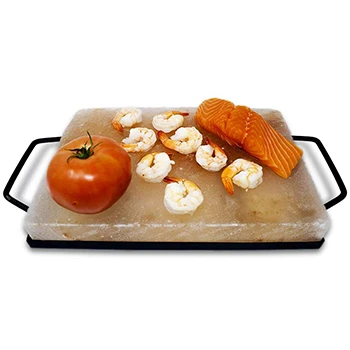 Himalite
Check Current Price
#2nd Best Choice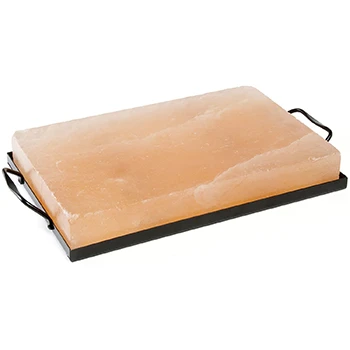 Charcoal Companion
Check Current Price
#3rd Best Choice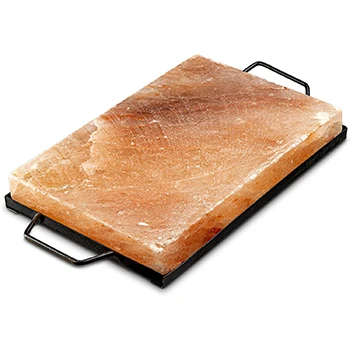 Tiabo
Check Current Price
Our Top 5 Products
1 - Himalite Himalayan Pink Salt Block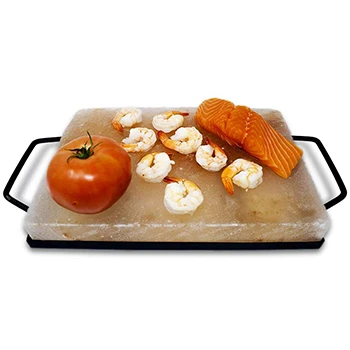 This Himalayan pink salt block is made of 100% pure Himalayan salt and is guaranteed to be free of any harmful additives or chemicals.
In addition, the Himalite block is tough enough to withstand 500-degree temperatures, making it an ideal choice for use on any grill or stovetop.
Plus, the included metal tray makes it simple for you to safely remove this gourmet Himalayan salt block from the grill, and it doubles as a serving plate.
This pink salt slab has a roomy 12"x8" grilling surface that works for most any meat. As a dedicated griller, I appreciate that this block is versatile - it can be chilled as well as heated.
Pros
Large cooking surface
Mined from Himalayan salt boulders
Handy porcelain-coated steel plate holder
A high-temperature range allows cooking on a grill or stovetop
Cons
The tray is not designed for grill use
Check Current Price
2 - Charcoal Companion CC6301 Himalayan Salt & Salt Set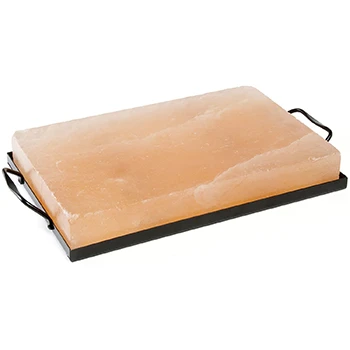 This two-piece set from Charcoal Companion includes a 12"x8"x2" Himalayan salt block and a matching stand.
They make the salt block of high-quality food-grade Himalayan salt, and they crafted the frame from durable stainless steel.
This salt slab is full of trace minerals, which can add a flavor depth not seen with all blocks. I like this set because it is designed to be chilled as well as heated - letting you serve cold foods like shrimp or fresh fruit.
Pros
Low moisture content allows for a wide range of temperatures
Useful for cooking or presentation with the steel holder
Thick stone designed for years of use without cracking
Cons
The tray is not designed for on-grill use
Check Current Price
3 - Tiabo Himalayan Salt Plate & Stainless Steel Holder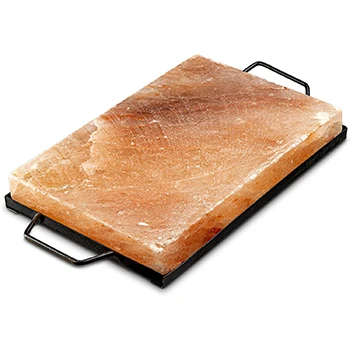 This salt plate from Tiabo is made of 100% pure salt, hand-carved in the Himalayan Mountains.
They designed this salt plate for both cooking and presentation, with a durable construction that can withstand hot and cold temperatures.
Tiabo's 12"x8" size is perfect for mid-to-large-sized meals, and the included steel holder makes it easy to pull the plate off the grill.
I like that this set is unique in that it is able to be used as a cutting board as well as a cooking surface. It also can put cold meats, cold desserts, and sushi on it as a serving platter.
Pros
Easy to clean with a wet sponge
Thick and solid - provides durability
Low price Himalayan salt slab
Cons
Heavy - may be difficult for some to lift, even with the tray
Check Current Price
4 - POHS Himalayan Salt Block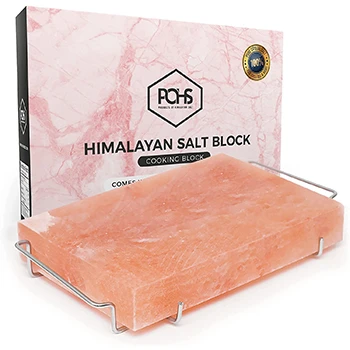 This Himalayan salt slab from POHS is a rectangular block of pure, food-quality Himalayan salt.
You can use this versatile block to cool or heat food, and it is entirely 2" thick, so it holds its temperature well.
Pros
Includes steel holder for cooking and safe removal
You can use it for cooking or presentation
Includes gloves for ease of handling
Cons
More expensive than the other blocks
Check Current Price
5 - Charcoal Companion CC6064 Himalayan Salt Plate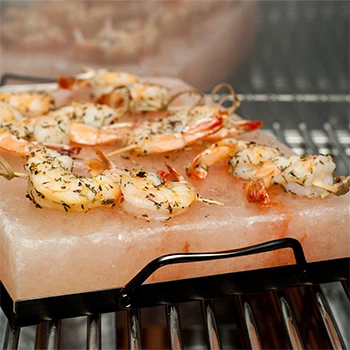 This Himalayan salt plate from Charcoal Companion is a thinner, 12"x8"x1.5" size compared to the CC6301.
They make this plate of food-grade Himalayan salt, and it has a solid construction that can withstand high temperatures.
The thinner size makes it easier to manage on and off a charcoal grill. I like the flavor of this stone and find that it comes through cleanly with any sort of grilling.
Pros
Thin plate for easy handling
Cooks evenly with a high heat tolerance
You can use it over gas, charcoal, or in the refrigerator
Cons
It may not be as durable as a 2" salt slab
Check Current Price
"Pink Himalayan salt is harvested by hand from the Khewra Salt Mine in Pakistan. It's minimally processed to provide a natural alternative to regular table salt."
- Healthline
Buyer's Guide

If you are going to get into Himalayan salt block grilling, here are a few things you need to consider:
1. Size
The size of the salt slab is important, as you want to make sure that it works well for your grill. Most blocks are around 12"x8", but some are smaller. A larger block will give you more surface area to work with, but it will also be heavier.
2. Thickness
The thickness of the salt slab is also something to consider. A thicker block will take longer to heat up but will hold its temperature better. Thinner blocks are easier to handle but may not be as durable.
3. Material
You want to ensure they make your block from pure Himalayan salt, as this provides the best flavor. Some blocks come from locations other than the Himalayas and don't have the same salt purity. Be sure to check the label.
4. Price
The price of a block can vary depending on the size, thickness, and material. A thinner salt slab block may be cheaper initially, but if it does not last as long, it will be more expensive in the long run.
5. Add-Ons
Many Himalayan salt slabs provide additional items to make your grilling experience more pleasant. These can include a holder for the block, gloves for handling, or even a carrying case.
If you think you will need these extras, be sure to check that they include them before making your purchase.
Related Articles:
FAQs
What Size and Shape of Himalayan Salt Block is Best?
The best size and shape of a salt block is a 12"x8" rectangle. These dimensions will give you plenty of surface area to work with on the grill, but it is not too big or heavy.
What Can You Cook on a Salt Block?
You can cook anything that needs high heat searing on a salt block [1]. This includes meat, seafood, chicken, and other quick-cooking foods.
Are Salt Blocks Hygienic?
Salt blocks are hygienic because salt is a natural antimicrobial and high-temperature cooking kills off bad microbes [2].
How Long Do Salt Blocks Last?
Salt blocks can last for years, provided that they get the proper care. Be sure to clean and store your block properly to extend its life. Keep it dry and clean it with a soft brush to increase its life.
How Do You Prepare a Salt Block for Grilling?
To prepare a salt block for grilling, you have to heat it very slowly. Heating the block too quickly can cause it to crack.
Which Salt Block Is The Winner?
After trying out each salt block, my conclusion is that the Himalite Himalayan Pink Salt Block is the clear winner.
It balances price, size, and thickness well – but where it excels is in its flavor. The natural potassium, magnesium, iron, and calcium really add to the elemental sodium.
I am not the only one who thinks this way:
"This Himalayan salt slab is the perfect size. I've used it on my gas grill and in the oven and it works great for both."
- Sam from Texas.
"This is by far the best one I've used for Himalayan salt block cooking. The flavor is incredible."
- AmyT,  Reddit.
If you are interested in reading more, click here.
Himalite Himalayan Pink Salt Block
Our #1 Recommendation
Large cooking surface
Mined from Himalayan salt boulders
Handy porcelain-coated steel plate holder
A high-temperature range allows cooking on a grill or stovetop
Was this article helpful?