One of my favorite dishes to prepare is the Crock Pot chicken stew.
With its real ingredients and savory flavors, this wonderful recipe has been a crowd-pleaser for my family and guests.
I've been perfecting this recipe for months, fine-tuning the blend of herbs and spices to create a dish that's not just comforting but also uniquely mine.
Here, I will share with you my personal take on this classic, delicious recipe and provide you with tips and tricks on how to make it even more delicious.
Easy Crock Pot Chicken Stew Recipe

Recipe Overview
Prep Time: 20 minutes
Cook Time: 6 hours
Total Time: 6 hours 20 minutes
Servings: 6
Ingredients
1.5 lbs boneless, skinless chicken breasts cut into bite-sized pieces
1 large onion, diced
3 cloves garlic, minced
2 medium carrots, sliced
2 celery stalks, chopped
2 medium-sized russet potatoes, peeled and diced
1 lb sweet potatoes, chopped into small pieces
1 cup frozen peas
1 cup frozen green beans
1 red bell pepper, diced
8 oz fresh mushrooms, sliced
1 cup frozen corn
4 cups low-sodium chicken broth (or chicken bone broth or chicken stock)
1 cup coconut or almond milk
2 tablespoons olive oil
2 tablespoons cornstarch
1 tablespoon Italian seasoning
1 teaspoon onion powder
1 teaspoon garlic powder
2 tsp fresh thyme
1 tsp fresh rosemary
1 bay leaf
Kosher salt and ground black pepper to taste
1/2 cup sour cream
Fresh parsley, chopped (for garnish)
Instructions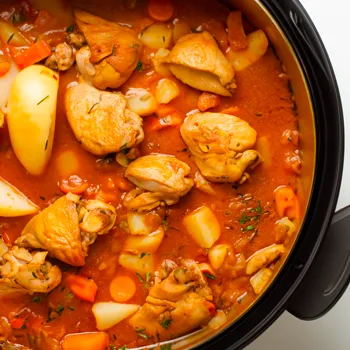 Heat the olive oil in a large skillet over medium heat. Add the diced onions and minced garlic. Sauté until the onions are translucent and the garlic is fragrant.
Transfer the sautéed onions and garlic to the slow cooker (Crock Pot).
In the same skillet, brown the bite-sized chicken pieces for a few minutes on each side until they develop a golden color. Season with salt, pepper, Italian mixture, onion powder, thyme, rosemary, and garlic powder.
Place the browned chicken in the slow cooker on top of the onions and garlic.
Add the chopped carrots, celery, diced potatoes, sweet potatoes, green peas, beans, mushrooms, red pepper, and corn to the slow cooker.
Pour in the low-sodium broth and add the bay leaf. Stir all the ingredients gently to combine.
Set the slow cooker on low heat and let the soup simmer for 6 hours. The vegetables should be tender, and the chicken should be completely cooked through.
About 30 minutes before the cooking time is up, mix the cornstarch with a little water to create a slurry. Stir the cornstarch slurry and coconut milk into the slow cooker to thicken the chicken stew. Let it continue cooking for the remaining time.
Turn off the slow cooker and stir in the sour cream.
Before serving, taste the stew and adjust the seasoning with salt and pepper if needed. Discard bay leaf.
Ladle the Crock Pot chicken stew into bowls and garnish with chopped fresh parsley.
Recipe Notes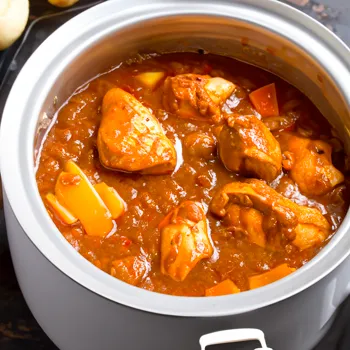 For the sake of food safety, cook the chicken as the recipe calls for an internal temperature of at least 165 degrees F [1].
You can use skinless chicken thighs instead of chicken breasts for a richer flavor. The bone in the chicken thighs adds additional flavor to this delicious chicken stew recipe. Just pull the meat off the bone before serving.
This easy one-pot meal can also be made with rotisserie chicken or shredded chicken - really any leftover chicken you may have available.
For an even creamier texture when cooking chicken stew, you can add a dollop of sour cream on top of each serving.
Some common substitutions include cream of chicken soup and ranch seasoning instead of the cornstarch slurry, garlic salt instead of powder, dried rosemary instead of fresh, celery salt instead of kosher, or onion salt instead of powder.
This absolutely delicious stew can be made on the stovetop, in a Dutch Oven, or in an Instant Pot; just adjust the cooking time accordingly.
Adding a tablespoon of tomato paste and some canned tomatoes will give this slow-cook dish a more Italian flavor.
Feel free to customize the vegetables to your liking, adding or substituting any of your favorites. For example, you can use red potatoes instead of russet. Also, Yukon gold potatoes or fingerlings can be used in this great recipe instead of russet potatoes.
Frozen or leftover cooked chicken breast or skinless thighs can be used instead of raw chicken.
Leftovers can be refrigerated for up to 3-4 days or frozen for later consumption [2].
"There's a reason why slow-cooked stews hold a special place in every chef's heart. They epitomize the essence of comfort and showcase the beauty of simple, well-sourced ingredients coming together in perfect harmony."

- Julia Child, American Chef
Nutrition Facts (Per Serving)
Calories: 345
Total Carbs: 27g
Protein: 30g
Fat: 12g
Fiber: 5g
Net Carbs: 22g
What To Serve with Crock Pot Chicken Stew?

Here's a list of dishes and sides that will make your meal complete and enhance the overall dining experience:
Garlic Butter Naan: The soft buttery naan bread is the perfect accompaniment to soak up the flavorful coconut milk broth of the slow-cooker chicken stew. Its garlic-infused aroma adds so much flavor to each bite.
Quinoa Pilaf: A light and fluffy quinoa pilaf brings a healthy and protein-rich element to the meal. Its nutty flavor and texture contrast beautifully with the creamy chicken stew, adding a wholesome touch.
Fresh Garden Salad: A crisp garden salad with mixed greens, cherry tomatoes, cucumber, and a tangy vinaigrette provides a refreshing contrast to the hearty stew. The salad's vibrant colors and flavors balance the meal and offer a dose of freshness.
Mashed Potatoes: Creamy and mashed potatoes complement the savory flavors of the chicken stew. Their natural starchiness enhances the overall taste of the dish.
Roasted Garlic Brussels Sprouts: Roasting Brussels sprouts with garlic brings out their natural sweetness and adds a depth of flavor to a healthy food that pairs well with the slow-cooker stew. The slightly charred edges provide a delightful texture.
Steamed Asparagus: Tender and nutritious steamed asparagus adds a pop of color and freshness to the plate. Its subtle flavor complements the fresh herbs in the healthy chicken stew without overpowering them.
Crusty Sourdough Bread: A slice of this crusty bread is perfect for mopping up the last bits of the creamy broth. Its tangy flavor and chewy texture add an enjoyable element to the meal. French bread is another excellent option.
FAQs
Is It Safe to Put Raw Chicken in a Crock Pot?
Yes, it is safe to put raw chicken in a Crock Pot. Slow cookers are designed to cook raw meats thoroughly at a low and consistent temperature, eliminating any food safety concerns. Ensure the chicken reaches the appropriate internal temperature before consuming.
Can I Use Water Instead of Chicken Broth in Crock Pot Chicken Recipes?
Yes, you can use water instead of chicken broth in Crock Pot chicken recipes. While the broth adds extra flavor, using water is a suitable alternative, especially if you want a lighter or more neutral taste. However, consider adding additional herbs or spices to enhance the dish's overall taste.
Can I Put Frozen Chicken in the Crock Pot?
Yes, you can put frozen chicken in the Crock Pot, but it's essential to exercise caution to ensure safe and thorough cooking. Use smaller frozen chicken pieces for better results, and ensure the internal temperature reaches the appropriate level to avoid any food safety risks.
---
References:
https://www.fsis.usda.gov/food-safety/safe-food-handling-and-preparation/food-safety-basics/safe-temperature-chart

https://ask.usda.gov/s/article/How-long-will-cooked-food-stay-safe-in-the-refrigerator
Was this article helpful?