Originally from Germany, Bratwurst has become one of the most popular sausages worldwide. But, how healthy is it really?
I'm a big Bratwurst fan. I've been eating them for years, and these sausages are a big part of my carnivore diet.
I wanted to check how many calories they had, so I talked with my nutritionist and did some online research. Here's what you should know about Bratwurst nutrition facts.
Quick Summary
Bratwurst should be eaten occasionally and not as a part of a daily diet. Beef and pork Bratwurst has a high-calorie content per serving size.
You should follow general nutrition advice and have a healthy daily diet. 2,000 calories are the recommended calorie intake.
Bratwurst sausage has several health benefits.
Bratwurst Calories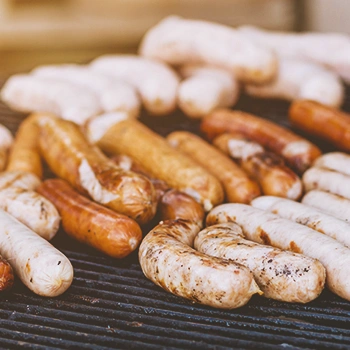 One serving size (one link, about 85g) of cooked pork and beef Bratwurst has 283 calories [1].
Out of these 283 calories, 223 are total fat calories, so Bratwurst sausage has a high-fat content. There's 25g of total fat and 8.5g of saturated fat.
Saturated fat is an unhealthy fat. Experts say men shouldn't have more than 30g of saturated fat a day and women no more than 20g [2].
On the other hand, Bratwurst sausage has very little potassium, which is important if you're on a potassium-restricted diet. There are almost no carbs and 0 sugar, and 63mg of cholesterol.
However, Bratwurst is high in sodium content. One serving of Bratwurst sausage has 719mg of sodium, which is about 25% of the recommended daily value of sodium intake.
Also, Bratwurst sausage is almost always eaten with mustard, which adds more calories. Bratwurst sausage is usually served inside two bun pieces, which adds about 100 to 150 extra calories.
If a typical Bratwurst has about 280 calories, this amounts to over 400 calories when we add the bun.
An adult person has a recommended daily diet of 2,000 calories, so this serving of food contributes a lot to the total daily values [3].
Also, how many calories Bratwurst sausage has depends on the kind of meat the sausage is made of, the cooking method, its grams, it is eaten in a bun with mustard, and so on.
"A perfectly cooked Bratwurst has a golden brown color from the outside, and it's juicy inside. Most importantly, you need to make sure that it doesn't burst during cooking."

- Cooking the World, YouTube Channel
Apart from relatively high-calorie intake, Bratwurst sausage also helps you get some proteins. One serving of Bratwurst has about 12g of protein, which can help build muscle and preserve existing muscle mass.
Bratwurst Sausage Varieties and Their Calories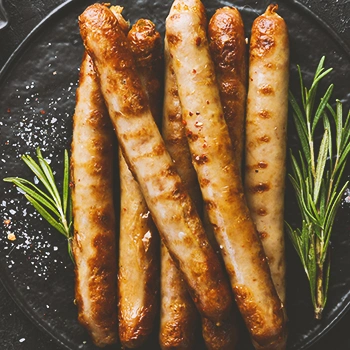 How many calories Bratwurst sausage has also depends on the meat it's made of.
For example, if it's made of bird meat such as chicken or turkey, it'll have fewer calories than when it's made with beef. Chicken or turkey Bratwurst has from 70 to 180 calories. However, the protein content is also low.
On the other hand, if Bratwurst is made of red meat, such as beef and pork Bratwurst, the number of calories can go up to 290.
If you opt for a Bratwurst with cheese, such as cheddar, calories will increase. One serving size of famous Johnsonville cheddar or Beer Brat has 260 calories [4] [5].
Note: All these calories are without a bun and mustard, so you'll quickly reach 2,000 calories a day if you add these.
How Healthy is Bratwurst Sausage?

Bratwurst sausage isn't considered very healthy. According to nutrition facts, it has high sodium and calories.
However, it's a good option if you eat Bratwurst that's not made of red meat but bird meat and don't eat it in a bun.
Bratwurst can even have some health benefits, such as:
Rich in choline — Choline is a chemical that builds cell membranes, especially for the heart and brain. It can even reduce depression and pain, and it's connected to acetylcholine which sends signals between neurons.
Helps build muscle — One Bratwurst sausage has high daily values of protein, and protein can help repair torn muscles and build new ones.
Has B Vitamins — Carbs and fat need B Vitamins to be broken down and become energy. One serving of food contributes to a high amount of these vitamins in beef and pork, meaning Bratwurst is a good source of B vitamins. Bratwurst has niacin, B6, B12, and riboflavin vitamins.
Rich in selenium — Selenium is a mineral that boosts the immune system and helps with thyroid function, arthritis, and asthma.
Low carbohydrates — 85g of Bratwurst has 2.4g of carbs, so it's good if you're following a low-carb diet, as you won't go over the allowed daily values of carbs.
Helps build strong bones — Bratwurst sausage is rich in phosphorus, which helps kidney function, and strengthens bones.
Related Articles:
FAQs
Is Bratwurst Good for Weight Loss?
Yes, Bratwurst is good for weight loss. It's rich in proteins, so you'll feel full and have fewer cravings. Also, it's low in carbs, so it's great for a low-carb diet.
How Many Calories Are in an Original Johnsonville Brat?
There are 260 calories in an original Johnsonville brat.
Can Brats Be a Little Pink?
Yes, brats can be a little pink. Most Bratwurst sausages contain minced meat, so they have a pink coloring.
Calories in a Bratwurst Sausage: Final Thoughts
Bratwurst sausage is relatively high in calories, and general nutrition advice is not to eat too many of them, or you'll quickly reach the limit of 2,000 calories a day.
The amount of calories depends on the kind of meat the Bratwurst is made of, the cooking method, and if you eat it with a bun.
If you want to be sure that you're consuming the most quality meat, make sure to obtain it from reputable sources like ButcherBox.
This meat delivery company offers several subscription boxes and free shipping, while all of their meat is antibiotic and hormone-free, ensuring the quality they guarantee.
---
References:
https://www.nutritionix.com/food/bratwurst
https://www.nhs.uk/live-well/eat-well/food-types/different-fats-nutrition
https://www.nhs.uk/common-health-questions/food-and-diet/
https://www.johnsonville.com/products/cheddar.html
https://www.johnsonville.com/products/beer-n-bratwurst.html
Was this article helpful?