When you think about grills, two brands usually come to mind: Yoder and Traeger. But how do you choose the best one?
I've used several Yoder and Traeger grills over the last decade, so I'm familiar with each brand's materials, temperature specs, cooking surfaces, and more.
I'll explain all the most important Yoder vs. Traeger features so you can choose the best pellet grill.
Quick Summary
Yoder and Traeger are both premium grill brands, with Yoder being more competition-focused and Traeger being more suited for everyday use.
Yoder grills are known for their sturdy construction, high temperature range, and advanced temperature control, while Traeger grills are praised for their ease of use, versatility, and advanced technology including Wi-Fi connectivity.
Despite their high-quality features, Yoder grills are significantly more expensive than Traeger grills, making Traeger a more affordable option for many users.
Key Differences Between Yoder and Traeger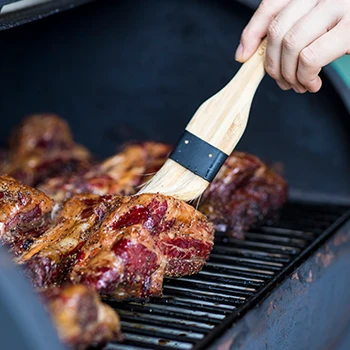 The main difference between Yoder and Traeger is that Yoder grills are primarily made for competitions.
Yoder grills are commonly used by top BBQ competitors and are made from sturdy materials, such as stainless steel.
Traeger grills aren't made primarily for BBQ competitions but for everyday use and smoking.
Traeger grills are easier to use and have a less complicated assembly than Yoder grills. This also means Traeger grills are more affordable than Yoder grills.
Another difference is that Yoder offers a huge range of accessories. For example, you can even get a custom-made trailer for easy transport of the smoker to competitions.
Traeger models aren't made specifically for competitions, so they don't offer this.
Yoder vs. Traeger: Features Head to Head
Let's see how these brands compare when it comes to essential smoking features.
1. How They Operate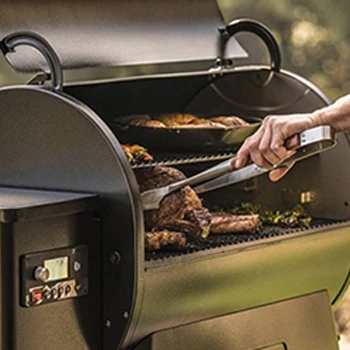 Yoder and Traeger's smokers work in different ways. A Yoder pellet grill works in two ways. The first one is a traditional pellet grill setup with a heat diffuser.
The air and smoke go through the cooking chamber and give flavor to the food. The second way is with a removed heat diffuser, which lets you roast straight above the firepot.
Traeger uses electricity to power the auger. The auger feeds pellets to the fire.
A fan circulates heat and smoke, which results in consistent cooking and gives wood flavor to the food. A drip tray catches flames off the food and stops any flare-ups.
A controller operates the whole process, so you don't have to spend time watching the pellet grill.
Traeger smokers cook food evenly, and the result is juicy, tender, and flavorful meat.
Traeger models are also extremely versatile. You can use them for cooking chicken, pork, beef, seafood, and even baking bread.
2. Temperature Control
One of the most important things for a smoker is the temperature it can reach. Traeger and Yoder's grills use advanced temperature control to make sure their grills can hold precise temperatures.
Traeger smokers use the D2 PID (proportional–integral–derivative) controller, which holds the temperature consistent with +/- 5 on most of their grills.
Traeger Timberline range also has TRU Convection System, which cooks the food 20% faster. The TurboTemp system heats the smoker quickly and also compensates for the lost heat when opening the door.
"Yoder Smokers are NOT the typical barbecue pit you buy down at the local department store. These American Made Barbecue Grills and Smokers are designed for use at the biggest BBQ competitions."
- Yoder Official Website
Yoder uses their patented Adaptive Control System, which gives flexibility, accuracy, and efficiency.
Their grills have an S microprocessor, which is one of the most intelligent on the market.
This processor monitors different variables and adapts them. The temperature variables include opening the pellet grill door, placing cold food on the grates during cooking, and using wood pellets. This results in a stable temperature.
Also, Yoder can get hotter. It reaches up to 500 degrees, while Traeger reaches up to 450 degrees.
3. Temperature Probes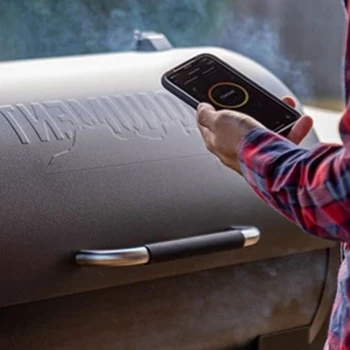 Yoder pellet grills have several probes to keep track of the pellet grill temperature both inside the house and even farther away via Wi-Fi. You can monitor more than one zone by buying extra probes.
Yoder also has an app that you can use to control the smoker from your phone from anywhere in the world. Finally, you can use a Bluetooth meat probe to check the food temperature.
Traeger has a meat probe that you can use to monitor the temperature on Traeger grills.
However, it isn't as advanced as Yoder's. It's a wire that you find on digital thermometers. Also, it's not 100% accurate. You can get a wireless thermometer as a separate accessory for the best results. I found the wireless thermometer to be very precise.
4. Pellet Hopper Capacity
Pellet hopper capacity determines how often you have to stop cooking and refuel the pellet grill. The higher the capacity, the longer you can cook.
Yoder wood pellet grills have a capacity ranging from 18 oz to 40 oz, which is a high capacity. You can cook for a family gathering or have a BBQ party without having to stop and restock the pellet.
The largest pellet hopper in Traeger grills is around 20 oz. But Traeger pellet grills have an optional extender that raises the height by 5 in, so you can cook different meat types at once.
Overall, the 20 oz hopper capacity is enough for most BBQ masters, and it also means the pellet grill won't be too big. In case you need more space, you can always get the extender.
5. Cooking Chamber
Cooking space is one of the most important considerations when choosing pellet grills. It determines how much food you can cook in one cooking session.
Yoder smokers have a large cooking area. For example, the YS40s smoker has a capacity of 1,070 sq. inches, which comes in handy if you plan to enter a BBQ competition [1].
Traeger smokers have different cooking spaces. The Traeger Timberline series has one of the largest spaces, up to 850 sq. inches [2]. This is enough for most home cooks.
It won't limit you; you can cook for a small family or a large gathering.
6. Construction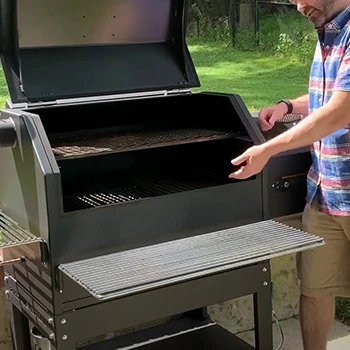 Yoder smokers are known for their construction quality. They are made to last for years and are very sturdy because they are welded. These smokers have powder-coated steel bodies, including lids and steel grates.
I like that Yoder doesn't cut costs — all pellet grill parts, from the bolts to welds, are heavy-duty and durable. However, this results in a high price.
Yoder smokers also have double-walled insulation that keeps the heat in and the cold out. The pellet grill racks are porcelain-coated, so they don't rust or flake.
Yoder grills have two plates in most of their cooking chamber parts. One plate has holes so you can put wood chips straight on the metal grate below, and the second plate has larger openings for placing logs directly on top.
Finally, a Yoder smoker has a side firebox, which makes it easy to cold-smoke meats. You don't have to remove the meat from the main cooking area when you want to add wood chips because the side firebox lets you add it without opening up the entire pellet grill.
Traeger pellet grills are bolted together. They also have cutting-edge construction and durable materials. These pellet grills are made of premium-grade stainless steel, inside and out.
Traeger grills have single-walled insulation for their cooking chamber, but I didn't have any issues with the heat escaping. The grill grates are chrome-plated steel, which prevents rusting.
Overall, both Yoder and Traeger smokers are similar in build quality, especially for the cooking chamber. The difference is that Traeger has a wider range of pellet grills.
If you're on a limited budget, you can get a more affordable pellet grill that won't have top-of-the-line build material. On the other hand, Yoder grills don't come in more affordable versions.
7. Ease of Use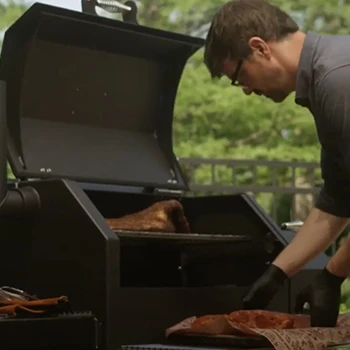 Ease of use is another crucial consideration when choosing a pellet grill, especially if you're a newbie to pellet smokers.
Both Traeger and Yoder pellet grills have digital control, which makes the use straightforward, and you get accurate temperature readings.
You don't have to hover over either of these pellet grills constantly. You can set the temperature and walk away.
Also, both grills have models with the auger mechanism, which automatically feeds the pellets to the igniter, so you don't even have to worry about refueling.
That being said, I found the Traeger grill to be more intuitive and easier to use because it has a push-button ignition, which makes it much easier to start than a Yoder pellet grill.
You can have a Traeger set up and running in about 10 minutes. Yoder smoker has a learning curve, especially if you've never used them before.
8. Technology
Grill brands have started including Wi-Fi connectivity in wood pellet grills, and Yoder and Traeger aren't any different. This feature lets you connect your pellet grill to your phone via an app.
You can control the temperature of the smoker from the app and check the internal temperature of the meat.
Both Yoder and Traeger grills have Wi-Fi connectivity on their more premium smokers. Yoder grills include this feature on their YS smokers, and Traeger has it on their Traeger Timberline series.
I loved the Traeger Timberline app. It has a massive database of recipes that you can easily search through. The recipes include automatic temperature settings, which are extremely handy and mean less work for you.
9. Ease of Cleaning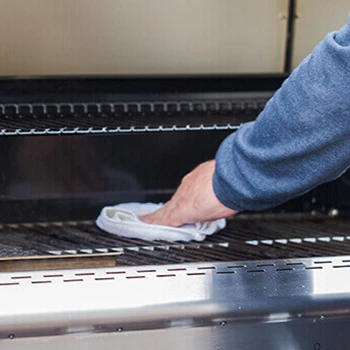 Both Yoder and Traeger pellet grills have a clean-out system that makes removing pellets from the hopper easy. Both of these grills have built-in grease traps.
For example, Traeger Timberline 850 has an angled trap, so the grease goes into a collector on the side of the grill, which makes the cleaning easy.
You can access the pellet ash by removing the cooking trays. Also, the Traeger Timberline app has a feature that reminds you to clean the grill after several uses.
Yoder Pellet grill has a lever on the side of the hopper. Using the lever, you push the wood pellets out of the hopper and into a bucket.
Also Read: How to Clean a Traeger Grills
10. Customization Options
Yoder has a huge range of customization options and accessories. For example, the YS640s has 14 extras you can get.
These include everything from front and side shelves, grease shields, and cast iron griddles to a custom-made competition cart.
Traeger grills also have a range of accessories. These are more basic accessories, such as a cover, drip tray liners, grilling baskets, cold smoking adaptors (great for smoking cheese), and more [3].
Overall, Traeger accessories are more affordable and are focused on cooking at home, while Yoder accessories are expensive and are mostly used by cooks during competition.
11. Portability
Yoder pellet smokers are very heavy, which automatically means they aren't very portable.
Also, a Yoder smoker is expensive (think around $1,000 upwards), and if you move it around a lot, you risk damaging a very expensive smoker.
Traeger grills are much lighter than Yoder smokers, making them easy to move around as needed.
They come in different versions, so if you plan to use a Traeger pellet smoker on camping trips, you can opt for a smaller version.
12. Price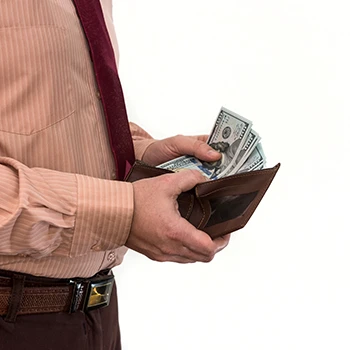 Both Traeger and Yoder are known as premium pellet grill brands. However, the grill prices are very different. Traeger is more flexible.
Their smokers are priced from $450 to $3,800. This is a huge price range, and you're guaranteed to find a Traeger smoker within your budget.
Yoder smokers are more expensive. Their prices start at around $1,000 and can go up to $16,000, which is out of range for most pellet smoker users.
A Yoder pellet smoker is high-quality and made of durable materials, from bolts to cooking grates. However, Traeger models are more affordable and also made from durable materials.
Also, there's a much wider variety of Traeger grills compared to Yoder smokers, which means there's a higher chance of finding the one that fits your needs at your budget.
13. Availability
Traeger is a better-known brand, and you can find a Traeger smoker pretty much anywhere.
Traeger grills are available at different retailers, and on the official Traeger website, so it's extremely easy to get a hold of a Traeger grill.
It's also easier to get parts replaced or repairs done on a Traeger pellet grill because they are more easily available.
You can't get a Yoder pellet grill on the official Yoder website. Yoder smokers are only available through select dealers. Generally, these grills don't have as much exposure as Traeger grills do.
It's more difficult to get a Yoder pellet smoker compared to a Traeger. This is mostly because Traeger has been around for longer than Yoder.
Yoder is new to the grill market and has very expensive grills, so it's more difficult to find.
14. Customer Service and Warranty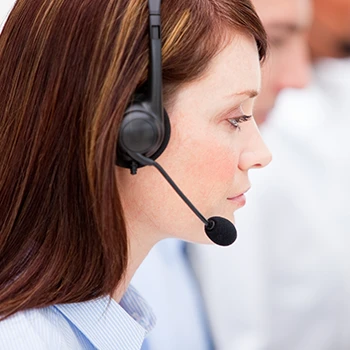 Both Yoder and Traeger have US-based customer service. You can contact both of these brands via phone or email and get help with whatever issue you have.
I especially liked that you can chat with the Traeger support directly on their website, making it easy to get an answer straight away without waiting.
Traeger worked a lot on their customer support in recent years and now has three help categories on their website:
Get started — Has all the info a new grill owner needs
Order help — Has payment and shipping info
Technical support — Has answers to most common grill issues
Yoder doesn't have any of these. You need to contact the brand directly to get help.
However, one area where Yoder wins is the warranty. Some Yoder pellet grills have a 10-year warranty, which includes a 3-year warranty for the electronic control system.
Traeger grills have a 1-year or a 3-year warranty, depending on the pellet grill model.
Yoder vs. Traeger Stand Out Features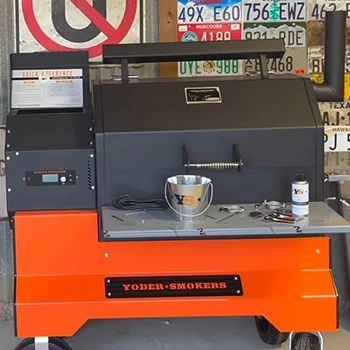 The biggest stand-out feature of Yoder grills is their construction quality. Their grills are made in the USA of 10 gauge steel for the hopper and 14 gauge steel for the cart.
The manufacturer believes in the durability of their grills, and they have a 10-year warranty.
Another stand-out feature of Yoder grills is that they are primarily made for BBQ competitions. Almost every version of their grill comes in two options: the basic and the competition version.
Yoder offers a selection of rubs (beef, pork, chicken, AP) and gear (everything from hats and BBQ gloves to ramblers). They are a one-stop shop for all grilling needs.
The biggest stand-out feature of Traeger grills is the technology. They have one of the best Wi-Fi connectivities on the pellet grill market and an outstanding app that makes grill use easier. You can even use Amazon Alexa to voice-activate the app and control the grill.
Finally, Traeger also has a selection of rubs and spices, which is much larger than Yoder's.
The rub selection includes special rubs done in collaboration with Williams Sonoma. You can get everything from cocktail salt to vegan rub.
Plus, the sauces collection includes nine different sauces suited for different kinds of meat.
Related Articles:
FAQs
Is Yoder a Good Pellet Grill?
Yes, Yoder is a good pellet grill. It's made of high-quality materials, so it's extremely durable, easy to clean, and has smart technology.
Don Cary owns Yoder Smokers.
Where are Yoder Smokers Made?
Yoder smokers are made in the USA. All parts of Yoder grills come from the USA.
How Long Do Yoder Smokers Last?
Yoder smokers last a lifetime, according to the manufacturer. The smoker body is made from 10 gauge steel, and the hopper and cart are made from 14 gauge steel, which makes them very durable.
Is Pit Boss and Traeger the Same Company?
No, Pit Boss and Traeger aren't the same company. Pit Boss and Traeger are competitors.
How Many Years Does a Traeger Last?
A Traeger can last up to 15 years with proper care and maintenance. The minimum lifespan of a Traeger is five years.
What Does the Prime Button Do on a Yoder Smoker?
A prime button on a Yoder smoker ignites the burner and heats the pellets. It's located on the smoker's control panel.
You need to fill up the smoker with pellets before using the prime button. The pellets smoke and give flavor to your food when they are heated.
Yoder vs. Traeger: What's the Best Pellet Grill For You?
Any Yoder pellet grill is a high-quality, durable pellet grill that'll last a long time. However, my vote for best grills goes to Traeger.
Traeger grills are much more affordable, and there's a bigger selection of grills so you can find something that suits your needs and budget.
Traeger grills are made of stainless steel, which makes them durable. Traeger Timberline is equipped with smart technology, so you can control your pellet grill wherever you are.
Most importantly, Traeger grills make meat juicy and flavorful.
Check out our selection of the 6 best Traeger grills, and get your quality pellet grill today.
---
References:
https://www.yodersmokers.com/pellet/the-ys640s-pellet-grill/
https://www.traeger.com/pellet-grills/timberline/850
https://www.traeger.com/accessories
Was this article helpful?