I first tried Portuguese steak at Caravela restaurant in Fall River, Massachusetts, years ago. I was wowed with the first bite and made this recipe a crucial part of my carnivore diet.
I've been cooking Caravela Portuguese steak for a few years. My first recipe wasn't ideal, but now I can confidently say I've perfected my skills. Here's my Caravela Portuguese steak recipe with step-by-step instructions so you can give it a try.
Quick Summary
The Caravela Portuguese steak recipe is a dish from Caravela restaurant in Fall River, Massachusetts.
The Caravela Portuguese steak recipe uses sirloin steak seasoned with salt, white pepper, and red wine vinegar.
The dish is served with a fried egg on top and can be enhanced with hot sauce for extra flavor.
Recipe Overview
Prep Time: 10 minutes
Cooking Time: 20 minutes
Total Time: 30 minutes
Number of Servings: 6 servings
Ingredients

Salt
Pepper
2 bay leaves
Tablespoon olive oil
2 tablespoons butter
Red wine vinegar
1 cup white wine
Half a packet of gravy mix
2 chopped garlic cloves
1 tablespoon chile paste
8 oz sirloin steak about ½ or 1 inch thick
Garnish ingredients:
2 fried eggs
2 slices of roasted red peppers
Instructions

Take the meat out of the fridge and wait until it's room temperature.

Season the meat with salt and white pepper and leave for about 2 minutes until it becomes tender.

Combine red wine vinegar with the seasoned steak.

Take out a large skillet and pour olive oil.

Wait until the skillet becomes hot, then add meat, crushed red pepper, paste, and bay leaf to each steak.

Chop onions and garlic and cook slowly on medium-low heat until garlic darkens and starts to caramelize. Be careful so they don't burn.

Cook meat for 2 to 3 minutes per side until medium-rare.

Take out a separate pan and fry two eggs. Over medium heat, melt butter.

Take out the eggs into a medium bowl and add red wine mixture and gravy mix to the eggs and mix a little.

Place the steak on a plate and put a fried egg on the steak. 

Garnish with parsley or more salt and pepper if needed.
Recipe Notes

Here are some tips and tricks that can help you make this easy recipe even more convenient:
Use a meat thermometer — According to USDA, a beef cut should reach an internal temperature of 145 degrees when cooked [1]. The easiest way to check this is to use a meat thermometer.
Let the steak rest — You should let the steak rest for about 10 minutes after cooking so the juices distribute evenly.
Make sure the steak is at room temperature before cooking — You should take the Portuguese steak out of the fridge half an hour to an hour before cooking so it reaches room temperature. That helps the seasoning stick better. Don't leave the steak outside for too long, or you risk the growth of bacteria.
You can marinate the steak overnight — If you opt for marinating, make sure to drain liquids before cooking.
Use hot sauce — You can add hot sauce to the cooked steak for extra flavor.
Nutrition Facts
Calories: 467 
Total Carbs: 4g
Protein: 20.5g
Fat: 38g
Fiber: 0
Net Carbs: 0
Caravela Portuguese Steak Sandwiches

You can also use the remaining beef to make sandwiches. Here's a sandwich Portuguese steak recipe.
Ingredients:
Salt
Olive oil
2 tablespoons butter
1 garlic head
Cubed steak
Sandwich bread
Carne guisada
Instructions:
Use a small skillet. Add oil and butter over low heat.
Wait until the butter foams, and add garlic. Cook low and slow until all the garlic caramelizes.
Season the steak and tenderize with a hammer. Don't mash too hard.
Preheat a deep skillet. Add olive oil, and when it starts to shimmer, add the steaks.
Cook until steaks turn brown on each side.
When the steaks are done cooking, remove them to a plate.
Add wine and scrape the pan with a wooden spoon while the wine simmers.
Add oil and butter, mix and simmer until you have a thick sauce.
Remove from heat, and add steaks to the sauce.
Slice the sandwich bread and add steaks covered in sauce.
Top the sandwich with pimenta salgada and serve with French Fries.
Note: Pimenta salgada are salted peppers in Portuguese.
What to Serve with Caravela Portuguese Steak?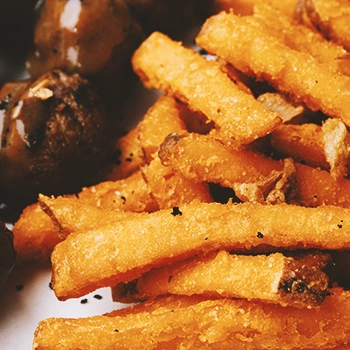 You can serve Caravela Portuguese steak with French Fries or Portuguese Rice.
If you opt for the steak on its own, I recommend serving it with Portuguese Rice. If you go for the sandwich version, I recommend serving it with French Fries.
Rice Portuguese recipes are traditionally very spicy, but rice pairs well with Portuguese steak.
However, you don't have to go for a very spicy version. You can add more or fewer chilies, depending on your flavor preference.
I use dried red chili flakes, bell peppers, onions, and crushed garlic to make Portuguese rice. Cook them in hot oil, and add spices such as turmeric and cumin as desired.
Cook for a few more minutes, then add stir-fry rice. Cook with plenty of water, and add coriander or parsley leaves for decoration when done cooking.
Related Articles:
FAQs
How Many Calories are in a Portuguese Steak?
There are 316 calories in a Portuguese steak [2].
Do You Cook Onions or Steak First?
You cook steak first, then onions. You should sear the meat first, remove it from the pan and then cook the onions. You should cook onions in a pan over high heat with a little oil.
Caravela Portuguese Steak Recipe Made Easy
Portuguese steak remains my favorite of the Portuguese recipes I tried. Make sure to coat the beef cut evenly, heat the skillet before adding beef, and you'll have an incredibly good meal.
Or, you can go for the sandwich version of the Portuguese-style steak. If you go for this option, make sure to reduce the heat when cooking the sauce in the small saucepan.
If you're looking for delicious, sustainably sourced meat, check out ButcherBox and their customized subscription boxes. The sirloin steak I order when making my Caravela never disappoints as it's perfectly marbled and tender.
---
References:
https://www.fsis.usda.gov/food-safety/safe-food-handling-and-preparation
https://recipes.sparkpeople.com/recipe-calories.asp?recipe=1321673
Was this article helpful?