Nothing says summer like a rack of smoky, sticky ribs and an ice-cold soda.
Ribs take less time to smoke than a pork shoulder or brisket and are a great introduction to anyone who wants to master the art of backyard smoking.
BBQ experts have different approaches to smoking ribs, but this award-winning recipe includes a dry rub and the Texas crutch method.
Quick Summary
Smoking ribs involves preparing the ribs, applying a dry rub, smoking, wrapping them in foil (Texas crutch method), and finishing with BBQ sauce.
The dry rub is a mix of spices including paprika, garlic, and cayenne pepper, applied after a mustard layer.
The Texas crutch method involves wrapping the ribs in foil with a bit of water and continuing to cook, which helps maintain the right temperature and prevents the meat from becoming mushy.
It's fantastic to stop at a BBQ restaurant and enjoy some ribs but preparing and smoking a rack or two in your backyard is an absolute pleasure.
You don't need specialized knowledge or equipment, just some time and the desire for sweet, mouth-watering ribs.
Smoked Ribs Recipe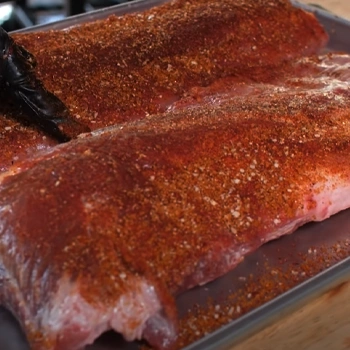 Although you can use any ribs for this recipe, two racks of baby backs are a good starting point – they're easier to prepare than St Louis-style ribs or spareribs.
You'll come across many BBQ enthusiasts who endorse the 3-2-1 method: three hours of smoking, two hours of cooking the ribs in foil, and one hour of grilling with BBQ sauce.
Although this process results in seriously tender ribs, it is over-complicated and lengthy for baby backs.
Two hours of smoking is quite adequate, followed by an hour or so with the ribs wrapped in foil, and then 10 minutes on the grill if you want to sauce the ribs.
Wrapping your ribs in foil with a dash of water and continuing to cook is known as the Texas Crutch, a method that became popular with pitmasters on the competition circuit.
According to Daniel Vaughn, author of The Prophets of Smoked Meat: A Journey Through Texas Barbecue and BBQ editor for Texas Monthly, the process and name come from the traditional Texan way of smoking brisket, sometimes using baking paper.
The "crutch" keeps the meat cooking at the right temperature, stopping it from going mushy [1].
As food editor Meghan Splawn says, "Perfectly cooked ribs shouldn't be falling off the bone — that's an indication they've cooked too long." [2]
Well-cooked rib meat pulls away from the bone if you bite into it or tug at it, but not all the meat comes off at once.
Also Read: Smoked BBQ Meatballs
Hints For The Best Smoked Ribs

Avoid boiling your ribs before smoking. You will lose a lot of the meaty flavor and can end up either making the ribs mushy or tough, depending on how long you boil the ribs. All you and your friends will taste in the end is the BBQ sauce, not the sweet, tasty pork.

Always use a rub when smoking or grilling ribs. You can use a wet rub or brine, but this recipe calls for a dry rub. A dry rub causes a reaction between the spices and the meat, creating a crusty surface or bark. As the rack of ribs said to Elvis Presley, "Rub me tender, rub me true." [

3

]

Soak your wood smoking chips overnight. You'll need about a quart for the number of ribs here. Place the chips in a bowl of water and place a lid or plate over to press the chips down.

This smoked rib recipe will work well in a dedicated smoker or a charcoal or gas grill with a tight-fitting lid and adjustable vents (such as a Weber).
Servings: 4-6 (with side dishes)
Preparation time: 30 minutes
Cooking time: 3-4½ hours
Ingredients
2 racks baby back ribs (4 pounds of ribs)
¼ cup mustard
1 tablespoon brown sugar
1 tablespoon kosher salt
1 tablespoon smoked paprika
1 teaspoon garlic powder
1 teaspoon onion powder
1 teaspoon freshly ground black pepper
½ teaspoon cayenne pepper
½ cup BBQ sauce
Instructions
This recipe involves a series of steps, from preparing the ribs to making the rub, smoking, and finishing the ribs.
Preparing Your Ribs

 Rinse the ribs in cool water.
If your ribs come with a silverskin or membrane, you need to remove it to prevent shrinking and toughening during cooking.
Remove the silverskin on the back side of the ribs, along the bone, by loosening an edge with a blunt butter knife.
Lift an edge of the membrane so that you can grip it.
Pull the membrane off – it should come off in one piece but sometimes tears, so you find an edge again.
You may need to use a paper towel to prevent your hands from slipping on the slimy silverskin.
If there is any fat on the ribs' edges, trim the excess with a sharp knife.
The Dry Rub
Combine all ingredients in a small bowl.
Spread the ribs with mustard before adding the dry rub to help it stick to the ribs. You won't get a robust mustardy flavor, but just a hint.
Sprinkle the ribs with the spice rub mixture, rubbing in well, including the ends.
You can leave the ribs to marinate in the rub overnight.
Smoking The Ribs

Preheat your smoker or set your grill to indirect cooking. You're aiming for a sweet-spot heat of 225⁰F, ideal for low, slow cooking, resulting in moist, tender meat. (Avoid going under 200⁰F or over 250⁰F.) [4]
Smoke the ribs for two hours.
You may need to add more wood after about 30 minutes to maintain the smoke, but take care not to over smoke your ribs.
The Texas Crutch
Wrap each rack separately in heavy-duty foil with about an ounce of water
Continue to cook at 225 to 250⁰F. You can even put the ribs in the oven for this step, ensuring you have a drip pan underneath.
Cook for an hour or two until the meat is done.
The best way to test if your ribs are cooked is to use a meat thermometer: cooked meat should maintain an internal temperature of 190⁰F. Another simple method of testing whether ribs are done is the bend or bounce test. Using a pair of metal tongs, lift the rack gently from the middle. If the rack bends – not breaks – in the middle and the bark cracks, your ribs are ready.
Finishing The Ribs
For sweet, stick ribs, you'll want to finish them with some BBQ sauce.
Unwrap the baby back ribs. Place them meaty side down on the hottest part of the grill or over the burners—grill for five minutes.
Flip the ribs over and brush generously with the BBQ sauce, grilling until the sauce thickens and caramelizes but does not burn – five to 10 minutes.
Serving The Ribs
Rest the ribs on a cutting board for 10 minutes.
Slice the ribs between the bones to separate into individual servings using a sharp knife.
Pass additional BBQ sauce and lots of napkins.
Related Articles:
---
References:
https://www.chicagotribune.com/dining/craving/ct-food-0916-texas-crutch-20150904-story.html
https://www.thekitchn.com/smoked-ribs-22925600
https://amazingribs.com/tested-recipes/spice-rubs-and-pastes/meatheads-memphis-dust-rub-recipe/
https://amazingribs.com/best-barbecue-ribs-recipe/
Was this article helpful?