When I think of comfort food, I think of smoked country-style pork ribs. I've eaten these since grandma made them for me as a child, and they have a special place in my heart.
I probably shouldn't give away a family recipe like this, but these smoked country-style ribs are too good to keep to myself. So, here is three generations of love in one meal.
Quick Summary
The smoked country-style pork ribs recipe uses a specific dry rub and braising sauce, with the ribs smoked until tender.
The dry rub's flavor can be adjusted, and the choice of smoking wood can influence taste.
The recipe can be adapted for other meats and cooking methods, and the ribs can be served with various sides like potatoes, rice, coleslaw, or bread.
Recipe Overview
Prep Time: 15 min
Cook Time: about 7 hours
Total Time: about 7 hrs 15 min
Number of Servings: 4
Ingredients

The following are the ingredients you'll need for the recipe.
1. Dry Rub
1 teaspoon garlic powder

1/2 cup packed dark brown sugar

1 ½ tablespoons kosher salt

2 tablespoons onion powder

2 tablespoons smoked paprika

1 tablespoon dry mustard

1 tablespoon minced garlic

1 tablespoon ground black pepper

1/4 teaspoon cayenne chili powder

1 teaspoon allspice
2. Braising Sauce
1 medium sliced yellow onion

1 cup of your favorite BBQ sauce

1 cup apple juice
3. Ribs
3 pounds country-style pork ribs dried with paper towels

2 tablespoons olive oil
Detailed Instructions

In a bowl, combine the garlic powder, brown sugar, salt, onion powder, smoked paprika, dry mustard, minced garlic, ground black pepper, cayenne pepper, and allspice to create the rub. 

Remove the country-style ribs from their packaging and pat the ribs dry with a paper towel. Drizzle olive oil on the pork ribs and then cover the ribs entirely with the dry rub. Set aside for at least 1 hour or let sit in the fridge overnight.

Heat a smoker or pellet grill to 225 F using your favorite fruit or hardwood. Oak, apple, and cherry all work great. Place the meat on the smoker. 

While the ribs are smoking, place sliced onions in a single layer in a pan. Cover with BBQ sauce and apple juice.

Smoke the ribs until they have reached an internal temperature of 165 F. This should take approximately 4 hours. Brush the meat with the braising sauce and drizzle the remainder over the ribs.

Place the ribs back in the smoker and continue cooking until they reach an internal temperature of 200 F and they are fall-apart tender like pulled pork. This should take approximately 3 hours. You can baste the boneless country-style pork every hour as the ribs smoke.

When finished smoking, let smoked ribs sit for 10 minutes before serving. Store any leftovers in an airtight container.
Related Articles:
Recipe Notes

The taste of smoked country-style ribs depends heavily on the dry rub. If you prefer a more savory rub, cut back on the sugar and add more garlic, mustard, and spices. If you like it sweeter, reverse the ratio of sugar to spice.

Adjust the salt and pepper to suit your taste. Similarly, you can leave out the cayenne if you don't like spicy food. Or, if you want a more spicy blend, add red chili flakes or spicy brown mustard.

You can substitute nutmeg or cinnamon for the allspice to vary the flavor. Putting in coriander or cumin is a great way to add an earthy flavor to the rub.

For a smokier taste, try using hickory or mesquite wood in your smoker.

If you don't have a wood or pellet smoker, you can do your slow cooking in a baking dish or foil pan in a 225 F oven for the same amount of time. You won't get the same smoky flavor, but it will still be delicious.
Nutrition Information
Calories: 360 calories
Total Carbs: 10 grams
Protein: 30 grams
Fat: 24 grams
Fiber: 1 gram
Net Carbs: 9 grams
Cooking With Other Ingredients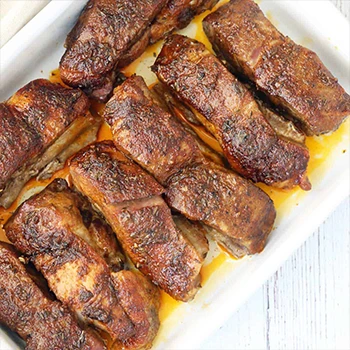 Although this recipe is for smoked country-style ribs, you can use the same principles to smoke other meats. In particular, other pork products like spare ribs and pork shoulder will also work.
You can also use the BBQ rub and braising sauce to cook beef, chicken, or fish. Just adjust the cooking time accordingly.
Also, feel free to experiment with different flavors in the spice blend and BBQ sauce. Seasoning ideas to try include apple cider vinegar, mustard powder, and any other dry rub ingredients that suit your fancy.
Start by mixing your favorite sauce, herbs, and spices in small batches to find out how they work together before committing to a large-scale recipe.
"Country ribs are the perfect balance of savory and sweet, with a tender texture that makes them a crowd favorite."
- Aaron Franklin, Chef
Read More: How to Season Meat?
What to Serve With Country-Style Ribs?
You can serve country-style ribs with potatoes and rice. Potatoes are an obvious choice as they pair perfectly with the smoky flavors in the rub.
Sweet potatoes, mashed potatoes, wedges, and fries all work wonderfully.
Rice is another delicious option, as it soaks up all the delightful flavors in the braising liquid and BBQ rub. Coleslaw and vegetable salads are also great complements to the smoky pork ribs.
And don't forget about bread like cornbread or rolls to go with your meal. They provide a soft texture that balances out the chew.
You can also serve these country ribs with your favorite sides, such as macaroni and cheese, coleslaw, or a classic green salad.
FAQs
Do Smoked Country-Style Ribs Get More Tender the Longer They Cook?
Yes, smoked country-style ribs get more tender the longer they cook [1]. The connective tissue in the meat breaks down over time and makes the juicy ribs fall-apart tender, making them melt in your mouth.
Are Boneless Country-Style Ribs Good for Smoking?
Yes, boneless country-style ribs are good for smoking. The cooking time is long, but the result is a juicy meal that's packed with flavor. Plus, you can use a variety of wood chips or chunks to give your ribs a unique smoky taste.
What Temperature Should I Smoke Country Style Ribs?
You should smoke country-style ribs over indirect heat at 225 F, although you can cook them at temperatures up to 250 F. Keep in mind the higher temperature will cook them faster but can also dry them out.
What Temperature Should I Smoke Country Style Ribs?
You should smoke country-style ribs over indirect heat at 225 F, although you can cook them at temperatures up to 250 F. Keep in mind the higher temperature will cook them faster but can also dry them out.
Can I Cook Country-Style Ribs in the Oven?
Yes, you can cook country-style ribs in the oven. Just preheat your oven to 225 F and bake them for the same amount of time that you would put them in a smoker. The result won't have that smoky flavor, but it will still be excellent with a good rub or your favorite barbecue sauce.
Try the Ultimate Smoked Country-Style Pork Ribs
I hope you'll love this country-style rib recipe. Combining the rub and braising sauce creates a delicious meal with plenty of flavor and zest.
But, to get a great-tasting dish, you have to start with high-quality, heritage pork like the kind ButcherBox meat delivery service provides. To learn more about this company and its pork products, visit ButcherBox by going to our homepage.
---
References:
https://justcook.butcherbox.com/country-style-ribs-sweet-tender-and-boneless
Was this article helpful?