Any serious BBQ enthusiast knows that BBQ sauce and rubs are not the only tools in your toolbox for keeping ribs moist and tender.
Mop sauce was initially developed in Texas BBQ pits to continually baste barbequed meat while cooking or smoking over wood chips for long periods.
Many mop sauce recipes are fiercely guarded secrets of the pitmaster, but our BBQ experts rounded up a couple of recipes and created a unique mop sauce to transform your ribs.
Mop sauce is a spicy vinegar-based sauce used to baste ribs that are cooking low and slow or being smoked.
Mop sauce is made by simmering water, apple cider vinegar, hot sauce, cayenne pepper, and seasonings together.
It's worth using a spicy mop sauce while your meat is cooking to stop it from drying out, help build up layers of flavor on your ribs, and create a delicious crust on the outside.
Mop sauce is even easier to make than barbeque sauce, and this recipe, inspired by Bobby Flay's North Carolina mop sauce (with some input by another award-winning BBQ expert), is simple to prepare [1].
Mop Sauce Recipe
Before you start cooking, it's vital to realize that there's a massive difference between BBQ sauce and mop sauce.
Although both are flavorsome and have a sweet bite, mop sauce has a thin and watery consistency.
This fluidity is crucial because you use it to baste meat that's cooking or smoking long and low so that the mop sauce penetrates to keep it moist, tender, and flavorsome.
The main ingredient of mop sauce is usually vinegar because it's a natural meat tenderizer, according to Martha Stewart's Food Editor, with a hit of hot pepper sauce [2].
As Meathead, a member of the BBQ Hall of Fame, explains, "The original [mop sauce] was probably just a kiss of hot peppers and vinegar, and some pitmasters use only those two ingredients to this day." [3]
The other mop sauce ingredients help impart additional flavor to your ribs and keep them from drying out during the long cooking process.
You can add liquids like beer, fruit juice, or Worcestershire sauce, like Texan BBQ legend Walter Jettan, whose original recipe "made six quarts, enough to mop a whole cow." [4]
Also, add other herbs and spices, depending on the style of rub you used, so that the mop sauce adds to rather than rinses off the rub's flavors.
Sugar is also an essential component of mop sauce to add sweetness.
Because you're mopping meat over a relatively low temperature, the sugar won't burn.
If you try to baste with regular BBQ sauce, which has much more sugar, your sauce will burn. Always add the BBQ sauce towards the end of grilling or to serve.
This recipe for homemade mop sauce makes about five cups, enough for three cups for mopping and two for finishing and serving.
You can freeze any unused mop sauce for up to three months.
​For a good selection of quality meat that goes with your mop sauce,​​​ check out my review on Butcherbox meat delivery.
Servings: 5 cups
Preparation time:  5 minutes
Cooking time: 10 minutes
Ingredients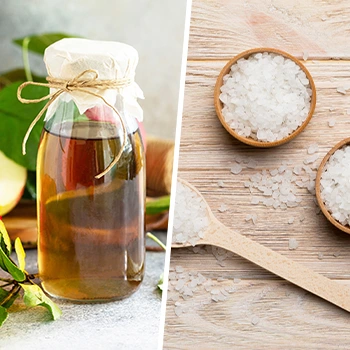 4 ½ cups apple cider vinegar

¾ cup water

2 tablespoons light brown sugar

1/2 teaspoon cayenne powder

1 teaspoon garlic powder

1 tablespoon kosher salt

1 teaspoon freshly ground black pepper

2 tablespoons Tabasco sauce or 1 teaspoon red pepper flakes (or hot sauce of your choice – Texas Pete also works)

2 teaspoons dried mustard powder (optional)
Instructions
   

Pour the liquid ingredients into a saucepan, and then add the rest.

   

Heat over medium heat, stirring gently until the salt dissolves.

   

Bring the sauce to a simmer so that the sugar dissolves completely.

   

Set aside the sauce to cool for storage or use immediately for mopping.

   

Keep two cups of sauce in a bottle for serving at the table.
How To Use Mop Sauce

Pour some mop sauce into a cup and use a mop to paint or dab it onto the meat. You can keep topping up the cup, but don't stick the mop directly into the pot of mop sauce – it can contaminate the cooked sauce with juices from the uncooked meat.
Depending on how long you're cooking or smoking the ribs, you'll need to mop every 20 to 60 minutes.
Keep the mop sauce on the meat, where it can be absorbed. Mop sauce does nothing for the fat on the ribs.
For the last hour, add a stick of melted butter to your mop sauce for extra richness. Alternatively, mop or baste with regular BBQ sauce.
Discard any sauce you used with the mop as it is unsafe to eat.
What's The Best Tool For Mop Sauce?

What tool you use to mop with will depend on whether you have used a rub on your ribs or not.
If you have used a rub on the ribs, you need to ensure that your mop sauce doesn't wipe it off. You can buy specialized mops for mop sauce that look like small kitchen floor mops ideal for light mopping. These cotton mops are washable so that you can reuse them after each BBQ. They come clean easily in soap and water and air dry quickly.
Another handy tool for mop sauce is a spray bottle that sprays the mop sauce, hardly disturbing you rub at all. Just make sure that you grind any spices very thoroughly (like with a coffee grinder) not to clog the spray [5].
Avoid silicone mops or brushes as they can't carry the thin mop sauce.
If you haven't used a rub, you can baste more vigorously with a basting brush. But as Bobby Flay says, there's no need for expensive BBQ equipment: "The pastry brushes that you find in homestores can be pricey so pay a visit to your local hardware store and pick up a few paint brushes which are less expensive and work equally as well." [6]
Conclusion
Mop sauce is an essential element in barbequing or smoking ribs, as regular basting ensures that the ribs remain moist and tender throughout the long cooking process.
A simple vinegar mop sauce, spiced with Tabasco, is easy to make and use and complements the flavor of ribs.
---
References:
https://www.foodnetwork.com/recipes/bobby-flay/smoked-ribs-with-carolina-style-bbq-sauce-recipe-1919500
https://tarateaspoon.com/bbq-mop-sauce-recipe/
https://amazingribs.com/tested-recipes/barbecue-sauce-recipes/east-carolina-vinegar-bbq-sauce-and-mop-recipe/
https://amazingribs.com/bbq-mop-recipe/
https://www.thespruceeats.com/memphis-mop-recipe-335455.

https://parade.com/114240/bobbyflay/23-bobby-flay-top-grilling-tools/
Was this article helpful?