Taco casserole is a delicious fusion of classic Mexican flavors all in one comforting dish.
I've been perfecting my taco casserole recipe to bring all those traditional flavors together until I've finally crafted an incredibly easy-to-make yet satisfying meal that your entire family will love.
From the flavorful blend of Mexican spices to the mixture of ground beef and beans, this casserole will become a family pleaser in no time.
Easy Taco Casserole

Recipe Overview
Prep Time: 20 minutes
Cook Time: 30 minutes
Total Time: 50 minutes
Servings: 8
Ingredients
1 lb lean ground beef
1 packet (1 oz) taco seasoning mix
1 cup diced bell peppers (assorted colors)
1 can (15 oz) black beans, drained and rinsed
1 can (15 oz) corn, drained
1 can (10 oz) diced tomatoes with green chiles
1 cup shredded cheddar cheese
1 cup shredded Monterey Jack cheese (or multi-cheese blend)
1 cup sour cream
1/2 cup salsa
1/4 cup chopped green onions
1/4 cup sliced black olives
1 cup crushed tortilla chips (or taco shells)
8 small flour tortillas (or corn tortillas if a flour tortilla is unavailable)
Instructions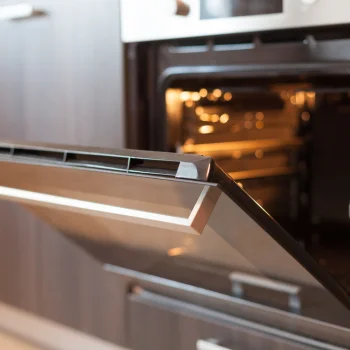 Preheat oven to 375°F. Lightly grease a 9x13-inch baking dish with nonstick cooking spray.
Over medium-high heat, cook ground beef in a large skillet until browned and cooked through. Drain any excess grease.
Add the diced bell peppers to the skillet with the beef and cook for 2-3 minutes until they start to soften.
Stir in the taco seasoning mix, black beans, diced tomatoes, and canned corn. Cook for an additional 2 minutes to heat through.
Mix the sour cream, salsa, and half the cheese in a bowl.
Make taco casserole in a layered fashion. Arrange half of the flour tortillas in the bottom of the prepared baking dish, overlapping them slightly to cover the entire surface.
Spread half of the ground beef mixture evenly over the tortillas.
Spoon half the sour cream, salsa, and shredded cheese mixture over the beef.
Sprinkle half of the green onions and black olives over the sour cream layer.
Sprinkle half of the crushed tortilla chips over the top.
Repeat steps 6-10 with the remaining tortillas, sour cream and salsa mixture, remaining beef mixture, and toppings.
Repeat the layers with the remaining flour tortillas, beef mixture, sour cream and cheese mixture, and crushed tortilla chips or taco shells.
Top the casserole with the remaining shredded Jack and cheddar cheese.
Cover the baking dish with aluminum foil and bake in the oven for 20 minutes.
Remove the foil and bake uncovered for an additional 10 minutes or until the remaining cheese is melted and bubbly.
Once done, remove the ground beef taco casserole from the oven and let it cool for a few minutes before serving from the baking dish.
Garnish with diced fresh tomatoes, sliced green onions, black olives, and fresh cilantro before serving if desired.
Recipe Notes

Keep these practical suggestions in mind as you prepare this recipe.
For a leaner option, you can use ground turkey, ground chicken, or a combination of meats instead of ground beef.
Customize the spice level by adjusting the amount of chili powder, taco seasoning, and hot sauce if desired.
Make-ahead-of-time tip: Prepare the casserole up to step 13, cover it with plastic wrap and aluminum foil, and store it in the fridge overnight. Bake as directed when ready. Or, cover it tightly with plastic film and foil, then freeze for up to a month. When ready to enjoy, bake the frozen casserole in a preheated oven, adding an extra 10-15 minutes to the baking time.
After cooking, any leftover casserole can be refrigerated for 2 days in an airtight container [1]. It can also be frozen for 2-3 months [2]. To reheat, thaw it overnight in the fridge and then bake in a 375°F oven until heated through (about 20 minutes).
Feel free to customize this recipe by adding your favorite taco toppings like shredded lettuce, cream cheese, sliced jalapeños, or guacamole. Or try new taco flavors by adding garlic powder, cayenne pepper, or olive oil to the taco mixture.
For a healthier variation, use whole wheat tortillas and reduced-fat cheese or a meatless variation, substitute the ground beef with a plant-based protein such as crumbled tofu, tempeh, or a meat alternative. Ensure you season the alternative protein well to capture those iconic taco flavors.
To make the casserole gluten-free, replace the flour tortillas with corn tortillas. Corn tortillas not only add a delicious twist but also cater to those with gluten sensitivities.
Nutrition
Calories: 420
Total Carbs: 29g
Protein: 24g
Fat: 26g
Fiber: 6g
Net Carbs: 23g
"Mexican food is a dance of contrasts—spicy and sweet, savory and tangy—all harmonizing to create a symphony of taste that reflects the country's diverse landscapes and people."

- Enrique Olvera, Mexican Chef
Also Read: Brisket Tacos Recipe
What To Serve With Taco Bake Casserole?

Here's a list of dishes and sides that would pair well with the taco casserole:
Mexican Rice: A classic side that complements the flavors of the taco bake casserole. The rice's mild and slightly nutty taste balances the bold taco seasoning in the casserole.
Guacamole: Guacamole is a delicious and creamy avocado-based dip that brings a refreshing and tangy flavor to the table. It adds a cool and creamy element that complements the spiciness of the taco casserole. The healthy fats in avocados also provide a satisfying and nutritious component to the meal.
Mixed Green Salad: A light and refreshing salad with lettuce, tomatoes, cucumbers, bell pepper, and a simple vinaigrette. The crisp vegetables provide a cool contrast to the warm and cheesy casserole dish, offering a balance of textures.
Mexican Street Corn (Elote): Grilled corn on the cob slathered with a creamy mixture of mayonnaise, lime juice, chili powder, and cheese. The sweetness of the corn and the tangy, spicy flavors create a delightful contrast to the savory taco casserole.
Refried Beans: Add refried beans as a side dish that enhances the Mexican-inspired casserole flavors. Refried beans' creamy texture and earthy taste complement the beef mixture and tortillas in the taco bake casserole dish.
Cilantro Lime Coleslaw: A tangy and herb-infused coleslaw adds a refreshing element to the meal. The lime's brightness and the cilantro's freshness work well with the rich flavors of the taco casserole.
Cornbread: A slightly sweet and buttery cornbread can be a great accompaniment to balance the savory flavors of the taco casserole. Its crumbly texture provides a pleasant contrast to the soft casserole layers.
Avocado Salad: A light and healthy salad with avocado, red onion, cilantro, and lime dressing. The creaminess of the avocado complements the casserole's cheesy layers, while the lime dressing adds a zesty kick
Read More: How to Make Taco Meat
FAQs
What Can I Add to Taco Meat to Make It Go Further?
You can add ingredients like canned tomatoes or Rotel (tomatoes and green chilies), beans (such as black beans), corn, or even a handful of spinach to taco meat to make it go further. These additions not only increase the volume of the dish but also add texture, flavor, and nutritional value.
Should You Simmer the Meat Mixture Covered or Uncovered?
You should simmer the meat mixture uncovered. This allows moisture to evaporate, leading to a thicker and more concentrated sauce. Additionally, an uncovered pot allows you to monitor the cooking process and adjust the seasoning or consistency as needed.
Creating the Perfect Taco Bake Casserole
The world of Mexican cuisine is a vibrant tapestry of flavors, colors, and traditions that have captured the hearts and palates of food enthusiasts worldwide.
And this easy taco casserole is a great recipe that puts traditional tacos in a casserole form.
It's a convenient and delicious way to enjoy the rich complexity of Mexican flavors all in one dish.
---
References:
https://www.fsis.usda.gov/food-safety/safe-food-handling-and-preparation/meat/ground-beef-and-food-safety

https://ask.usda.gov/s/article/How-long-can-you-freeze-beef
Was this article helpful?