I love a good taco with its spicy meat and crunchy shell so much that I had to learn how to make my own at home.
I have been perfecting my own taco meat recipes for years, and today, I'll share everything you should know about taco meat and give you my favorite recipe for making it.
Quick Summary
Taco meat is ground meat seasoned with Mexican spices and other ingredients to give it a unique flavor.
You can use taco meat in dishes other than tacos - try it in burritos, enchiladas, and quesadillas.
You can use different types of ground meat to make your taco meat; ground beef, chicken, or pork.
What is Taco?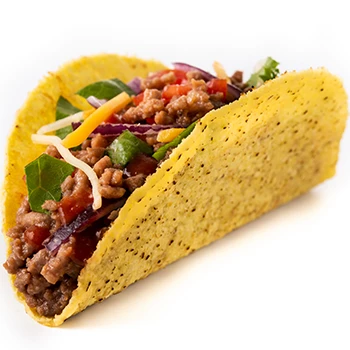 Historically, a taco is simply a "tortilla with something wrapped inside [1].
" Predating the Spanish conquistadors, tacos were first created by Mexican natives who filled their tacos with fish or the meat of small animals.
Other traditional tacos are made with proteins like shrimp, beef tongue, carne asada, tripe, and even beef tongue [2].
These days, tacos are filled with anything from meat to bean-based fillings.
You can use any meat for your taco. Ground beef and pork are especially popular, but turkey and chicken are just as tasty.
Things You Can Do with Taco Meat
Obviously, you can use this meat to make tacos. However, you are not limited by the traditional tortilla and salsa combo.
Burritos - Taco meat lends itself exceptionally well to burritos and quesadillas. Or you can make a burrito bowl - all the taste of the burrito but without the tortilla.
Pizza - For a fun twist on pizza, try spreading your taco meat over a pre-baked crust and top with cheese for a unique Mexican-style pizza.
Salad - If you're feeling adventurous, consider using this meat in a taco salad or even as a filling for dumplings. The possibilities for this meat are almost endless.
"The perfect taco should be spicy, sweet, sour and crispy."
- Bobby Flay, Chef
Related Articles:
Preparing Taco Meat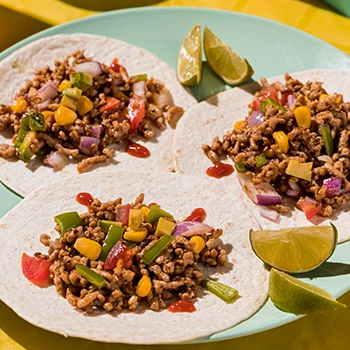 This is a particularly yummy taco meat recipe because of the homemade seasoning.
Anyone can cook taco meat with store-bought seasonings. This is the best taco meat recipe because it allows you to add taco seasoning precisely to your taste.
It is an easy recipe to make, and it creates a big batch of meat that is perfect in many other recipes.
Recipe Overview
Prep Time: 0
Cook Time: 15 min
Total Time: 15 min
Number of Servings: 6-8
Ingredients
Homemade Taco Meat
2 tsp olive oil

1 large onion, chopped

½ cup tomato sauce

¼ cup beef broth or chicken broth

1 pound of lean ground beef, ground chicken, ground turkey, or ground pork
Homemade Taco Seasoning
1 tablespoon chili powder

1 teaspoon cumin

¾ teaspoon salt

¾ teaspoon paprika

½ teaspoon onion powder

½ teaspoon garlic powder or fresh garlic

¼ teaspoon oregano

⅛ teaspoon crushed red pepper flakes
Also Read: What Is Taco Bell Meat Made Of?
Instructions
Heat the olive oil in a large skillet over medium-high heat. Add ground beef and onion, and brown in the oil. Crumble the ground beef into small bits, stir with a wooden spoon, and ensure it cooks evenly.

Once browned, remove from stove, drain off any excess fat, and blot the ground beef with a paper towel to remove any remaining grease.

Return the meat to the stove and add tomato sauce, beef broth, and all remaining taco seasoning spices. Bring to a boil, reduce heat, and then simmer over medium-low to medium heat for 5 to 7 minutes. Stir occasionally with a wooden spoon.

Serve or use as desired.
Recipe Notes

If you do not have beef broth available, you can substitute water. This may have slightly less flavor, but it will still work.

If you do not have tomato sauce, you can substitute tomato paste and add a little more broth.

It is important not to overcook the taco meat, as it can become dry and tough.

Feel free to adjust the spice according to your taste preference. Add more chili powder or crushed red pepper flakes if you like it spicier. For a milder flavor, reduce the quantities in the recipe.

You can also add other ingredients like bell peppers or jalapeños. This is particularly helpful if you want to omit salt in order to reduce sodium.

Once complete, add your favorite toppings like hot sauce, sour cream, lime juice, lettuce, onions, cilantro, and tomatoes.

You can freeze taco meat for three months or store it in an airtight container for three days in the refrigerator. Let cooked taco meat cool completely before storing it. You can reheat in a microwave-safe bowl.
Nutrition
Calories: 163 kcal
Total Carbs: 0 g
Protein: 14 g
Fat: 11 g
Saturated Fat: 4 g
Fiber: 0 g
Net Carbs: 0 g
FAQs
Can You Add Water to Taco Meat?
You can add water to taco meat if you do not have beef broth available. Continue cooking as you would for broth. Your meat may not be quite as flavorful, but it is an acceptable substitution.
What Is the Best Type of Meat for Tacos?
The best type of meat for tacos is whatever you enjoy the most. You can make tasty tacos from beef, chicken, fish, shrimp, pork, or even vegetarian proteins.
Taco meat is healthy as long as it is cooked with lean ground meat. Adjusting the spice level can also help make taco meat healthier, as you can reduce the sodium content. Be mindful of what type of toppings you add to your tacos, as they could add additional calories and fat.
Should You Brown Meat Before Adding Taco Seasoning?
Yes, you should always brown the meat before adding taco seasoning to ensure even cooking. The spices can burn if added directly to the pan without lightly browning the meat first.
---
References:
https://web.archive.org/web/20080502160526/http://www.iccjournal.biz/StudentScholars/Undergraduate/history_of_mexican_cuisine.htm
https://books.google.com/books?id=lY-tY62V1FIC&pg=PA697#v=onepage&q&f=false
Was this article helpful?