As a BBQ enthusiast who loves trying out new grills, I spent two months putting Traeger Ironwood 650 to the test to see what this innovative pellet grill has to offer in terms of build quality, performance, user experience, and overall value.
In this comprehensive Traeger Ironwood 650 review, I will share my insights and reveal what sets this grill apart.
While we'll explore its exceptional features, it's also important to consider a few drawbacks you want to keep in mind if you decide to spend money on it.
What is Traeger Ironwood 650?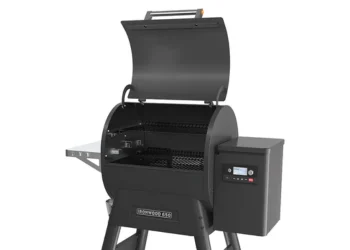 Traeger Ironwood 650 is a pellet grill that boasts a robust construction featuring a stainless steel lid handle and shelf, the same one you will find in the Timberline model, ensuring sturdiness and longevity.
The grates on Traeger grills are designed to provide even cooking temperatures, while the variable speed fans help maintain a consistent cooking temperature.
The pellet hopper holds an ample supply of wood pellets for very long cooks, such as brisket cooks, and slow-cooking foods like delicious pork shoulder or a smoked pulled pork dish.
SPECIFICATIONS:
Total cooking space: 650 sq. in.
Total weight: 149 lbs
Pellet hopper capacity: 20 lbs
Max temperature: 500° F
Our Rating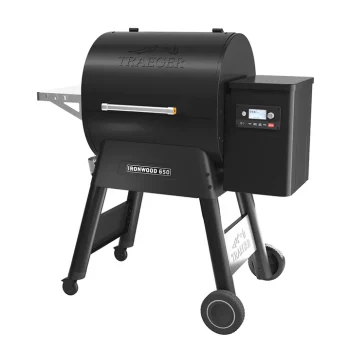 Benefits and Highlights

In this section of my Traeger Ironwood 650 review, we'll examine the grill's design and build quality to see why every meat lover should be interested in it.
1. Unique Features
The Traeger Ironwood 650's unique features include a drip tray for easy cleaning and a digital control panel that allows you to set your desired cooking temperature precisely.
This innovative design sets it apart from other pellet grills, like the Pit Boss and even the Timberline grills from Traeger itself.
Another noteworthy aspect of the Traeger grill is the cooking space.
I had no trouble cooking multiple items simultaneously and managed to fit a whole chicken, pork chops, and smoked jerky in one go.
The Traeger grill also offers a Super Smoke mode for an even smokier flavor, especially useful when smoking ribs or preparing a delicious brisket recipe.
2. Performance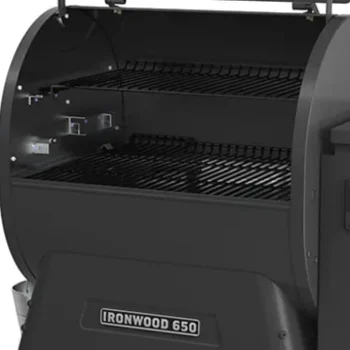 The Traeger Ironwood 650's performance is a testament to its innovative design and features.
As a pellet grill, it excels in delivering rich, smoky flavors to your dishes, thanks to the wood pellets it uses, unlike gas grills.
This results in a more authentic BBQ taste, which is especially evident in dishes that include apple cider, brown sugar-based rub, or curing salt, like smoked pulled pork or peppered beef jerky.
To my disappointment, I found that the Traeger grill has the ability to rapidly produce a "blue smoke" effect, which I did like.
However, I noticed that this occurs only after fully smoking the meat. It's important to note that during the initial stages, the blue smoke adds minimal smoke flavor to the food.
3. Cooking Temperature
Pellet grills generally take longer to reach the desired cooking temperature compared to a regular gas or charcoal grill. If you are used to it, this won't be an issue.
The Traeger Ironwood has precise temperature controls and variable speed convection fans, ensuring consistent cooking chamber temperatures and making it easy to achieve perfectly cooked meats with an incredibly juicy interior and slightly smoky exterior.
However, I've discovered that the Traeger Ironwood 650's performance may be affected by environmental factors, such as cold temperatures, which could lead to temperature fluctuations in some cases.
In such cases, maintaining the target temperature might require more frequent adjustments or monitoring via the app.
Despite this drawback, the end result is often worth the extra time, as the slow cooking prowess of the Ironwood 650 produces mouthwatering, tender dishes like pork butts.
4. Digital Controls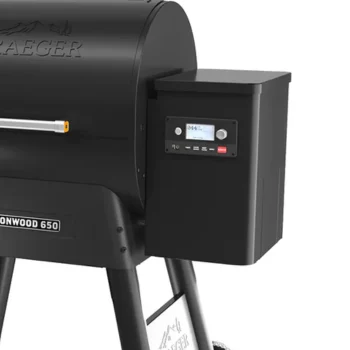 One of the strengths of the user interface is the digital controls, which allow for precise cooking temperature and monitoring.
The app that comes with Traeger grills further enhances the user experience, providing grilling tips, recipes, and remote monitoring of your grill's internal temperature.
Additionally, via the Traeger app, users can monitor the current cooking chamber temperature, remotely set how much smoke they want, create a recipe preset, control the variable speed fan, access grilling tips and tricks, and even follow Traeger recipes for a seamless cooking experience.
Also Read: Best Smokers With PID Controller
5. Maintenance
To clean the Traeger Ironwood 650, follow these steps:
Turn off the grill and unplug it.
Remove the grill grates and scrape off any residue with a grill brush.
Empty the grease tray and grease bucket, wiping them down with a paper towel.
Vacuum out ash and debris from the cooking chamber and pellet hopper.
Remove the drip tray and heat baffle to access the fire pot for deeper cleaning, then vacuum out ash and debris.
Wipe down the exterior with a damp cloth.
6. Price and Value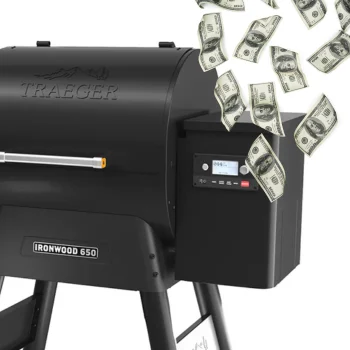 When comparing the Traeger Ironwood 650 to competitors such as Pit Boss and Green Mountain Grills, its price point falls within the mid-to-high range among pellet grills.
The grill's overall construction is satisfactory, although the metal thickness falls short of expectations considering its higher price point.
Moreover, it is worth noting that the grill provides only a single port for a meat probe, unlike its more affordable competitors, which offer two or four ports for monitoring multiple cuts of meat simultaneously.
"WiFIRE® Technology lets you monitor your cooks, adjust grill temperature, and access over 1,600 recipes through the Traeger App or select smart home devices."

- Traeger Official Website
Pros
Even cooking temperatures
Dual position smoke
All-terrain wheels
Traeger app integration
Cons
Not good for searing
High price point
Who Should Buy Traeger Ironwood 650?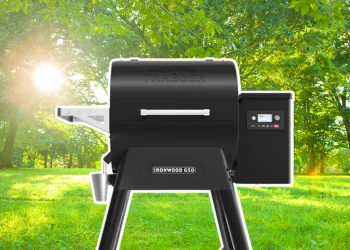 Those who want a reliable grill for small family cookouts should buy a Traeger Ironwood 650.
Additionally, its premium features, such as precise temperature control, variable speed convection fans, and Traeger app integration, make it an outstanding choice for seasoned grillers.
Who Shouldn't Buy Traeger Ironwood 650?
Those seeking to cater to larger gatherings or regularly cook substantial cuts of meat, such as a whole packer brisket or multiple pork butts along with accompanying side dishes, shouldn't buy Traeger Ironwood 650.
Also, this grill is quite expensive, so buyers on a budget shouldn't look into buying it.
Our Rating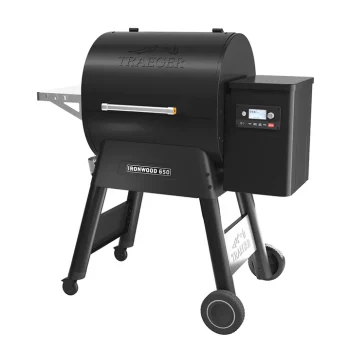 Customer Feedback
Here's what other people had to say about Traeger Ironwood 650.
"The casters are poorly made, all plastic with plastic locks. Disappointingly cheap quality. They didn't lock in place, prompting me to contact Traeger customer service for assistance."

- Fudge from NC
"Already owning a Pro 22, I decided to upgrade to the Ironwood 650 for its direct drive motor and enhanced smoke circulation. Extremely satisfied with my purchase, my first cook—a bone-in pork shoulder—yielded excellent results, thanks to the super smoke function used for the initial hours."

- Mike from Ohio
"As an early birthday gift for my sister, I decided to splurge on this grill since her old one was broken, and cooking is one of her beloved culinary pursuits. She adores it, particularly the 'Super Smoke' feature."

- Corgi from Miami
Comparison to Other Pellet Grills

Here are some notable differences between Traeger Ironwood 650 and some of my favorite pellet grills.
1. Traeger Pro Series 575 Pellet Grill
When comparing the Traeger Pro Series 575 Pellet Grill and the Traeger Ironwood 650, both grills offer impressive features and performance.
The Pro Series 575 provides a spacious cooking area of 575 square inches, allowing you to cook for a moderate-sized gathering.
While the Ironwood 650 offers additional features like Super Smoke mode, the Pro Series 575 still delivers excellent performance at a more affordable price point.
It is a versatile and user-friendly option that suits the needs of casual grillers and those looking for a reliable and efficient pellet grill without compromising on quality.
2. Camp Chef Pursuit Pellet Grill
With precise temperature control and a wide temperature range, Camp Chef Pursuit Pellet Grill allows for versatile cooking options.
However, in terms of pellet hopper capacity, the Traeger Ironwood 650 takes the lead, ensuring fewer interruptions for refilling pellets during longer cooking sessions.
When it comes to ease of use and maintenance, both grills offer user-friendly features and straightforward cleaning processes, making them convenient options for BBQ enthusiasts.
3. Pit Boss Sportsman 820 Wood Pellet Grill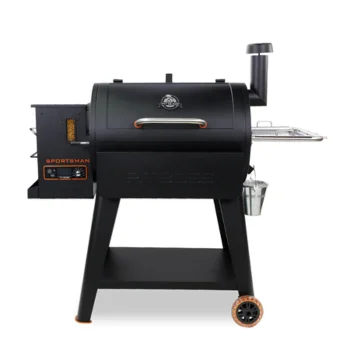 In terms of performance, both grills deliver excellent results, providing consistent heat distribution and flavorful outcomes.
However, the Ironwood 650 stands out with its advanced features, such as WiFIRE technology, allowing for remote control and monitoring of the grill through a smartphone app.
Additionally, the Ironwood 650 boasts a spacious cooking area and efficient pellet consumption, ensuring optimal grilling experiences.
While the Pit Boss Sportsman 820 offers respectable performance, the Ironwood 650's added features and enhanced capabilities make it a standout option.
Related Articles:
FAQs
Can You Fit a Brisket on a Traeger Ironwood 650?
Yes, you can easily fit a brisket on a Traeger Ironwood 650. With its 650 square inches of cooking space, this pellet grill is designed to accommodate large cuts of meat, such as packer briskets, for a delicious, perfectly cooked brisket cook.
Is the Traeger Ironwood 650 Big Enough for Turkey?
Yes, the Traeger Ironwood 650 is big enough for a turkey. Its generous cooking chamber can easily accommodate a whole turkey, allowing you to roast or smoke it to perfection. The precise temperature control and variable speed convection fans ensure an evenly cooked, crispy golden brown turkey that's incredibly juicy on the inside.
How Many Briskets Fit in Traeger Ironwood 650?
The Traeger Ironwood 650 can comfortably fit one large-packer brisket or two smaller briskets, depending on their size.
How Long Does It Take to Assemble the Traeger Ironwood 650?
It usually takes about 1 to 2 hours to assemble a Traeger Ironwood 650. However, the time required for assembly may vary depending on your experience and familiarity with assembling similar products, but Traeger provides clear instructions and customer support to help guide you through the process.
Is Traeger Ironwood 650 Worth It?
The Traeger Ironwood 650 stands out as a versatile, high-performing pellet grill that offers excellent value for money.
Its premium features, such as precise temperature control, variable speed convection fans, and Traeger app integration, make it an outstanding choice for both beginners and seasoned grillers.
However, depending on your specific preferences and budget, you might want to consider getting a Traeger Pro Series 575 Pellet Grill, as this grill is pretty similar to Ironwood 650, only it comes at a cheaper price point.
The Pro Series 575 offers a generous cooking area, advanced temperature control, and reliable performance, making it an excellent choice for those who value functionality and value for money.
We Recommend This Instead
Traeger Pro Series 575 Pellet Grill
Click For Best Price

Pros
More affordable than other Traeger grills
Has D2 direct technology for quick startup
Porcelain grill grates are easy to clean
WiFIRE enables voice control
6-in-1 cooking options
Was this article helpful?