I've been on a strict carnivore diet for five years, and I like adding organic condiments to keep things a little interesting.
However, finding condiments that are both flavorful and compliant with the diet's restrictions can be challenging.
To dispel the boring and monotonous cycles of 24/7 all-animal products, I conducted extensive research, analyzing nutritional data and consulting with other experts in the nutrition field.
In this article, I've, therefore,  rounded my top 8 favorite carnivore-friendly condiments that you can use to flavor up your steaks.
Quick Summary
The 8 best carnivore diet include salt, lemon juice, fish sauce, ranch dressing, mustard, butter, herbs, and homemade sour cream.
Carnivore diet condiments should be sugar- and additive-free to maintain the diet's integrity.
Processed condiments like BBQ sauce and industrial seed or vegetable oils should be avoided due to their high sugar and empty calorie content.
8 Best Condiments for the Carnivore Diet
Here are my go-to condiments that help me reap maximum health benefits from eating meat:
1. Salt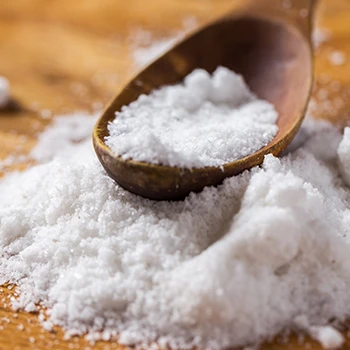 Even though most people overlook it, salt is frequently used to add extra texture to many cuisines, including basic homemade chicken stock.
Large salt crystals, for example, add texture to steaks when salted at the proper time. It also softens the meat and helps it release more juice when you sear or grill.
I mainly use flake salt as a condiment because the large, dramatic crystals give my ground beef and steaks a burst of flavor.
2. Lemon Juice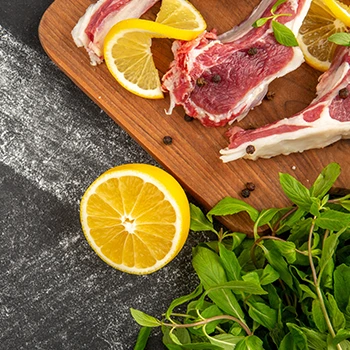 When I add lemon juice or zest to any organ meat dish, whether sweet or savory, it completely transforms the flavor balance.
The citrus fruit adds a delicious savor that I can't actually pinpoint.
But lemons aren't only good for their juice; lemon oils are especially good to top on a warm steak with cream cheese.
A warmer steak temperature allows the lemon oils to infuse well and give you a zesty fragrance.
This is very useful when adding taste to your roasted meats. And if you can't get lemon juice, use a few teaspoons of distilled vinegar for the same tangy flavor.
3. Fish Sauce
Fish sauce is among the popular condiments for the carnivore diet, prepared from anchovies and sea salt. I use it to add a pleasant umami taste to my dish.
Furthermore, essential nutrients and fatty acids can aid your digestive system [1].
"Fish sauce is a national food essence for the Vietnamese people which differentiates their cuisine from the rest of the world."
- Bruno Anon, Spanish Chef 
4. Ranch Dressing
Ranch dressing is my top favorite condiment because it's easy to whip up on the spot and super delicious.
I love homemade ranch dressing because I think it's fresher, and you have more control over what goes into it.
To make my homemade ranch, I need only four ingredients:
Greek yogurt

Sour cream

Lemon juice

Herbs (I prefer dried ones)
Mix everything in a bowl and refrigerate for 20-30 minutes, and you're good to go.
Sometimes, I throw in some bacon crumbles for a little crunch or add hot sauce for a bit of heat. But this is optional.
5. Mustard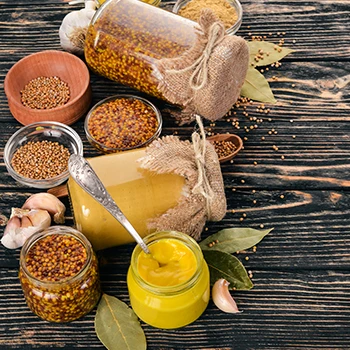 Mustard (or Mustard Seed Oil) is an excellent emulsifier that helps me blend oil and water seamlessly when cooking.
You can use it to make dressings, sauces, and spices that combine meat flavors into one delectable package.
Always buy clean mustard with no sugar, additives, or preservatives. Read labels carefully and avoid using mustard seed oil in excess, as higher levels of erucic acid it contains might pose health risks [2].
6. Butter
Good quality butter is a must-have in my kitchen. I use butter to make scrambled egg yolks or as a condiment with chicken, shrimp, and steak.
Here are my tips for getting good quality butter:
Make sure it's made with whole-natural milk.

It has no artificial chemicals or growth hormones.

It's slow churned to remove moisture, resulting in a creamier taste and flavor.

It has a higher butter-fat content of roughly 80%, giving your steaks creamier, super delicious sauces.
7. Herbs and Spices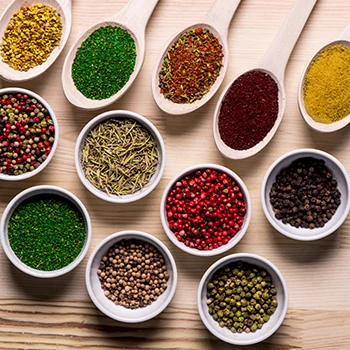 I love adding fresh herbs to my steaks and scrambled eggs to flavor the dish.
With various carnivore-friendly herbs out there, you can easily mix and match them depending on your recipe.
Some herbs have more carbohydrates than others, but this is usually only an issue if you add a lot to your carnivore foods.
Here are my favorite low-carb herb alternatives.
Thyme

Mint

Ginger

Basil

Coriander

Garlic powder

Tarragon
Alternatively, if you're looking for spices with a little more carbohydrates, go for these:
Paprika

Cayenne

Onion powder

Oregano

Cumin
I advocate you use these in tiny doses once in a while so that you don't steer off your dietary requirements.
8. Homemade Sour Cream
Homemade sour cream is a simple dish to prepare with only two ingredients:
Heavy cream

Cultured buttermilk
Even though it can take a couple of days for these dairy products to ferment and thicken nicely, it's all worth it.
Mix your ingredients in a tight lid jar and store them at room temperature until it thickens to your liking.
Use the highest-quality, freshest cream you can find. If you're using heavy whipping cream, it should be pasteurized, not unpasteurized.
Are Condiments Okay on the Carnivore Diet?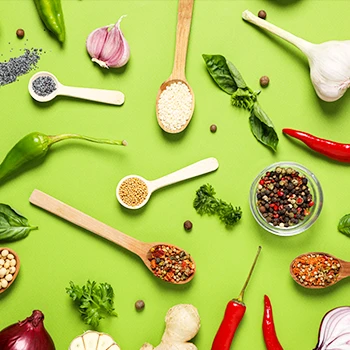 Yes, condiments are okay on the carnivore diet. Ensure you use organic or unsweetened condiments if you're looking for a flavorful taste and a way to break up the monotony of the carnivore diet meal.
I like single-ingredient condiments such as salt and natural spices. These have fewer ingredients and are devoid of industrial seed oil (canola oil), added sugar, and preservatives that can impede your immune system.
I recommend you avoid processed condiments (barbecue sauce, corn syrup, mayo, and ketchup) as much as possible.
Most of these have processed sugar and empty calories that can paralyze your carnivore lifestyle, especially if you want to lose weight.
Also, if you have health issues or are allergic to most spices, it's best to avoid condiments altogether and salt your meat.
FAQs
Can You Have Seasonings on a Carnivore Diet?
You can have seasonings on a carnivore diet, provided they're carnivore-friendly.
Is Mayonnaise Okay for Carnivores?
Mayonnaise is okay for carnivores, particularly carnivore-friendly ones like bacon mayonnaise.
Is Sour Cream Okay on a Carnivore Diet?
Sour cream is okay on a carnivore diet because the ingredients are all animal foods.
Freshen Things Up with Carnivore Condiments
When you first start cooking carnivore-friendly dishes, these eight condiments are a fantastic place to start.
Experimenting with various condiments can enhance your dishes, but the true essence of a memorable carnivore meal lies in the meat's quality.
ButcherBox meat delivery service stands out by providing organic meats free from harmful chemicals, ensuring animals are raised free-range in their natural habitats, and guaranteeing antibiotic- and hormone-free meat.
With Butcher Box, you're not just getting meat; you're getting the assurance of top-quality products that complement your carnivore diet perfectly.
---
References:
https://www.medicalnewstoday.com/articles/319375
https://www.medicalnewstoday.com/articles/324686
Was this article helpful?