Many meat-lovers would argue that there's nothing better than cooking meat over the fire. At Carnivore Style, we happen to agree, which is why when I first heard about Argentine grills, I knew I had to check them out. I couldn't get enough of this type of barbecue grilling.
We decided to try our hand at building one ourselves. The team and I put our heads together to bring you a guide for building your Argentinian grill.
Quick Summary
Constructing an Argentine grill involves building a structure with steel legs, welding components, creating a fire pit, adding a brick layer, and attaching a heavy-duty grate.
Known for adding intense smoky flavor, Argentine grills are versatile for high heat searing, fire grilling, or slow smoking, with adjustable temperature control.
Selecting the right location and using materials like heavy-duty metal pipe, stainless steel grates, and bricks are essential, along with welding knowledge and proper safety gear.
What Is an Argentina Grill?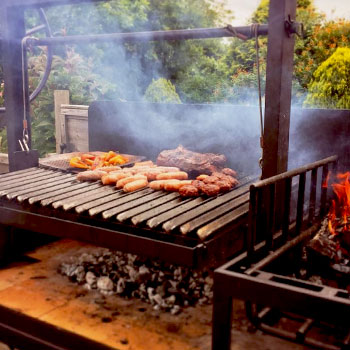 The Argentina grills, also known by these three names; gaucho grills, parrillas, and asados, come from the Argentinian way or tradition of grilling meat over an open fire.
They are often used for high heat or low and slow cooking in a backyard or home outdoor kitchen.
This grill consists of a pan on the bottom to hold charcoal or wood. There is a moveable stainless steel grilling grate that sits on top for wood-fired cooking.
The exterior chamber is often made of brick to hold heat. The brasero, or firebox, is the metal box that holds the coals.
Benefits of This Type of Grill
They are known for adding an intense smoky flavor to your barbecue food. You may find that they are best for a variety of cooking methods such as high heat searing, fire grilling, or a slow smoking method.
This type of grill can sometimes be adjusted on the fly using a wheel. The wheel helps you adjust the temperature at which the food is cooking over the fire.
Highlights:
Adjust food temperature quickly
Hot sear
Low and slow
Woodfire taste
What Do You Need to Consider Before Building?
Before you get started on custom building an asado grill, you should make sure that you choose the right location. This type of grill is large and heavy, so you may not be able to move it once it's complete. A great way to do that is to measure the dimensions of the space that you have available to make sure it will fit.
You should also consider the materials that you will need. You will likely need to use a heavy-duty metal pipe, stainless steel grates, and bricks. It would be best if you placed your new grill on a flat concrete area so that the brick structure doesn't sink into the ground.
Related Articles:
How to Build an Argentinian Grill?
This is an advanced project, and you should have some knowledge of welding and building information. Remember to wear the proper safety gear before starting with these build kit instructions.
Step 1
The first step is to build the basic structure where the bricks and firebox will sit. We used a simple 4 leg design. You can cut the steel legs to be any height that you would like. We chose a standard grill height of about 36 to 38 inches (91-96.5 cm). Measure and cut each leg using a circular saw.
Now that the legs are cut, you need to cut 4 pieces of steel to attach the legs. We wanted the length to be around 48 inches (122 cm). Cut 2 pieces of steel for the measurement and set them aside. The width should be similar to a standard grill, which is about 26 inches (66 cm). Cut 2 pieces of steel for the width.
Step 2
Now that the base structure components are built, you need to weld them together. The depth of your barbecue grill should be around 20 inches (50.8 cm).
When you weld the legs together make sure that you leave room for the depth, which is where you will place the brick layer.
Step 3
Next, you need to attach one piece of sheet metal over the top of the legs. This will create a surface for you to cook your barbecue food. We made notches in our surface sheet metal to allow it to sit comfortably on the tabletop legs.
Once the sheet metal is in place, weld three reinforcement bars underneath to hold the fire bricks up. These three bars will provide extra support for the grill as a whole. Each time you weld, make sure that you use a welding mask to protect your eyes.
Step 4
The next step is to cut additional sheet metal pieces to make a fire pit, which will hold the coals. Cut 4 pieces of sheet metal that will fit your grill. Weld one piece to the back and each side of the grill. You will not be attaching a piece to the front since this is where you will load wood or charcoal to create the fire.
Recommended Article: How to Start a Fire in a Fire Pit?

Step 5
For this part, you will build the firebox or brasero. We used 2 cross-sections of metal bars. We cut them to size and welded them into the bottom and back of the grill pit. We chose to make a small firebox that didn't take up much room, but you can make it whatever size you'd like.
This section will be used to heat the coals so that they can be transferred to the fire. We decided to build the fire box in a way that allows us to shovel them over to the grill when they got hot. With our design, you can shovel coals in the front or side of the grill.
Step 6
You should add the brick layer to the grill before you finish the brasero box. Start with a layer of brick on the bottom of the grill. The other brick layers will be placed on the side and back of the fire pit.
Since the interior of the pit will get extremely hot, we recommend using bricks that are designed explicitly for ovens or grills.
Step 7
The basic outline of the fire box is complete, but now you need to create a cradle for the wood logs to sit in the box while they heat up.
While the logs heat up, they will drop hot charcoal into the cooking pit. We made a simple V-shape design for our gaucho grill fire box cradle. Weld the extra V-shaped pieces into the fire box.
Step 8
For these gaucho style grills, you should buy a heavy-duty grate that can withstand high heat. Grates that are used over a fireplace or campfire might be ideal. Weld the grate to the top of the gaucho grill. This time you should weld around the entire grate to ensure that the weight of the barbecue doesn't cause it to cave in.
I am drawn to fire and the aroma of things cooking over wood.

- Francis Mallmann, Argentinian Chef, Seven Fires: Grilling the Argentine Way [1]
FAQs

Is an Asado Grill Better Than A Regular Grill?
It depends on what you are cooking and in which way you like to cook. If you want to cook in a more old-fashioned way, then this might work better for you. This type of grill can be great for high heat searing or smoking. A regular grill, such as a propane one, can be easier to use, however.
Can You Smoke on One of These Grills?
Yes. You can smoke on a parrilla grill, but it is not the same as using a traditional smoker. The main difference is that a gaucho grill uses an open pit to allow heat and smoke to rise and add flavors to the food. With a smoker, you use a closed pit design.
Is it the Same as A Parrilla Grill?
Yes, the parrilla is another term for an Argentinian grill.
Is it Easy to Build One of These Grills?
It depends. This task requires knowledge of welding, building, and design. You can learn some of these skills, but this is a more advanced home build.
Was this article helpful?