At Carnivore Style, our goal is to test every wood pellet grill. Someone from my gym recently mentioned that they started cooking with the Traeger Tailgater 20. I knew this smoker should come next on our list for testing. My team and I set out to provide you with a review to see if it should be your next grill.
What Is A Traeger Tailgater?
The Traeger pellet grill is a portable wood pellet grill smoker, with 300 square inches of cooking space. It is equipped with EZ folding legs that are collapsible so you can easily move the BBQ grill onto your truck. The temperature control maintains the temperature range between 5 degrees of your desired setting.
This tailgater pellet grill has a range of 180 to 450 degrees Fahrenheit (82 - 232 C). It features a digitized arc control that displays the temperature on an outer LCD screen. The pellet hopper capacity is 8 pounds, and the pellets move into the fire pot as needed.
Pros
Grease drip tray included
300 sq in
Porcelain-coated surface
Keep Warm mode
Cons
Requires an initial burn-in
May not fit every budget
Let's Take a Closer Look at The Specifications
| | |
| --- | --- |
| Grilling Area | 300 sq. in. |
| Dimension | 36 x 37 x 18 in. |
| Hopper Capacity | 8 lbs. |
| Controls | Digital Arc controller |
| Max Temperature | 450°F |
Temperature Control
A digitized panel controls the temperature of the tailgater. It should warm up to the desired temperature within 15 minutes with the lid closed. This grill stayed within the desired temperature after an initial break-in period. We didn't notice any fluctuations greater than 5 degrees. It doesn't come with a dome gauge, however.
Quality & Construction
The Tailgater 20-inch grill is made of powder-coated steel to prevent the grill from rusting and chipping. The cooking grates are made of porcelain-coated steel, to make sure that they're easy to polish. The hopper includes an induction fan that is made of high-grade polymer. We thought the quality of Traeger grills was above average compared to other pellet grills.
Grilling Space
This smoker brand comes with 300 square inches of grilling space. This is one of the smaller portable pellet grills in their range, so it might be better for people who want a compact option. The cooking area is enough to cook food for about 4 people.
Safety & Efficiency
The safety features of this brand include an automatic safety igniter button that operates with one push. The igniter will light the first round of hardwood pellets to heat the grill. The wood pellets will move through the auger to reach the set temperature.
The hopper space is 8 lbs, which burns at about 1 lb per hour, depending on the settings. You should get about 8 hours of smoking with this pellet grills model.
Portability & Convenience
This product is Traeger's version of a tailgater pellet grill. One of the main features and benefits of this smoker is the EZ foldable legs that offer maximum portability. It has a small footprint that makes it convenient to put in a truck bed. It also has the convenience of a "set it and forget it" LCD box.
Recommended Article: Best Tailgate Grills
Cooking Options
The Tailgater pellet grill has a cooking space that allows for different cooking alternatives, such as grilling and smoking. When it comes to grilling, you should try using copper grill mats on your grill if you hate cleaning it.
On the other hand, the smoking function allows you to cook a brisket low and slow for 6 hours. You can even wrap a brisket for that crispy, juicy flavor.
You can also crank up the heat to sear a steak. You can cook everything from hot dogs to rib racks and get the good flavor right after.
Highlights
Special Features
As per our review, the Traeger pellet grill doesn't come with a ton of extra assembly features since it is designed for travel. It doesn't have WiFi technology capabilities in comparison to some of the bigger pellet grills. It does come with folding legs, an LCD readout screen, and a temperature sensor. It also comes with a Keep Warm mode that will keep food hot on the cooking area while you set the table.
Design & Style
The design of the Traeger pellet grill is comparable to a professional Pit Boss competition smoker except smaller and portable. The exterior is made of heavy-gauge steel with a powder coating that can withstand heat and elements. We liked that the LCD readout came with efficient push buttons as opposed to a dial. The buttons tend to last longer.
Related Articles: 
Dimensions & Actual Size
The Tailgater 20 stands 36 inches or almost a meter tall. The width, including the hopper, is 37 inches (0.9 meters). It should fit into most standard-size trucks or SUVs. It weighs about 62 pounds (28 kg), so it is relatively easy to move around using the wheels. When folded, this pellet grill is about 18 inches (45.7 cm) high.
Digital Elite Controller
The Tailgater grill comes with a temperature control feature that maintains the intensity throughout the upper chamber. It can be adjusted using the side panel. This reduces temperature fluctuation by using a probe to add the necessary amount of wood pellets from the auger.
EZ Fold Legs
The folding legs reduce the height by half. In our Traeger grill assessment, we found them to be easy to fold up. You can collapse them by yourself, but we found it beneficial to have another person hold the upper chamber steady while unscrewing the knobs.
Cooking Capacity
The cooking area is rather small, but since it's a travel-size unit that could be a fair trade-off. They advertise that you can cook up to 12 burgers at one time. During the outdoor cooking process, we found that while this is possible, it tends to overcrowd the cooking surface during tailgating. We found that you could fit 8 to 10 burgers comfortably in pellet grills like these.
Highlights 
Maximum of 12 burgers
2 chicken barbecue
3 racks of ribs
Pricing & Warranty
The Traeger Tailgater 20 comes at a reasonable price point overall, but it is more expensive than other portable grill options that you can buy. If you can afford the price tag, then we think it is worth it. Traeger wood pellet grills come with a 3-year warranty that covers the manufacturer's defects. These pellet grills should last a minimum of 3 to 5 years before you need to replace any parts.
Setting Up The Traeger Tailgater 20
During our best Traeger grill evaluation, we found that the setup process was slightly more complicated than other models for camping and tailgating. We followed the instructions below and had it completed in about 2 hours.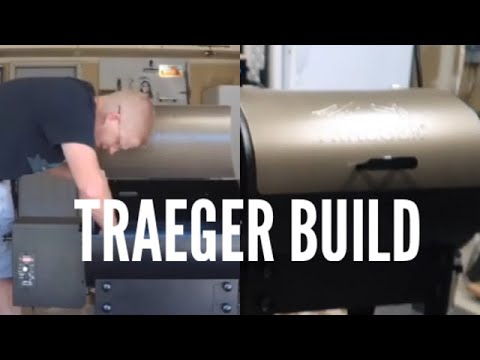 Step 1: Mount the legs onto the upper chamber. Then, place the axle rod through the legs to attach the wheels.
Step 2: Slide the hopper into the upper chamber and tighten the hex bolts into place. Remember to plug the hopper into the grill with the mating cable.
Step 3: Install the handle on the lid.
Step 4: Install the heat baffle over the burner box by centering it over the firepot.
Step 5: Insert the grease drain pan into the bottom of the grilling area.
Step 6: Position the porcelain grates into the smoker grill.
Who Is The Tailgater Well-Suited For?
The Tailgater is well-suited for people who want a small, portable pellet grill that they can transport on a camping trip or to a tailgating party. With its weight of 62 lbs, it's easy to carry around.
It could also work well for people who want a small alternative to their gas grill since it could fit on an apartment balcony. Someone who is looking to get into pellet grilling might want to check out this series.
Some feedback on Traeger Grill, however, noted that one downside is that this has more fluctuation at lower temperatures than it does at high ones.
Temperature control functions work better when the grill is heated to about 220 F (104.4 C), plus or minus 20 degrees, which is ideal for smoking. If you want to go lower, then you could have trouble keeping it there. It uses around 300 watts while it powers up and lowers to 50 watts for the remainder of the cooking period.  But based on our experience with this grill evaluation, we did not have any problems.
Related Comparison Guides:
Feedback & Online Ratings
After careful testing, we found that the Traeger pellet grill was above average in terms of quality and construction due to its high-grade steel and aluminum components. We thought the price range was a bit steep compared to competitors such as Green Mountain.
According to many feedback online, this product has an "excellent" rating of around 4 out of 5 stars.
FAQs
Does this Traeger grill have WiFi?
No. This Traeger model is not designed with WiFi capabilities.
How hot does the Traeger Tailgater pellet grill get?
This product gets to 450 degrees Fahrenheit (232.2 Celsius).
How do you clean this Traeger smoker?
We recommend putting aluminum foil over the drip tray so that it's easier to clean. You can remove the tray and throw away the foil. The ash collector can be emptied whenever it is full. To polish the cooking grates, you can heat the pellet grills to the max temperature and scrape the surface area with aluminum foil, steel wool, or a grill brush after it has cooled down.
Can you use the Traeger Tailgater in cold weather?
Yes, you can use this smoker in cold weather. You should expect an additional 15 minutes for heat-up times.
Is A Traeger Tailgater Worth Buying?
Based on our evaluation and customer feedback, the Traeger Tailgater because it offers heavy-duty construction that is more durable than other pellet smoker models. We recommend it because it provides a portable solution to smoking and grilling your favorite meats. It may be a great fit for summer trips.
It also uses an economical fuel source since the pellets only burn at a rate of 1 lb per hour. If you think that this smoker is a good option, then click below to take a peek.
We Recommend
Traeger Tailgater Pellet Grill
Pros
Maximum portability
LCD display
Set it and forget it design
8 lb hopper capacity
Get the BEST PRICE until the end of December
Cons
Requires an initial burn-in
Was this article helpful?