It's a cold winter day, but you're feeling warm and fuzzy inside. That's because there's a perfect Pork Wellington cooking in the preheated oven, just waiting to be served with some fresh asparagus.
Although pork tenderloin already has a tender, juicy texture, wrapping it in mushrooms, prosciutto, and puff pastry makes it even more succulent and flavorful because of the increased fat content.
And, best of all, this recipe is simple enough for a beginner cook but delicious enough to impress any guest.
Recipe Ingredients
1.5 pounds of pork tenderloin

Kosher salt and ground pepper to taste

2 tablespoons of Dijon mustard

3 tablespoons of olive oil

12 ounces of finely chopped mushrooms

2 tablespoons of butter
4 minced shallots

2 tablespoons of minced garlic

1 tablespoon of fresh thyme

10 ounces of chopped spinach

1 tablespoon of fresh parsley

1 tablespoon of fresh oregano
1/4 cup of white wine or Madeira wine

1 sheet of puff pastry dough

4 ounces of thinly sliced prosciutto

3 tablespoons of all-purpose flour

1 egg yolk

1 teaspoon of water
Directions
Pork Wellington is a browned pork tenderloin combined with a seasoned, mushroom pâté that is rolled in puff pastry and baked until golden brown.
This dish looks very imposing but is remarkably easy to create. Let's see how it is done:
Browning the Pork Tenderloin
Trim the pork tenderloin of extra fat and silver skin.

Use salt and pepper to lightly season the pork tenderloin.

Heat the olive oil in a large skillet and use medium-high heat.

When the oil gets hot, brown the tenderloin on each side. Turn frequently to ensure an even color around the meat.

Continue to turn and cook the pork tenderloin until the internal temperature reaches 100 degrees Fahrenheit (usually around 8-10 minutes).

Remove the pork meat from the pan, set it aside, and allow it to cool.
Making the Mushroom Pate
Melt butter in a medium skillet.

Add shallots and saute for a few minutes.

Stir in mushrooms, garlic, thyme, parsley, and oregano. Cook until the mushrooms release their juice.

Stirring occasionally, add the spinach and wine, and cook until the liquid has evaporated.

Remove the pan with the mushroom mixture from the heat and allow it to cool completely.

Preheat the oven to 400 degrees.
Assembling the Pork Wellington
Place the puff pastry down on a lightly floured work surface.

Line the pastry with prosciutto slices so that the surface area is covered except for 1/2 to 1 inch around the edges. You can cover the prosciutto with parchment and roll it with a rolling pin to get the slices to stick together.

Spoon 1/2 of the mushroom mixture over the prosciutto slices.

Brush the Wellington pork tenderloin with Dijon mustard.

Place the tenderloin in the middle of the puff pastry and prosciutto.

Using a sharp knife, score the tenderloin to the middle of the meat. Use a wooden spoon to put the rest of the mushroom mixture into this cut.
Preparing the Puff Pastry
Make an egg wash by whisking egg yolk and water together in a small bowl until well mixed.

Brush a thin layer of egg wash onto the perimeter edges of the pastry to help seal it when you wrap it.

Now, roll and wrap the pastry tightly around the pork tenderloin. Pinch the edges to seal.

Tuck any extra pastry under the wrap and baste with the remaining beaten egg wash.

The Wellington is now ready to bake, or you can put it in the refrigerator for later.
Baking
Transfer the Pork Wellington onto a parchment roll-lined baking sheet, seam side down.

Place the parchment-lined baking sheet into the oven at 400 degrees and bake until the center of the pork tenderloin registers an internal temperature of 140 degrees on a meat thermometer (cooking time usually 20-30 minutes).

Remove the meat from the oven and let sit for 10 minutes on a wire rack or cutting board.

Carve into slices and serve. Salt to taste.
Serving Options
There is absolutely nothing wrong with serving your Pork Wellington just as it is.
The result of this meal is delicious, and the recipe certainly needs nothing else to be really good food.
If you want to go the extra mile, there are a couple of ways you can embellish your Wellington:
1.) Bearnaise Sauce - A classic sauce served with beef Wellington, this recipe works well with meats that are not naturally found with a sauce. Pork Wellington is a dish that tastes great with Bearnaise sauce.
2.) Sherry Mushroom Sauce - Hearken back to the days of yore with the Duke's favorite drinks. The combination of sherry and mushrooms is appetizing, so why not put them together in a sauce?
"Wise people learn when they can; fools learn when they must."
- Duke of Wellington
3.) Apple Sauce - Serve your Pork Wellington with some homemade applesauce for an extra-special treat. You can also serve apples on top to bring out the flavor of the meat.
4.) Bacon - If you prefer bacon to prosciutto, you can use it instead. Simply cook the bacon before layering it across the puff pastry, and then you have the full flavor of bacon with the mushrooms.
5.) Onion - red or white onions may be used as a substitute for the shallots if you prefer a different flavor or a little extra punch to your mushrooms.
A Little History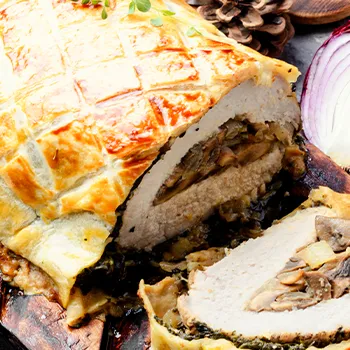 In June of 1815, Arthur Wellesley, 1st Duke of Wellington, led the British Army to victory over Napoleon Bonaparte.
This decisive ending of the Napoleonic Wars made the duke a national hero and eventually the Prime Minister of Britain.
One of the things the Duke was known for was having his army wear tall, waterproof boots (often referred to as "wellies").
These boots allowed his troops to move and fight in weather conditions that others could not.
"I used to say of Napoleon that his presence on the field made the difference of forty thousand men."
- Duke of Wellington
Apocryphally, the Duke cared little about his food, but they have given his name to the classic beef Wellington recipe - because the final product looks a lot like the upper part of a Wellington boot [1].
Our Pork Tenderloin Wellington is a riff off of the original - using scrumptious pork tenderloin instead of beef tenderloin or fillet.
Related Articles:
Pork Wellington
If you're looking for a splendid dinner entrée that will wow your guests without too much effort on your part, look no further.
The dish may look fancy, but it's easy enough for anyone who can use a pan. It turns a juicy pork tenderloin into something a little more special.
The mushroom mixture, mustard, and prosciutto add some pizzazz to a simple pork loin, making this main course cuisine perfect for a dinner party or Wellington's entire army.
There isn't anything difficult about making this recipe. Just make sure to follow the steps above for perfect results each time you cook.
We hope you'll find that our step-by-step instructions make cooking your own as easy as pie (or rather, easier than pie), so all those guests who come over won't be able to stop raving about their delicious meal when they leave.
---
References:
https://www.gordonramsayrestaurants.com/inspiration/why-the-history-of-beef-wellington-is-well-worth-celebrating-beef-wellington-week
Was this article helpful?