While there are tons of grill covers on the market, not all are one-size-fits-all.
That's why we have decided to test a range of shapes, sizes, and brands, to find out which is the best grill cover available today.
In this article, you will find our top 8 best grill covers, as well as what to look for when shopping for a grill cover.
Editor's Choice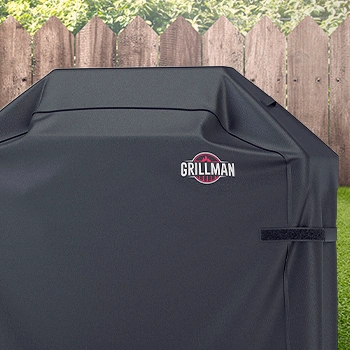 Grillman
Check Current Price
#2nd Best Choice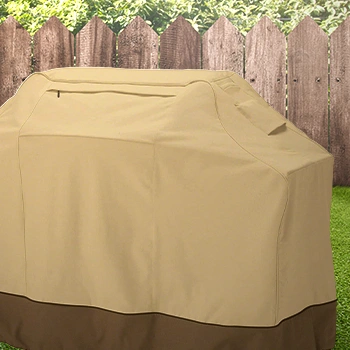 Veranda
Check Current Price
#3rd Best Choice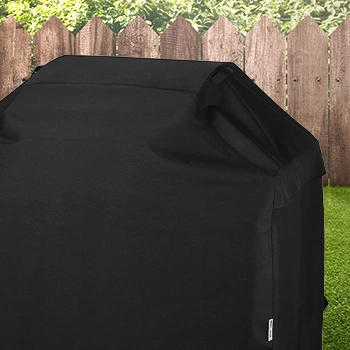 Unicook
Check Current Price
Our Top 8 Best Grill Covers
Grillman Premium BBQ Grill Cover
First on our list is the Grillman premium grill cover, designed to protect your grill from all seasons and extreme weather.
This heavy-duty cover fits a range of popular brands such as Brinkmann, Weber, and Char-Broil. It is available in various sizes, from 30 to 72 inches.
This grill cover is made from oxford material, lined with a water-resistant and UV-protected PVC coating.
The cover is equipped with adjustable velcro straps to help it stay in place during strong winds. We found the cover to have a nice tight fit and be easy to clean.
Pros
PVC-lined oxford material
Fits popular grill brands
Wind-resistant
Lifetime replacement guarantee
Cons
Can fade slightly under a hot sun
Classic Accessories Veranda BBQ Grill Cover
Next on our list is a grill cover from Classic Accessories made from woven polyester fabric. The bound seams and laminated backing make it water-resistant.
This model has included air vents that allow any water vapor to escape, preventing condensation and rust caused by humid air.
The Veranda BBQ grill cover comes in eight different sizes and fits the most popular grills such as Weber, Char-Broil, and Brinkmann.
The handles are designed to easily remove and put on the cover, and we found the attachment leg straps to help protect against high winds.
Pros
Adjustable straps and sealed seams
Made from durable polyester material
Fits most gas grills
Unicook Heavy Duty Barbecue Gas Grill Cover
Unicook's heavy-duty grill cover is made from a UV-resistant fabric lined with a water-resistant vinyl coating.
Its high-density stitching means your gas grill will be protected from rain, wind, dust, and dirt.
This gas grill cover features mesh air vents on both sides to allow for proper air circulation while also ensuring the cover stays on during high winds.
It is available in five different sizes, fitting the most popular grills such as Weber and Char-Broil.
Some concerns surround the large velcro straps and whether they're tear-resistant or not, but we have found them to hold up well during various grilling seasons.
Pros
Good value for money
Made with waterproof vinyl backing
Durable materials for all kinds of weather
Simple Houseware BBQ Grill Cover
Next on our list is the Simple Houseware grill cover, featuring two velcro straps for an adjustable fit and two handles to make lifting on and off easy.
It is available in six sizes and will fit most gas grills with up to two burners.
This grill cover is made from a polyester fabric which offers water, dust, and UV protection.
All seams are double-stitched to provide extra security against harsh weather. We found the material to be easy to clean, and it kept our grill dry through the rain.
Pros
Offers UV protection
Two adjustable straps
Fade-resistant and rip-resistant
Cons
May be too long for certain grills
Kingkong 7130 Grill Cover
Kingkong 7130 grill cover comes in five different sizes and is designed to be used for Weber grills.
It also includes three grill accessories: a pair of tongs, a grill brush, and a meat thermometer.
The grill cover is made from heavy-duty polyester, designed to fight against UV rays, water, and wind.
The velcro side straps can be adjusted to provide a secure fit and are easily rinsed down with water.
The cover is sewn together using double stitching, which I found to gather water in certain places. That being said, we have yet to have any leaks.
Pros
Made from weather-resistant polyester
UV-resistant
Adjustable straps for a tight fit
Cons
Only made for certain types of grills
Char-Broil 3-4 Burner Grill Cover
This Char-Broil grill cover is made from vinyl fabric, and it is available in two sizes - one for small grills with two burners and a larger one for grills with three to four burners.
This vinyl cover is water-resistant and able to endure windy weather.
The vinyl also protects your grill from UV rays and is fade-resistant. The side strap works well to secure the cover in place.
However, the drawstring on the skirt can be a little problematic when tightening.
Pros
Sun-fade protective liner
Budget-friendly
Comes in two sizes
Cons
The drawstring on the skirt is quite loose
Weber 7138 Premium Cover
The Weber 7138 cover is made from a lightweight yet durable polyester that is water and weather-resistant.
This Weber grill cover features two large velcro straps which help keep the cover tightly in place and a PVC liner to protect your grill from rust and dust.
It is made especially for the Spirit 200 and Spirit II 200 Series Gas grills from Weber and has a higher price tag than most due to the quality of materials used.
However, I think the fabric is a little too lightweight for very heavy rain, as it caused some water to seep through.
Pros
Velcro straps keep the grill cover very secure
PVC-lined polyester
Perfect fit for Weber grills
Cons
Doesn't have strong water resistance
Cuisinart CGC-60B Barbecue Grill Cover
Last but not least is a grill cover from Cuisinart, available in three different sizes and colors. Cuisinart CGC-60B is made from a lightweight, rip-resistant polyester designed to protect your grill through all types of weather.
Two handles are placed on each side of the cover, making it convenient to lift on and off.
However, unlike many other grill covers that can be washed down with water, this one was more difficult to clean, and I had to do some scrubbing.
Pros
Weather-resistant
Easy to put on and off
Comes in three different sizes and colors
Grill Cover Buyer's Guide
When shopping for heavy-duty grill covers, there are a few things you have to look out for to ensure you're getting the best value for money.
1. Materials
If you're an avid griller, you'll be removing your cover often, and you may not always have time to fold it up and place it to one side carefully.
For this reason, as well as different elements such as snow, sun, rain, and wind, you'll want to ensure your grill cover is made from a quality, heavy-duty material.
The cover doesn't have to be heavyweight; however, it will help protect against elements better, as thin covers may need replacing more often than not.
Stitching is another thing to look out for: covers with double-stitching will help keep the rain out better than ones with single-stitching.
Most grill covers will be made from polyester, which is fine as long as it is thick. You will want to look out for a cover of at least 600D.
2. Size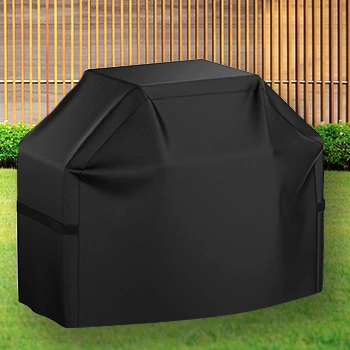 Size is another important factor when finding the best grill cover.
Whether you have a built-in grill, gas grill, kettle grill, or smoker, you need to find a snug one without being a hassle to get on.
If you have to stretch your cover to put it on your grill, it is too tight, and this can damage the grill itself and injure you if it pops off.
However, if you find a cover that is too loose, it will let water, dirt, and moisture inside. If it becomes windy outside, you're also at risk of the cover flying away.
Most covers are made for gas grills, so if you have another type of grill, pay extra attention to its dimensions and shape.
All covers should come with a strap to tie them down even tighter, so don't worry if it looks a little too loose to begin with.
3. Waterproof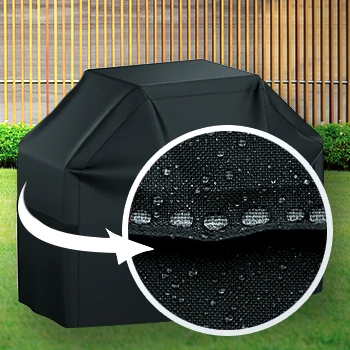 Water leads to rust, but luckily, grill covers prevent rust and can protect your grill from this problem.
If you live in a dry climate, rain or snow won't be a massive issue for you.
However, if you live in a place where it tends to rain often, you need to ensure your cover can protect your grill from the rainy weather.
If you live in a very humid place, your cover is also at risk of condensation. So, try to get a cover with mesh vents inside so the air can still circulate the grill.
You can also buy some vinyl oil to prevent your cover from cracking if you're not sure it will handle the weather.
4. UV Protection
If you've just paid a pretty penny for your new grill cover, chances are you'll want to keep it looking shiny and new. Your grill will spend most of, if not all, its time outside.
There, it will be constantly exposed to the sun and UV rays. If unprotected, the sun will bleach your grill cover and leave it patchy [1].
If you have a porch overhang or an area shaded by trees, store your grill there for better protection.
5. Warranty
Even if your grill cover is advertised to be completely weather-resistant, it's a good idea to get a model with a good warranty.
The best grill covers will come with a few years of warranty, and some even come with a lifetime warranty.
FAQs
Should I Always Keep My Grill Cover On?
Yes, you should always keep your grill cover on if you're not using the grill. An uncovered grill can start to rust or malfunction.
How Do You Clean a Grill Cover?
Since grill covers are made to resist water and stains, most of the time, you can clean them off with a hose.
If you have any tougher grease or grime, you can use dish soap. If your grill cover comes with a storage bag, put the cover inside the bag when it isn't in use [2].
Can You Buy Grill Covers for a Kettle Grill?
Most covers are made for a gas grill; however, covers are available for kettle grills and smoker grills too. Be sure to check your dimensions before purchasing anything.
Best Grill Covers: Our Winner
All the grill covers featured here today are worthy competitors. However, our best grill cover award goes to the Grillman Premium BBQ Grill Cover due to its high quality of materials, ability to protect against all weather types, and value for money.
We like that it is available in various sizes and is made to fit the most popular grills such as Char-Broil and Weber.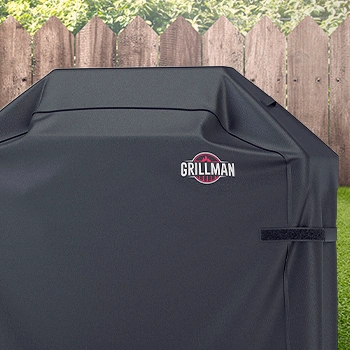 Grillman Premium BBQ Grill Cover
Our #1 Recommendation
PVC-lined oxford material
Fits popular grill brands
Wind-resistant
Lifetime replacement guarantee
Was this article helpful?