There are so many grills on the market, and I find it very challenging to select the right one. Products are changing; they follow the industry trends while fulfilling the requests of users.
Manufacturers are changing too. They are creating new, private labels for big retail chains which stand side by side with big and well-known brands in the industry. One of these brands is Outdoor Gourmet.
Wondering who makes Outdoor Gourmet grills? After literally spending 48 hours on research as some information was not easy to find, we found these valuable details.
Who is Behind Outdoor Gourmet Grills?
Outdoor Gourmet Grills are a private label BBQs of the company Academy, one of the leading sporting goods and outdoor recreation retailers in the United States.
A Brief History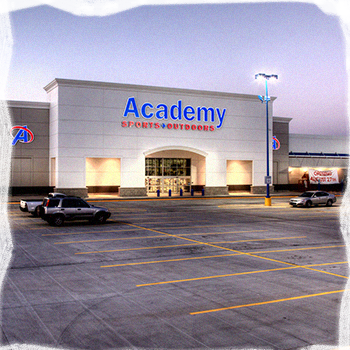 Academy was initially founded in 1938 as a family business in Austin, Texas. With only a few stores at the beginning, Academy has slowly grown nationwide to 259 stores across 16 contiguous states.
Academy's mission is to provide "Fun for All," and they sell all kinds of goods for a broad range of consumers.
Academy's product assortment focuses on key categories of outdoor, apparel, footwear, and sports and recreation.
Through both leading national brands and a portfolio of 17 private label brands, which go well beyond traditional sporting goods and apparel offerings.
Throughout the years, they saw a lot of success in selling outdoor goods, so they decided to include grills in their offer. This has not happened by accident.
According to research (1) in 2019, about 1.36 billion U.S. dollars' worth of grills and barbecues were sold in the United States, up from 1.21 billion dollars in 2009.
That was a sign for the Academy to invest more in this product category, which gave excellent results and a higher revenue after some time.
Academy has included private label Outdoor Gourmet Grills to follow the right business model with the products that will fit all customers' groups.
They saw other big retailers doing the same, and they had to compete with them, so importing their grills under the Outdoor Gourmet name was a great option.
Related Articles:
Outdoor Gourmet Grills - Are They a Good Option?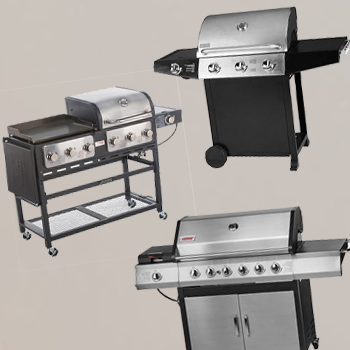 When Academy started with Outdoor Gourmet private label, they wanted to add value to their outdoor BBQ products and offer them at a competitive price.
Their focus is mainly on larger grills and island units, so Outdoor Gourmet Grills are a good fit for families or large groups.
They have classical charcoal grills and gas grills and a combination of a classic gas grill, charcoal grill, and smoker box.
They are putting a lot of effort into the grill's appearance, so Outdoor Gourmet Grills have attractive designs.
They also offer many features like porcelain-infused, easy to clean cast-iron grates or removable ashtray and a drip pan.
You can get these grills at a price lower than similar products from established brands. Replacement parts are available, and you can find them relatively easily if something goes wrong with your grill.
On the downside, users mention the quality of the materials and rusting, so you should have these in mind when you start searching for the right model.
"My first outdoor cooking memories are full of erratic British summers, Dad swearing at a barbecue that he couldn't put together, and eventually eating charred sausages, feeling brilliant."

– Jamie Oliver, Chef
FAQs
Is Outdoor Gourmet a good grill brand?
Outdoor Gourmet grills offer a good value for money. They come in various sizes suitable for families and large groups. With an attractive design and multiple features, they are a perfect addition to every outdoor space. Outdoor Gourmet grills are a good choice for those who search for a good grill at a reasonable price.
Are Outdoor Gourmet Grills private label products?
Yes, Outdoor Gourmet Grills are private label products of the company Academy, one of the largest retailers in the U.S. Academy, offers outdoor, apparel, footwear, and sports and recreation goods from national brands and has a portfolio of 17 private label brands.
Where are Outdoor Gourmet Grills made?
According to available data, Outdoor Gourmet Grills are made in Asian countries.
The Bottom Line
Private-label brands are becoming a trendy choice among retailers in all product categories.
Over one of every five products sold in the U.S. was from a retailer's brand. They held a 19.2 percent share of the retail industry's market value in the United States in 2019 (2).
Private label grills, in this case, Outdoor Gourmet Grills, can also be a good customer option. They are cheaper than leading national brand products, and they offer a good value for money.
If you are looking for a good grill with long-lasting and super quality materials, Outdoor Gourmet Grills will most probably not be a good fit.
But if you want a decent grill that will do the work won't need to pay a fortune for, then Outdoor Gourmet Grills can be your choice.
---
References:
https://www.statista.com/topics/4620/grill-and-barbecue-market-in-the-us/
https://www.statista.com/statistics/1069765/retail-market-penetration-rate-of-store-brands-in-us-retail/
Was this article helpful?